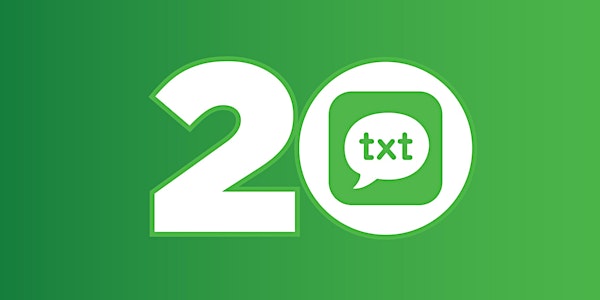 #txtshow: 20th Anniversary
The best show you'll write in 20 years, this completely interactive two-screen performance features a script written anonymously by YOU!
When and where
Location
Jack Kerouac House 1418 Clouser Ave Orlando, FL 32804
About this event
#txtshow – one of Brian Feldman's most famous performances – returns once again to the venue where it originated, the historic Jack Kerouac House in Orlando, exactly 20 years to the day. (This will also be the first Orlando performance since the final night of #txtshow: 10th Anniversary (part of #BFP15), two nights short of 10 years ago!)
For this completely interactive performance, all audience members will keep their phones "on" – as a mysterious character named txt (pronounced "text") recites a script written anonymously in real-time by YOU, live and in-person.
Audience members are instructed to bring their smartphones, ideally fully-charged, and actively use them during the show's 45 minute duration.
Based entirely upon what audience members write in anonymity, this event may contain mature themes, profane language, and explicit sexual content.
------------------------------
Run Time: 45 minutes
When:
One night only!
Monday, February 26, 2029 at 7:00 PM
------------------------------
Where:
Jack Kerouac House
1418 Clouser Ave., Orlando, FL 32804
(Located in a residential area of College Park, please be mindful of your volume upon arrival and departure.)
------------------------------
Tickets:
$50.00
(Only 30 seats available, all sales benefit The Jack Kerouac Writers In Residence Project Of Orlando, Inc. and Brian Feldman Projects)
------------------------------
Hashtag: #txtshow
Twitter: @txtshow @BrianFeldman @Kerouac_Project
Instagram: @brianfeldmanprojects @kerouacproject
Facebook Event: j.mp/txtshow20_fb
------------------------------
Reviews:
"This is a work of experimental theater, and I daresay it's the best."
"I had no idea what to expect for my first live show on the internet, but this was a pretty amazing introduction... all eclectically performed as almost a stream of consciousness by Feldman's character."
"This online pandemic world we live in is NOT favorable to theater events. While parking is cheaper and you can bring your own beer, there's no sense of audience or shared discovery. But if you MUST do a show online, #txtshow might be the archetype."
"Suffice it to say that, in this horrible period during which live performance has been suspended and the lively arts are experimenting with alternative ways in which to engage the audience and remain relevant, #txtshow (on the internet) is an offering that embraces the imposed limitations of the moment. In a funny way, it feels as if it's an organic response to the lockdown, as opposed to being a stop-gap adjustment — this even though Feldman had been doing a pre-pandemic iteration (#txtshow) for gathered audiences."
(Christopher Henley, DC Theatre Scene)
"#txtshow delivers all the breathless, anything-can-happen anticipation and nervous laughter of an improv show, but without any of the pressure to make a funny that makes a crappy improv troupe so agonizing to watch. Like a sex party, it was both exhilarating and exhausting, and it seemed to work best when we all synced our wavelengths. But at times, it was even more fun to just sit back and watch."
(Christina Cauterucci, Washington City Paper)
"It's like a livestream at a conference, with everyone responding in real time to whatever is happening. With all of the thematic links between the tweets, it's sometimes tough to believe that Feldman isn't reading them out of order to emphasize the relatedness of some of the topics. He swears that he reads them as he receives them."
"The best part is when audience members begin "intervening" in the relationships of other audience members... Which, of course, sends the first-row couple in question bursting into laughter."
(Ron Cassie, Baltimore Magazine)
"Yes, you heard right! YOU make the "script!" Brian doesn't utter a word unless it comes to him via his phone, from the audience. As I'm sure you can guess, a concept like this can lead to a very entertaining show!"
(Erica Finlay, AMPlified Culture)
"I found myself laughing louder than ever at this performance. The uninhibited mind is a strange and quirky beast... #txtshow [is] a Mad Lib with an emphasis on Mad."
(Thomas Thorspecken, Analog Artist Digital World)
"For my #theater people — this was a smiling hour of fun — the audience writes the lines in real time."
"Thx @BrianFeldman for the great #txtshow. Encouraging tweeps to see it."(@ten_ten)
"#txtshow = AMAZING!!!! @brianfeldman put on a great, great show."(@randompattern)
• j.mp/txtshow20_fb (Facebook Event)