TWU Pioneer Early Literacy Series: Online Professional Development
Event Information
Refund Policy
Refunds up to 7 days before event
Eventbrite's fee is nonrefundable.
Powerful, interactive, online professional development for K-3 Early Literacy educators.
About this Event
Join us as we kick-off the Annual TWU Pioneer Early Literacy Series. A new and timely topic is explored in each session through an interactive format providing lecture, video, and small group activities with the presenter and other attendees. Sessions will be held online via Zoom four times within an academic year. All sessions are held on Saturday mornings for 1 1/2-3 hours with a focus on early literacy. You won't want to miss a single session.
The Third session is on JANUARY 14th! Register TODAY!
Registration Information
Cost: $50 per session/per person or $100 per person for the 2 remaining sessions
Register for as many open sessions as you wish. (Note: The last session is conducted in English and Spanish.)
Credit Cards are welcome!
Sessions will not be recorded due to the interactive structure of the event.
To register using a Purchase Order, please go here.
Deadline for 3rd Session: Thursday, January 14, 2020
Zoom Invitation link will be emailed one day prior to the event.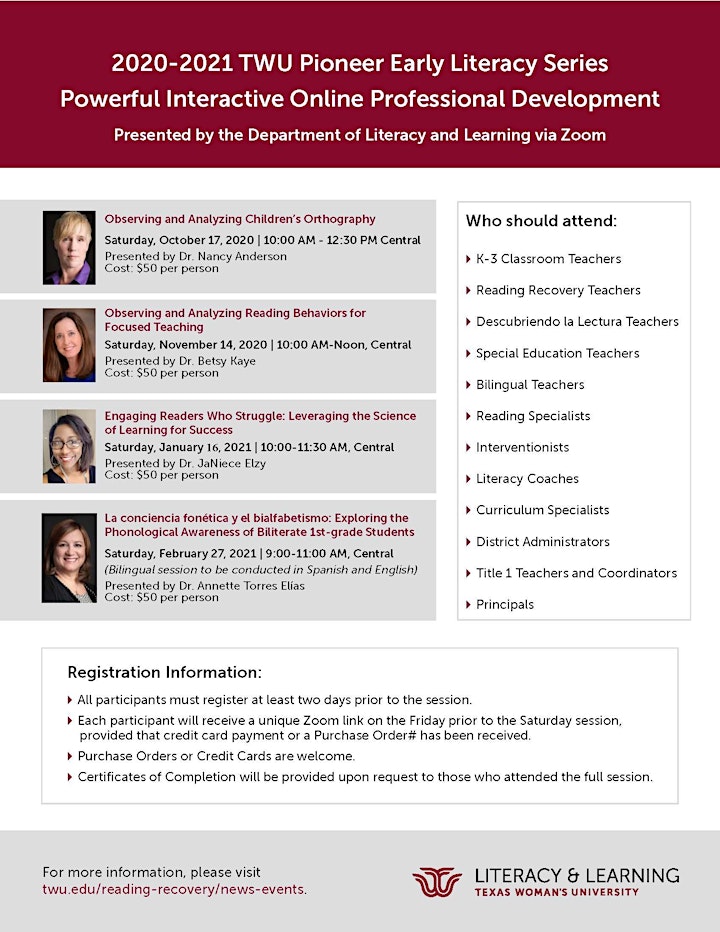 Series Speakers
The series presents four, exceptionally trained, and nationally recognized speakers from Texas Woman's University's Department of Literacy and Learning. Each speaker will provide powerful, interactive sessions for K-3 educators incorporating the latest research, proven methods, and coming trends. Choose the session or sessions you wish to attend.
2021 Session Descriptions
January 16, 2021 - Presented by Dr. JaNiece Elzy
OPEN FOR REGISTRATION THRU JANUARY 14TH
Engaging Readers Who Struggle: Leveraging the Science of Learning for Success
New technologies have given us much insight into how developing brains function and grow. The science of learning connects this research to practical implications for instruction. This session will help you bring the science of learning into your classroom. We will specifically discuss the theme of learner variation by examining the role of emotion as a mediator of learning, motivation, reading self-efficacy, and self-concept. Participants will learn how to purposefully and intentionally leverage these concepts to engage students who are striving to become proficient readers and writers.
February 27, 2021 - Presented by Dr. Annette Torres Elías
OPEN FOR REGISTRISTRATION THRU FEBRUARY 25TH
La conciencia fonética y el bialfabetismo: exploring the phonological awareness of biliterate 1st grade students
Bilingual session to be conducted in Spanish and English
In this interactive online session, bilingual teachers will learn how their students use a wide range of phonological information from several levels of language in reading and writing. Similarities and differences between the English and the Spanish language phonology and orthography will be discussed. Participants will analyze writing samples of bilingual first- grade students and discuss instructional implications.
For more information about this and future Literacy and Learning special events and professional development, please go here.
2020 Session Descriptions
October 17, 2020 - Presented by Dr. Nancy Anderson
CLOSED FOR RESERVATIONS
Observing and Analyzing Children's Orthography
Whole class instruction around orthographic patterns is often too hard or too easy for young children. In order to design targeted instruction teachers need to understand developmentally appropriate orthographic expectations for young children as they problem solve text. A Literacy Processing perspective will guide the participant's analysis of authentic reading and writing samples in order to design targeted instruction that is 'just right'. The aim of this session is to help teachers analyze reading and writing during observations, formative and summative assessments, and Individualized conferences with children. Teachers will then be able to integrate these observations into their specific school or district curricular maps and design individual instruction.
November 14, 2020 - Presented by Dr. Betsy Kaye
CLOSED FOR REGISTRATION.
Observing and Analyzing Reading Behaviors for Focused Teaching
Running Records are one of teachers' most powerful tools for carefully observing and analyzing children's strengths and needs in reading. How can you get more useful information from your Running Records? Betsy Kaye will guide participants in a deeper analysis of patterns within records and show how to use that information to make powerful, focused teaching decisions-- whether you are working with children in small groups or in one-to-one settings.
Date and Time
Location
Refund Policy
Refunds up to 7 days before event
Eventbrite's fee is nonrefundable.