Two Years After Tahrir

Thursday, March 28, 2013 at 12:00 PM
Event Details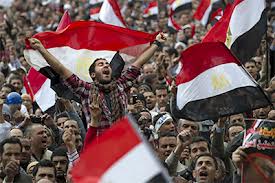 To mark the two year anniversary of the Tahrir Square Revolution, the American Islamic Congress is hosting the first event of its 2013 Capitol Hill Distinguished Speaker Series. The ascent of the Muslim Brotherhood in Parliament and the election of President Mohammed Morsi has given rise to a fierce political battle between Islamists and the mostly secular and liberal opposition. In the wake of the 2011 Revolution, Egyptians and observers worldwide are closely following the increasingly influential role that Islam has had on Egyptian politics as many wonder how this will affect the democratic process. More specifically, they are tracking whether this trend will translate into diminished civil rights for religious minorities such as Coptic Christians, Baha'is, Jews and others.
We will hear expert insights into the current situation in Egypt regarding the role of religion in Egyptian politics and religious freedom issues. Eric Trager, a scholar at the Washington Institute for Near East Policy, Dwight Bashir, the Director of Policy and Research at the U.S. Commission for International Religious Freedom, and Dr. Safei Hamed, co-founder of the Alliance of Egyptian Americans will speak on these issues.
Concerns about heightened and ongoing discrimination against religious minorities in Egypt as outlined by the U.S. Commission on International Religious Freedom have spurred Representatives Frank Wolf (R-VA) and Anna Eshoo (D-CA) to reintroduce legislation (H.R. 301) calling for the establishment of a Special Envoy to advocate for religious minorities in the Near East and South Central Asia. This legislation which has garnered nearly 40 bipartisan cosponsors has been referred to the House Committee on Foreign Affairs. We will also hear brief remarks from Congressman Frank Wolf's office in order to better understand this legislation.
Agenda
12:00 Registration and Welcome
12:15 Panel Begins
1:00 Question and Answer
1:30 Event Concludes
Speakers
Eric Trager
Next Generation Fellow, Washington Institute for Near East Policy
Eric Trager, the Next Generation Fellow at The Washington Institute, is a Ph.D. candidate in political science at the University of Pennsylvania, where his research focuses on Egyptian opposition parties. He was in Egypt during the 2011 anti-Mubarak revolts, and his writings have appeared in numerous publications, including the New York Times, Wall Street Journal, Foreign Affairs, the Atlantic, and the New Republic. From 2006-2007, Mr. Trager lived in Egypt as an Islamic Civilizations Fulbright fellow, where he studied at the American University in Cairo and received his M.A. in Arabic studies with a concentration in Islamic studies. He served as a research assistant at The Washington Institute from 2005 to 2006 upon graduation from Harvard University with a degree in government and language citations in Arabic and Hebrew
Dwight Bashir
Deputy Director for Policy an Research, U.S. Commision for International Religious Freedom

Dr. Dwight Bashir is the Deputy Director for Policy and Research at the U.S. Commission on International Religious Freedom (USCIRF).  He is a specialist on human rights and religious freedom in the Middle East and North Africa, preventive diplomacy, and ethnic and sectarian conflict. Dr. Bashir is also serving a two-year term on the U.S. Holocaust Museum's Committee on State-Sponsored Antisemitism and Holocaust Denial. He has published widely on an array of topics in international affairs, including democracy and religious freedom, peace and security, extremism, and reform in the Middle East. Dr. Bashir has contributed to various reports published by the Council on Foreign Relations and the Center for Strategic and International Studies, among others, and participates regularly in trainings of refugee and asylum officers at the U.S. Department of Homeland Security. He is interviewed frequently in the national and international media, including CNN, Fox News, The Washington Post, The Christian Science Monitor, National Public Radio, the Associated Press, Al Arabiya, Al Jazeera, and BBC Arabic and Persian Services. Before joining USCIRF, Dr. Bashir worked as a consultant with the United Nations and with non-governmental organizations focusing on human rights and international conflict analysis and resolution. 
Dr. Safei-Eldin Hamed
Co-Founder, Alliance of Egyptian Americans
Dr. Safei-Eldin Hamed is a scholar of environmental planning and a consultant of international development. He has served various agencies including the State Department, the Environmental Protection Agency (EPA) , the Fish and Wildlife Service, the Agency for International Development (USAID), the Aspen Institute for Humanistic Studies, the Smithsonian Institute, the Aga Khan Award for Architecture, the Arab Development Institute, Yemen Ministry of Environmental Affairs, and the Egyptian Ministry of Tourism. Between 1994 and 1997, he worked as an Environmental Specialist at the World Bank in Washington, DC.
 Dr. Hamed has authored and co-authored eleven books, and more than sixty chapters, articles, papers, and special reports.  He has been invited to lecture in universities around the world including: Harvard, Stanford, Oxford, DePaul, Creighton, Cairo, Kuwait, Jordan, Qatar, and Saudi Arabia. 
As a political activist, he established the Arab-American Faculty Forum of Texas Tech (AAFF) in 2001, and co-founded the Alliance of Egyptian Americans, where he served as a president from 2005-2009. The Alliance is the first Egyptian American organization that opposed Mubarak's regime and has promoted true democracy, social justice, and balanced development in Egypt.
Please direct inquiries to AIC's Office of Government Relations, i.griffin@aicongress.org
When & Where

Rayburn Congressional Office Building
B339
Washington, DC 20515


Thursday, March 28, 2013 at 12:00 PM
Add to my calendar
Organizer
Since 2007, the American Islamic Congress (AIC) has been leading one of the most vital and distinguished platforms for moderate Islamic and interfaith discussions through its frequent events and panel discussions. The events, designed to inform congressional leaders, Capitol Hill staffers, and the Washington policy community about Muslim issues in America and around the world, is central to AIC's mission of building tolerance and fostering respect for civil and human rights. AIC has brought in leading voices in fields such as women's rights, Islamic extremism, and democracy in Muslim majority countries. In addition to its ongoing lecture series, AIC provides briefings and discussions on the current and pertinent issues relating to the American Muslim community and issues relevant to U.S. foreign and domestic policy.