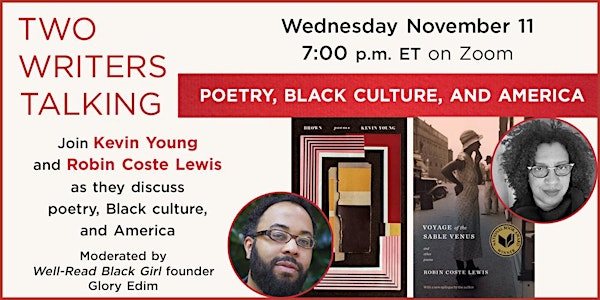 Two Writers Talking: Poetry, Black Culture, and America
Two Writers Talking: Poetry, Black Culture, and America
About this event
**This is a virtual event that will be hosted on Zoom - you will need access to a computer or other device that is capable of accessing and sufficient Internet access. If you have not used Zoom before, you may consider referencing Getting Started with Zoom.**
DIGITAL DOORS: 6:50pm EST (be the first to submit a question!)
EVENT START: 7:00pm EST (or as soon as all attendees are checked in)
In his powerful collection Brown, the prize-winning author of Blue Laws Kevin Young meditates on "all things brown," from James Brown and John Brown's raid to Brown v. the Topeka Board of Education. In Voyage of the Sable Venus, National Book Award-winning debut poet Robin Coste Lewis explores the black female figure through time. Please join these two beloved poets as they discuss the role poetry plays in difficult moments in our history, moderated by Well-Read Black Girl founder Glory Edim.
KEVIN YOUNG is the director of the Schomburg Center for Research in Black Culture and poetry editor for The New Yorker. He is the author of twelve books of poetry and prose, including Blue Laws: Selected & Uncollected Poems 1995-2015, longlisted for the National Book Award; and Book of Hours, a finalist for the Kingsley Tufts Poetry Award and winner of the Lenore Marshall Prize from the Academy of American Poets. Young's book Bunk: The Rise of Hoaxes, Humbug, Plagiarists, Phonies, Post-Facts, and Fake News, a New York Times Notable Book, was longlisted for the National Book Award and appeared on many "best of" lists for 2017. His collection Jelly Roll: A Blues was a finalist for both the National Book Award and the Los Angeles Times Book Prize for Poetry. His nonfiction book The Grey Album: On the Blackness of Blackness won the Graywolf Press Nonfiction Prize and the PEN Open Book Award, and was a New York Times Notable Book and a finalist for the National Book Critics Circle Award for criticism. He is the editor of eight other collections and was inducted into the American Academy of Arts and Sciences in 2016.
ROBIN COSTE LEWIS, the winner of the National Book Award for Voyage of the Sable Venus, is the poet laureate of Los Angeles. She is writer-in-residence at the University of Southern California, as well as a Cave Canem fellow and a fellow of the Los Angeles Institute for the Humanities. She received her BA from Hampshire College, her MFA in poetry from New York University, an MTS in Sanskrit and comparative religious literature from the Divinity School at Harvard University, and a PhD in poetry and visual studies from the University of Southern California. Lewis was born in Compton, California; her family is from New Orleans.
GLORY EDIM is an author, activist, and the founder of Well-Read Black Girl, a nationwide book club-turned-literary festival that celebrates the uniqueness of Black literature and sisterhood. Well-Read Black Girl's mission is to use literature and storytelling as a tool for advocacy and collective empowerment. The annual literary festival aims to transform the publishing industry by increasing the public visibility of Black women and non-binary authors. Glory has won numerous awards for her work supporting and sustaining literature, including the 2017 Innovator's Award from the Los Angeles Times Book Prizes and the Madam C.J. Walker Award from the Hurston/Wright Foundation. She also serves on the board of New York City's Housing Works Bookstore. Her best-selling anthology, Well-Read Black Girl: Finding Our Stories, Discovering Ourselves, was published by Penguin Random House in 2018. She is currently working on a memoir that explores her intimate relationship with reading and Nigerian-American heritage. She is proud alumni of Howard University and currently resides in Los Angeles.
This event is hosted in partnership between the Knopf Doubleday Publishing Group and Penguin Random House. To purchase signed books by Kevin Young, Robin Coste Lewis, and Glory Edim, please visit Café Con Libros.
https://www.cafeconlibrosbk.com/two-writers-talking
By registering for the event you agree to be automatically signed up for the Penguin Random House email newsletter.