Two Shepherds 5th Annual Summer Bash and (first time ever!) Syrah Library W...
Description
Two Shepherds 5th Annual Summer Bash! Come celebrate being named "Sonoma Syrah Specialist" with our Syrah Library Wine Tasting

Join Two Shepherds at our winery in Windsor for our annual pre-harvest, summer bash, featuring BBQ bites, and for the first time since we launched, a library wine tasting and sale. Open to all. Dog friendly too - Arya says bring your pup!
We will have nibbles on hand including smoked pork shoulder sandwiches.

First Time Ever - Syrah Library Wines! In celebration of being featured as "Sonoma Syrah Specialists" by the San Francisco Chronicle, we are offering 2011 & 2012 Syrah and Syrah|Mourvedre library wines for sale for a limited time.
More info & to place an order of these library wines, for a limited time, if you cannot attend is here. (http://store.twoshepherds.com/Wines/Syrah-Library-Event)
We will of course offer a few of our new releases as well including the 2016 Grenache rose. Event is complimentary for club members, and $10 for Non Flock members (normally $15, which will be the price at the door.)
The $10 fee includes a $10 purchase credit, so buy a bottle and entry is basically free!
Please RSVP to help us have proper stems and supplies on hand, and to be in a drawing to win!
We will also draw from RVSPs to raffle a bottle of the 2016 Rose.

Dog Friendly - bring your four legged friend to play with Arya. Well behaved children welcome as well, (ill behaved ones can be put in a macro picking bin.)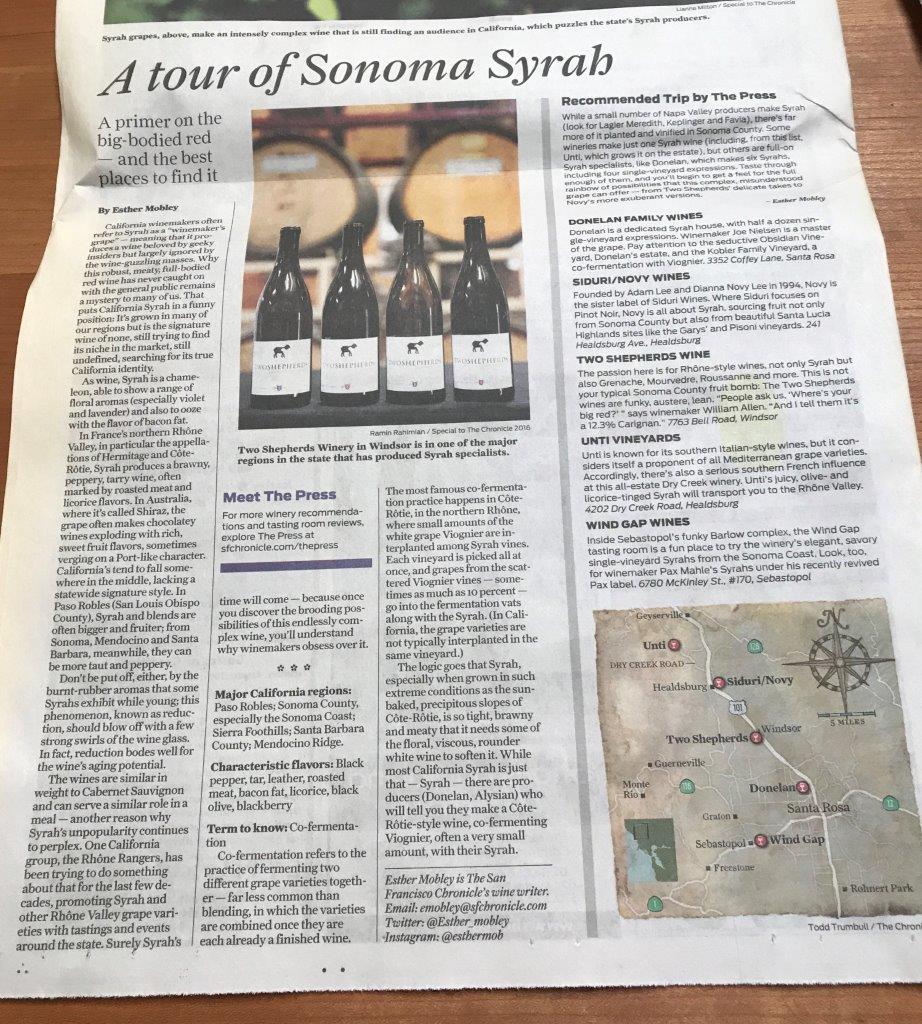 Make A Day of It With Our Artisan Alley Neighbors

Visit out Artisan Alley neighbors Sonoma Brothers Distiling, Colagrossi Wines, and Tilted Shed. The new Barley & Bine tap room and restaurant will hopefully also be open to preview! Park your car and try our other small lot neighbors.
Can't Make Saturday? Friday Night Party Tonight!

Join Artisan Alley the night before for our new monthly "Friday Night Under The Lights" with food truck, special sales and more. Details: http://www.artisanalleywindsor.com/home/upcoming-events/
Can't join the party? You may also go to the online store to order new releases. Residents of CA, NV, and AZ get flat rate $10 shipping on 1-12 bottles. http://store.twoshepherds.com/
Look forward to seeing you there, cheers!
William and Karen (and Arya)