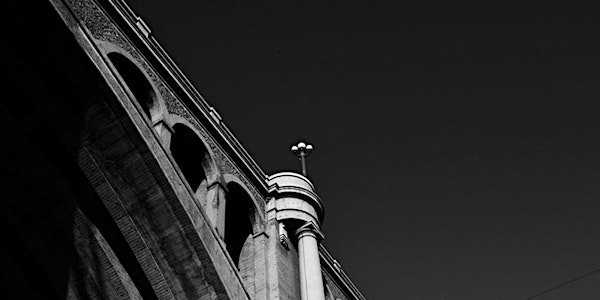 TWO OUTDOOR SCREENINGS W/LIVE SCORES BY DAVE HARRINGTON (OF DARKSIDE)
When and where
Location
The Viaduct 1799 Baker Street Los Angeles, CA 90012
Refund Policy
Contact the organizer to request a refund.
Description
Join us for TWO outdoor screenings -- "No Country for Old Men" on Friday, 8/12 & "The Cabinet of Dr. Caligari"on Saturday, 8/13 -- with live, improvised scores by Dave Harrington of the famed electronic duo Darkside. The Dave Harrington Group will bring an unpredictable mix of free jazz and electronica to two eerie films in a dramatic setting. Prepare to be spooked, wowed and entertained. In the meantime, check out Darkside on KEXP!
The Viaduct, "the most interesting new venue in Los Angeles" (according to Los Angeles Magazine) a secret space run by California State Parks, might the coolest place most people have never been. Picture a 20' movie screen, 6 musicians, local food, lots of drinks and a blazing fire pit. Under the historic Broadway Bridge, The Viaduct has tall concrete walls with a Metro rail running overhead.
PICK ONE NIGHT OR COME FOR BOTH!
FRIDAY, 8/12 - "No Country for Old Men"
SATURDAY, 8/13 - "The Cabinet of Dr. Caligari"
Timing for Both Nights:
6p Doors & Pre-party
8p Screening & Performance
IT'S DAVE HARRINGTON, PEOPLE.
From National Sawdust: "Dave Harrington, of electronic duo group Darkside, brings together The Dave Harrington Group to embark on a sonic odyssey. Bringing free jazz, drone, ambient, and film music to bear, the DHG will re-construct a sonic world – a singular experience of a film that lives and breathes."
Featuring:
Dave Harrington – guitar/bass/electronics
Will Epstein – sax/synth/electric piano
Andrew Fox – vox/electronics/synth
Samer Ghadry – drums/percussion/vox
Tlacael Esparza – drums/percussion/sunhouse
Spencer Zahn – bass
THESE FILMS ARE SCARY GOOD.
"No Country for Old Men" is a 2007 American neo-Western thriller film directed, written, and edited by Joel and Ethan Coen, based on the Cormac McCarthy novel of the same name. Starring Tommy Lee Jones, Javier Bardem and Josh Brolin, it tells the story of a Texas welder and Vietnam veteran to whom chance and greed deliver a fate that is neither wanted nor denied; a cat-and-mouse drama set in the desert landscape of 1980 West Texas. Themes of fate, conscience, and circumstance are explored; ones that the Coen brothers have previously explored in Blood Simple andFargo.
"The Cabinet of Dr. Caligari" (German: Das Cabinet des Dr. Caligari) is a 1920 German silent horror film, directed by Robert Wiene and written by Hans Janowitz and Carl Mayer. Considered the quintessential work of German Expressionist cinema, it tells the story of an insane hypnotist (Werner Krauss) who uses a somnambulist (Conrad Veidt) to commit murders. The film features a dark and twisted visual style, with sharp-pointed forms, oblique and curving lines, structures and landscapes that lean and twist in unusual angles, and shadows and streaks of light painted directly onto the sets.
THERE'S NO PLACE LIKE THE VIADUCT.
The Historic North Broadway Bridge traverses the north end of Los Angeles State Historic Park. California State Parks realized that this architecturally beautiful bridge, particularly the underside, was underutilized and not easily accessible to the public. In an effort to connect with the burgeoning downtown arts community, State Parks is working with cultural producers and artists to create programming that will engage the public with the park in new and exciting ways. The North Broadway Bridge was originally called the "Buena Vista Viaduct." Thus, The Viaduct.
THANK GOODNESS, WE'RE NOT ALONE.
Kensington Presents started as an intimate series of concerts on our porch in Angeleno Heights, and has grown into a performance series with California State Parks, The York Manor and other partners across the city. The programming is still an eclectic mix and the crowds are still intimate - we just wanted to explore the city and invite a few (hundred) more of our friends! Check out some amazing past performances and learn more at: www.kensingtonpresents.com
Wordless Music is devoted to the idea that the sound worlds of classical and contemporary instrumental music – in genres such as indie rock and electronic music – share more in common than conventional thinking might suggest. To illustrate the continuity between these worlds, the series pairs rock and electronic musicians in an intimate concert setting with more traditionally understood classical music performers.
California State Parks is addressing the needs of urban residents through land acquisitions, new partnerships, and strategic initiatives in the 21st century. In this spirit, State Parks acquired the 32-acre Los Angeles State Historic Park following the grassroots efforts of a diverse community coalition. For over a decade, State Parks has worked hand in hand with surrounding communities in developing the park as a space for civic dialogue, cultural celebration, and historic remembrance. Los Angeles State Historic Park will re-open to the public in the fall of 2015.
The show is also presented in partnership with Produced by BEAR.
###