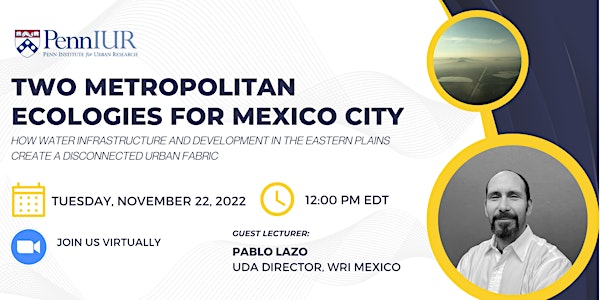 Two Metropolitan Ecologies for Mexico City
Pablo Lazo will present his research on the urban evolution of Mexico City during the 20th century.
About this event
In the second lecture of a three-part series, Mexican architect and urbanist Pablo Lazo will present his ongoing research of Mexico City, exploring two of the four key ecologies that have defined the urban evolution of Mexico City during the 20th century: water infrastructure and the development of the eastern plains.
The main wastewater sewage systems in Mexico City have defined the urban growth of many communities and areas of the city, triggering complex processes of urbanization that exacerbate the dystopian ecological policies and ambitions that local authorities have championed for over four decades. The results show a disconnected urban fabric, with growing inequalities, and a lack of resilient and sustainable infrastructure.
These infrastructures have had a disproportionate impact on the eastern plains of the valley. Social segregation, physical barriers and accelerating ecological deterioration of the old lakebeds are some of the key elements explored and showcased by this research. The flatness and excellent location in relation to other villages in the valley could have resulted in a new centrality within the valley, but nevertheless, bad urban policies and ageing infrastructure have created one of the most brutal experiments of informal social housing sprawl the 20th century has ever seen.
Pablo Lazo is currently Director of Urban Development for the World Resources Institute, and for more than decade he was Deputy Director for the British design, consulting, and engineering company ARUP, where he led architecture and urban planning projects in various parts of the world.
This lecture presents the research of a forthcoming publication under the support of Mexico's Ministry of Culture.