Description
Minocqua Brewing Company welcomes the four original members of Two Many Banjos as they take their Duluth, Minnestoa-based show on the road for a few dates this March. They're inviting you to "get yer bluegrass and boogie on" for one of their very few dates on this brief Midwest tourn.
The release of 'I'm Not Scared of the Devil' was Two Many Banjos most recently released full-length collection. Principle songwriter for the group, Marc Gartman, has done something a bit unusual. He has shelved the banjo and written all the tunes on the Irish Bouzouki. It's not exactly Dylan going electric but for a band that defined themselves (in name and sound) as a two banjo lead outfit this is somewhat of a departure. The fact that the band name actually has the word "banjo" (and "two" for that matter) in it was no deterrent for the ever-whimsical Gartman!
Joining him for this 10-year Anniversary Tour will be Trampled By Turtles' own Dave Carroll, Minneapolis music woman, Jillian Rae and reknowned guitarist and bass player, Steve Garrington.
The music on 'I'm Not Scared of the Devil' is Part II of material Gartman has written on his Bouzouki for these specific players. Part I came in the form of Marc Gartband's 'Fatwa' released in 2010 and features the same core group of Gartman, Carroll, Matt Mobley (Coyote, Hattie Petterson) and Bryan 'Lefty' Johnson (Black-Eyed Snakes). However, in the past year the name 'Marc Gartband' has been dissolved and Two Many Banjos is how these folks would like to be called from now on, ya hear?

The music was recorded predominately live at Inland Sea in Superior, WI with recording guru and software/hardware designer Dave Hill. For the music geeks out there it might be worth mentioning that Mr. Hill used a prototype compressor he invented called 'Titan' that won't be on the market till next year. For the non-music geek out there that means Mr. Hill has some fancy toys and the album was recorded well.

As far as Part III of Gartman's proposed bouzouki trilogy goes, if the God's decide it is so I'm sure we'll hear the fruits of those labors when the time comes. Until then Two Many Banjos will tour fairly consistently performing this new material (and, yes, all the banjo tunes from their catalog as well).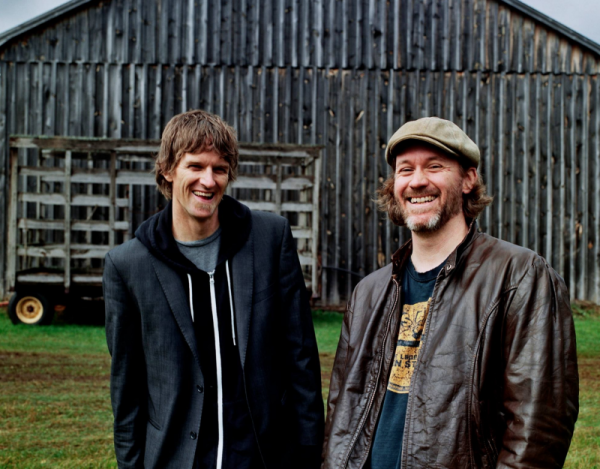 Hobo Nephews of Uncle Frank
Brothers Teague and Ian Alexy wrote their first songs together as young kids in the South Jersey bay town Somers Point. They devised a plan and quickly went to
work, each penning their own original song and presenting them to one another. Years later, the Alexy brothers, better known as Minnesota-based troubadours Hobo Nephews Of Uncle Frank, use that same approach on their new record American Shuffle (Chaperone Records 2015).

American Shuffle was produced by friend and collaborator Ryan Young of indie-bluegrass band Trampled By Turtles. American Shuffle is the follow-up to the critically acclaimed Hobo Nephews of Uncle Frank album Number One Contender (Chaperone Records 2013).

A common love of American roots music and a desire to make a living as songwriting musicians brought brothers Teague and Ian together to form Hobo Nephews in 2005. Like the traveling workers, or 'Hobos' of the depression era, the Alexy brothers use travel as means of making a better living for themselves. They have recorded 5 full length albums and performed over a thousand shows covering 42 of the lower 48 United States.

"Touring all around this country has made us better musicians and heightened our awareness and instincts in playing together," says Teague Alexy. "We've been able to see the country, meet the people. We've played the rich man's weddings and the poor man's barbeques. We learned the blues in the back woods of Minnesota and took it down south and all around to be sure we had it right. And, we became American writers along the way."

The Hobo Nephew's sound has been a part of the Upper Midwest's American roots music resurgance for the past decade. Their blend of folk, rhythm and blues, and rock and roll is uniquely their own, and celebrated by an ever growing grassroots fan base. Their song Old Number Four, from the new album American Shuffle, went viral with stories about the song on CBSSports.com, ESPN, The Jim Rome Show and other national sports outlets. Old Number Four gave the Hobo Nephews of Uncle Frank much deserved national attention.

Both Ian and Teague also release their own individual material. Ian Alexy's most recent album is called Born On The Day Of The Dead. Teague Alexy's most recent album, This Dance, was produced by Erik Koskinen. Teague also recently had his first book published - The New Folklore: Lyrical Tales for Dreamers & Thinkers (North Star Press).


Number One Contender voted Northland's 2013 Album of the Year in The Reader Weekly (Duluth, MN).

Number One Contender named #3 Minnesota album of 2013 by Star Tribune's Chris Riemenschneider.

Number One Contender voted #26 album of 2013 by listeners of KVSC 88.1 FM St. Cloud.

Duluth PBS - The Playlist 30 minute special on Hobo Nephews of Uncle Frank with live concert footage
http://www.wdse.org/shows/playlist/watch/season-4-episode-15-hobo-nephews

"timeless songwriting chops....loose, lively song rave-ups and masterful guitar work. Easily one of the best Minnesota-made albums of the year."
- Star Tribune review of Number One Contender

"a laid-back album, but not without grit and grime, and the songs are strong and memorable."
- Duluth News Tribune review of Number One Contender

"inimitable grooves and fabulous harmonies. They're both great guitarists, too."
- Erik Berry of Trampled By Turtles (Star Tribune)

"with heavy folk and Bob Dylan influences in the bands work, fans of tremendously played roots music are in for quite a treat."
- Atlantic City Weekly

"all manner of backwoods melody driven by chain-gang-workin'-on-the-railroad rhythms…the brothers Alexy excel at channeling that old-timey mono-radio sensation into their modern music."
- Minneapolis City Pages

"bounces around in rootsy folk and blues territory, with a heavy dose of Dylan and 'American Beauty'-fied Dead. Teague is more the bluesman of the group while Ian delivers most of the folkier, twangier stuff. Somehow, they strike a perfect balance."
- Star Tribune review of Sing!

"Four Stars…of the same breed of songwriters that put folk on the map and I'll be damned if they haven't written some of the most beautiful and captivating songs I've heard in a long time."
- Vail Daily review of Sing!

"the results are pure gold…a genre buster of epic proportions...an undeniable fact emerges: The Hobo Nephews are the new kings of Highway 61."
- Duluth Budgeteer News review of Sing!