About this Event
Two from Texas
Reception with the Artists: Rick Steinburg & Ruth Keitz
Saturday, November 23rd | 7-9pm
Sponsored by Treaty Oak Distilling
Rick Steinburg relies on his artist's intuition to create artworks that combine a love of found objects and materials with a loose, spontaneous painting style. The process of assembling a wide variety of materials combined with a very direct style of using paint and other media allows the creative process to determine part or all of the outcome. This is a closing reception for Rick Steinburg's exhibit, on display now at Ao5 Gallery.
Ruth Keitz is a Texas paper collage artist living in the Rio Grande Valley. She creates her work using discarded materials from the modern world, in the tradition of Duchamp's "ready-made" found object style. She is most interested in the inherent physicality of these objects; their texture, shapes & color, as well as their relationship to our everyday experience. Ruth was a finalist in the 2019 Contemporary Texas art contest at Ao5 Gallery this spring. We're very excited to bring a solo exhibit of her work to Austin for the first time!
Ruth Keitz's work will be on display from through Sunday, Dec. 22nd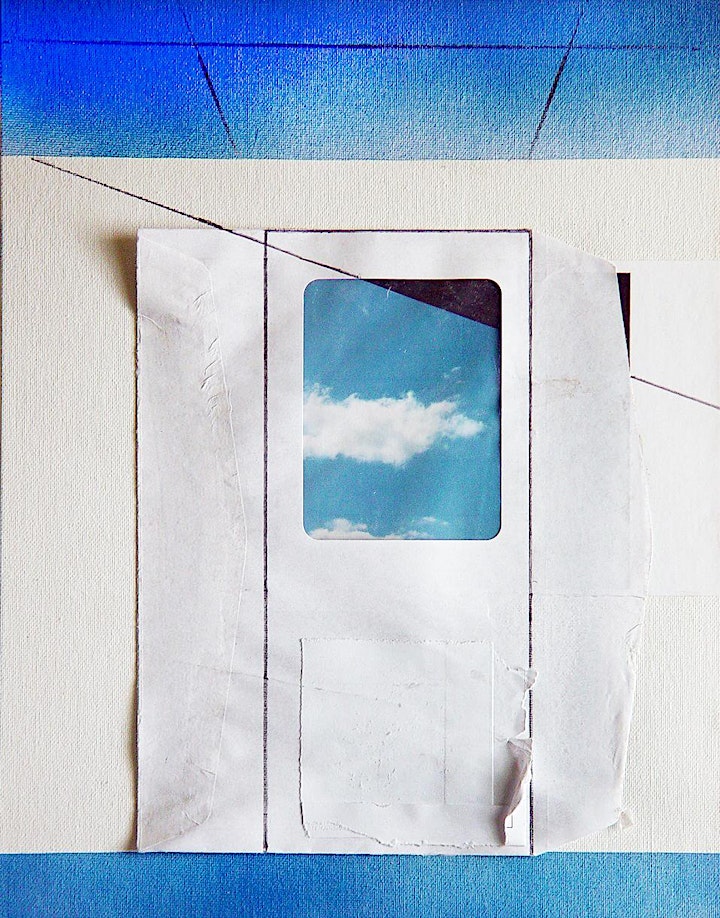 Ruth Keitz: Door with West Sky View #1, Original Paper Collage with Aerosol on Canvas Board, 14" x 11"