Two Experts Present the Latest Advances in Men's Health

Tuesday, May 24, 2011 from 6:00 PM to 9:00 PM (EDT)
Event Details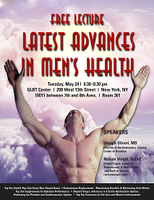 FREE LECTURE
Sponsored by Program for Wellness Restoration
FOR ALL MEN REGARDLESS OF SEXUAL ORIENTATION, HEALTH STATUS, AGE, FITNESS LEVEL, ETC
DATE:
Tuesday , May 24
TIME:
6 pm-9 pm
LOCATION:
The LGBT Center- 
208 West 13th Street New York, NY 10011 - between 7th and 8th Aves
ROOM 301
TOPICS:
Testosterone Replacement Options- Maximizing Benefits and Minimizing Side Effects
Sports Nutrition for Best Body Composition and Health
Top Ten Supplements for Optimum Performance
Advances in Erectile Dysfunction Options
Protecting the Prostate and Cardiovascular System
Top Ten Exercises for Fat Loss and Muscle Enhancement
ABOUT THE SPEAKERS
Joseph Olivieri , MD
Joseph G. Olivieri, M.D. is currently the Director of the Ambulatory Surgery Center of Brooklyn and a Diplomat in the American Academy of HIV Medicine and the American Academy of Family Practice with 40 years of clinical and research experience. Dr. Olivieri's diverse professional experience reflects his passion for medicine as a whole as well as his continuing mastery of developments in medicine most relevant to his specialties and most socially critical. Dr. Olivieri began his career as an Attending Physician at Lutheran Medical Center and, later, Associate Professor in Family Practice at Stonybrook Medical Center. On the basis of his extensive experience in medicine as a whole, he later transitioned into the medical insurance sector as an Assistant Director, a position he held for over a decade while continuing in his work in Family Practice.
Dr. Olivieri watched attentively and with concern as the decade of the 1980s unfolded with its growing unrest and lack of knowledge regarding the HIV epidemic. Noticing, too, that some of the negative attitudes regarding HIV had spread to the medical community and that patient treatments were being compromised as a result, Dr. Olivieri took action. He left the insurance sector to enter St. Vincent's Hospital as an HIV Scholar for the AIDS Institute, then transitioned to the NYU Medical Center as Physician for the HIV Clinic, and soon worked his way up to HIV Medical Director at Greenwich House. From there, he moved to his current position as Director of the Ambulatory Surgery Center of Brooklyn, where he continues to specialize in HIV Medicine and Family Practice.
Over the years, Dr. Olivieri has published articles, made presentations, and given talks about how to combat HIV-related symptoms. Moreover, he has helped thousands of patients succeed not only in their battle against diseases of the immune system but also in their efforts to resist the life-quality-compromising symptoms of old age, including loss of energy, loss of muscle mass, decline in sex drive, and overall drop in physical and mental well-being. In addition, Dr. Olivieri was recently awarded the Patient's Choice Award for 2010 on the basis of patient satisfaction. Outside of his busy profession, Dr. Olivieri is a multilingual enthusiast of resistance training and world travel and is an avid reader on all matters pertaining to current events, world history, and art through the ages.
Nelson Vergel,BsChE, MBA
Nelson is the author of "Testosterone: A Man's Guide" and co-author of the book "Built to Survive", the founder of the Body Positive Wellness Clinic in Houston, and an expert at TheBody.com and a speaker on exercise, nutrition, testosterone replacement, metabolism , sexual function, body changes, lean body mass gain and fat loss. Aided by his chemical engineering degree and obsession for scientific data, he adds his own personal experience as he demystifies all testosterone and health myths. He has been involved in several clinical studies of supplements, hormones and exercise through his association with the National Institute of Health and private investigators. Via over 500 lectures, he has provided patient-friendly information accessible to all, independently of their knowledge base.For the last 20 years, his trial-and-error experience to improve his quality of life has paved the way for others to learn from his knowledge. More information on him here: www.nelsonvergel.com and www.testosteronewisdom.com
When & Where

The LGBT Center
208 West 13th Street
NY 10011


Tuesday, May 24, 2011 from 6:00 PM to 9:00 PM (EDT)
Add to my calendar
Organizer
Program for Wellness Restoration