Description
~ This is a two day workshop Sat., April 6th and Sun., April 7th 10am - 3pm.~
Ever wonder how fashion and technology can be combined? Join world-renowned tech-couture designer Anouk Wipprecht in an intensive 2 days of making innovative fashion designs happen.
Introduction to Fashion Tech by Anouk Wipprecht

Introduction to the equipment at LA Makerspace

Sparkfun Kits (microcontrollers, components, etc.)

2-day Hands-on prototyping lab with assistance
Required
Optional
Bring anything you like to hack, twist, redesign and bend! For example battery driven electronics kids toys from which we might be able to build cute reactive accessories

You can bring your own microcontrollers / other tech stuff to explore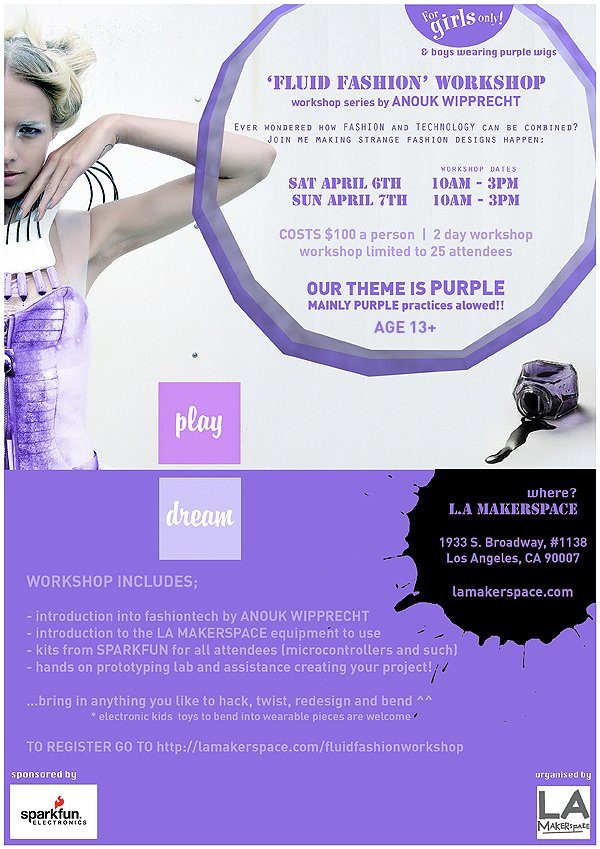 ABOUT ANOUK
What does fashion lack? "Microcontrollers" according to Dutch based fashiontech designer and innovator Anouk Wipprecht. As she is working in the emerging field of "fashionable technology"; a rare combination of fashion design combined with engineering, science and interaction/user experience design, she created an impressive body of tech-enhanced designs bringing together fashion and technology in an unusual way. She creates technological couture; with systems around the body that tend towards artificial intelligence; projected as 'host' systems on the human body, her designs move, breath, and react to the environment around them. Part futuristic, part anime-meets-high fashion, her aesthetics are set apart from more utilitarian wearables (which are all about function) and can be considered artistic creations in themselves. Many of her designs have been exhibited in exhibitions as well as fashion events. In Anouk's designs the technology creates the aesthetics as opposed to simply enhancing a function which is hidden. Keen on showing the nuts and bolts of the garments (often the valves and mechanisms are displayed on the outside) we witness the designs creating their own unique forms of interaction, movement and meaning.

She seeks to create a 'higher connectivity of the senses through the medium of clothing" by investigating the extent to which we experience fashion (emotionally, intellectual and sensual levels) by projecting technology as an extension or prosthetic of the body. Investigating the extent to which we experience fashion (emotionally, intellectual, and sensually) both from a physical as well as psychological angle, Wipprecht's designs responds to us, while also affecting our sartorial experiences. Producing garments which aim at more than just the traditional function of coverage and adornment, Anouk's techno-fashions are one-of-a-kind, architectural, avant-garde statements with bold silhouettes, vested with circuitry and a regalia of plastic tubes, fluids,smart foils and the ability to respond in an unique and remarkable way to the human body and his or her surroundings.
Wipprecht is artist, designer, curator and lecturer (Netherlands, China, Austria) in electronic couture, worked for names as the Black Eyed Peas, SuperBowl 2011, Eurovision 2012, with work featured in international magazines. She is the brainchild and curator of the TECHNOSENSUAL 'Where Fashion meets Technology' exhibition, with attached Artist in Residency program to stimulate the grow of fashiontech projects coupling fashion designers and engineers together, that took place in Vienna/Austria over the summer of 2012 and attracted 32.000 visitors in a two and a half month time span.

She is currently based in Vienna/Austria, and travels between Amsterdam (NL) Los Angeles (USA) San Francisco (USA) and Montreal (CA).
Website: http://www.anoukwipprecht.nl
Technosensual Exhibition: http://www.technosensualexpo.com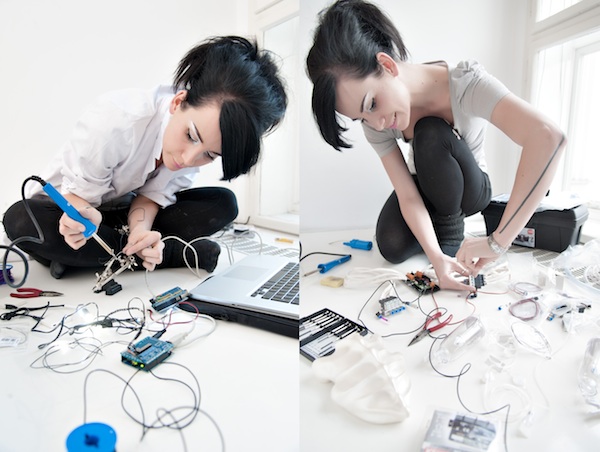 DIRECTIONS
We are located at LA Mart. Look for the very large chair.
PUBLIC TRANSIT
The Blue Line Grand Station at Washington and Grand is 2 blocks away in front of LA Trade Tech College and there are several bus stops within a block as well.
PARKING
$10.00 – Monday through Friday
$5.00 ($7.00 non-members)- Saturday. and Sunday. Inquire at desk.
NOTE: Parking on Hill Street is FREE on Sunday
ENTRANCE
Entry on Saturday and Sundays and Weekdays after 6pm is through the Employee Entrance to the left of the main LA Mart doors.
FAQs
Are there ID requirements or an age limit to enter the event?
You must be at least 13 years old
Do I have to bring my printed ticket to the event?
No
What is the refund policy?
No refunds 48 hours prior to the class
Organizer of Two Day Workshop: Fluid Fashion Wearable Tech Workshop with Anouk Wipprecht