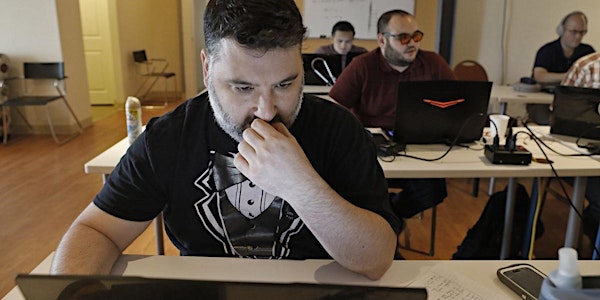 Two Day Weekend Admission Prep Mini Bootcamp (In Person Only)
Want to learn to code? Join us in this hands-on two days group training class. This class is excellent for anyone who has never tried coding
About this event
This Saturday and Sunday class is in person only, Central Standard Time. This class is excellent for anyone who has never tried coding before!
THIS CLASS IS IN PERSON ONLY( SIGN UP ONLY IF YOU PLAN TO ATTEND. WE HAVE LIMITED SEATS )
Bootcamp Admission Prep Course is for any student who's interested in applying to any of Claim Academy's prestigious and approved immersive programs -- such as the Full Stack Java, JavaScript or C#/.Net Engineering Immersive - and desires to acquire the basic programming skills needed to pass the pre-course work and technical interview.
You will have two days of instruction followed by an hour of lab to apply the skills you just learned towards your pre-course technical challenge. In the process of applying to Claim Academy, you may have signed up for our Pre-course work - Intro To Java Programming. If you have questions and need help, this is the course for you!
What is the Admissions Process like for Bootcamp Prep?
Anyone can sign up for this Bootcamp Prep. It's designed for beginners; the curriculum starts with the assumption that students have no basic familiarity with Java syntax, which allows the class to move at a good but slow pace and yield quality outcomes for students. There are homework exercises needed to work through the class.
When do we meet?
Saturday 9am to 2pm:
Sunday 9am to 2pm:
The student in our Boot Camp Prep will be taught by professional software engineers with many years of experience. You'll attend class all day Saturday. The class is a mixture of instructions followed by practical workshops designed to solidify your understanding of each core concept. You'll develop core programming skills and use them to solve various coding challenges.
What is the tuition?
Tuition for this course is FREE.
What do I need for class? Laptop for class. Macs and Windows are acceptable with at least 800 Megabytes memory. YOU WILL BE SENT YOUR CODING IDES TO DOWNLOAD BEFORE CLASS BEGINS. YOU MUST DOWNLOAD TO BE READY.
If you have any questions please email code@claimacademystl.com or call 314-499-5888
Curriculum:
2 Day Mini Bootcamp
9:00am to 2:00pm PM CST