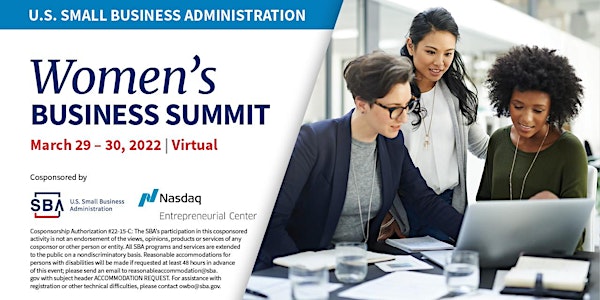 Two-day Virtual SBA Women's Business Summit - March 29 - 30, 2022
Women's Business Summit - 2022
About this event
Hosted by Assistant Administrator Natalie Madeira Cofield, we invite you to please join the Office of Women's Business Ownership of the Small Business Administration for power-packed panels, inspirational fireside chats, and 'Ask an Expert' workshops to help you build, scale, and grow your business.
Please note the Summit's fireside chats, keynotes, panels, and Ask an Expert sessions will take place virtually from March 29 - 30, 2022.
We will regularly update the event page and registrants' virtual attendee pages with speaker announcements and the schedule as we get closer to the event.
We look forward to engaging with you throughout the Summit!
Day 1 - Tuesday March 29, 2022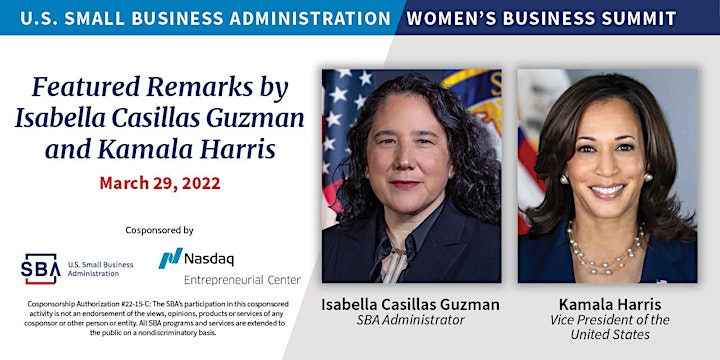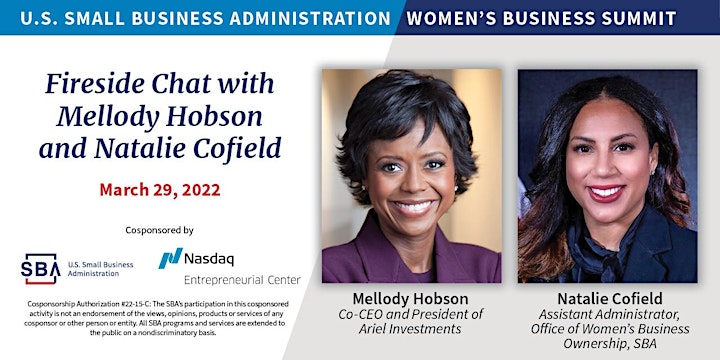 Mellody Hobson, co-CEO and President of Ariel Investments, and Natalie Madeira Cofield, Assistant Administrator of SBA's Office of Women's Business Ownership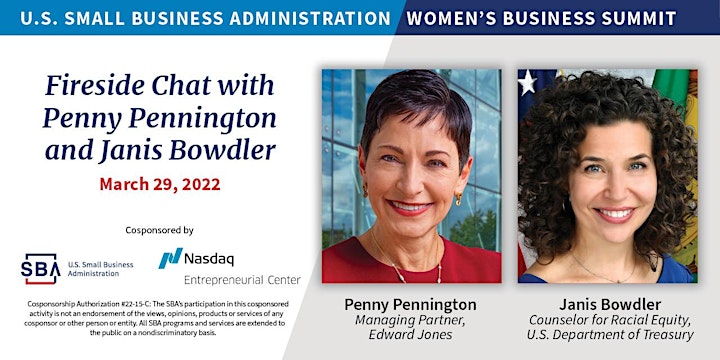 Penny Pennington, Managing Partner of Edward Jones, and Janis Bowdler, Counselor for Racial Equity at the U.S. Department of Treasury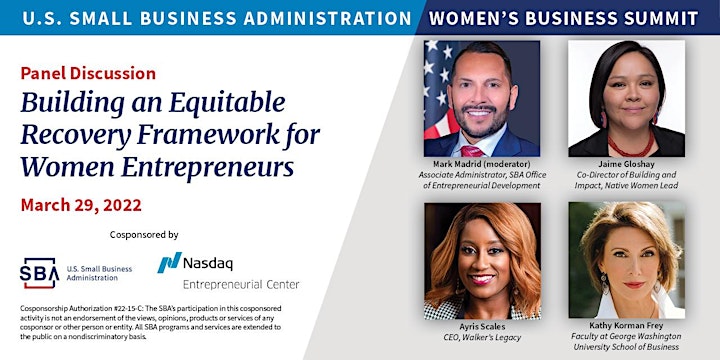 Building an Equitable Recovery Framework for Women Entrepreneurs: The pandemic is another example of how disasters exacerbate existing inequalities. Women dropped out of the workforce at greater numbers than men and have had unequal job recovery. This panel will discuss the inclusive approach needed to support a sustainable return to the workforce for women.
Mark Madrid, Associate Administrator, SBA's Office of Entrepreneurial Development
Jaime Gloshay, Co-Director of Building and Impact, Native Women Lead
Kathy Korman Frey, Faculty at George Washington University's School of Business
Ayris Scales, CEO, Walker's Legacy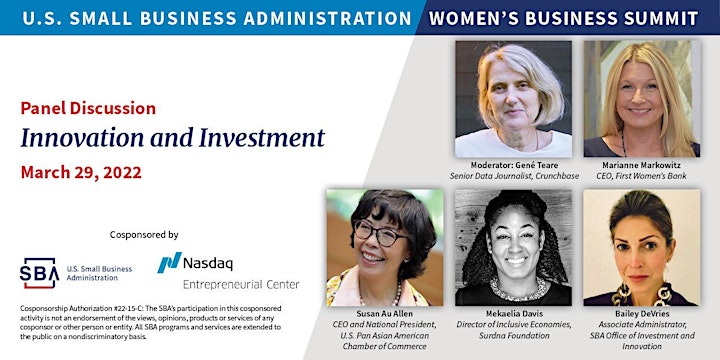 Innovation and Investment: Women are underrepresented in the STEM fields and high-tech startups and subsequently obtain VC funding at disproportionally lower rates than their male colleagues. Women of color are even less represented in both categories. This panel will highlight programs and organizations to support increasing access for women in obtaining funding for their high-tech startups.
Gené Teare, Senior Data Journalist, Crunchbase
Mekaelia Davis, Director of Inclusive Economies, Surdna Foundation
Bailey DeVries, Associate Administrator, SBA's Office of Investment and Innovation
Marianne Markowitz, CEO, First Women's Bank
Susan Au Allen, CEO and National President, U.S. Pan Asian American Chamber of Commerce
From Essential Worker to Essential Entrepreneur: CARE Economy Entrepreneurship Opportunities: The pandemic reminded us the irreplaceable role caretakers play in our lives. From caring for children to elders, caretakers are foundational to our families and the workplace. This panel will discuss the challenges and opportunities in the CARE economy and how SBA is supporting CARE entrepreneurs.
Tene Dolphin, Executive Director, National Women's Business Council
Diedra Henry-Spires, Senior Advisor to the Administrator, SBA
Louise Stoney, Co-founder, Opportunities Exchange
Allison Robinson, CEO, The Mom Project
Fran Pastore, CEO and Founder, Women's Business Development
The $100B Marketplace: Contracting Opportunities for Women-led Firms: The U.S. is the largest purchaser of goods in the world. In 1994, Congress authorized a goal for 5% of all federal contracts to go to WOSBs, a goal that has only been met twice. This panel will provide an overview of the complex world of federal contracting, the WOSB certification program, and how to increase the amount of federal contracts going to WOSBs.
Featuring:
Jackson Brossy, Assistant Administrator, SBA's Office of Native American Affairs
Necole Parker, Principal and CEO, The Elocen Group
Maria Rios, President and CEO, Nation Waste, Inc.
Monica Jojola, President, Montech Inc.
Shelby Scales, Director, U.S. Department of Transportation's Office of Small and Disadvantaged Business Utilization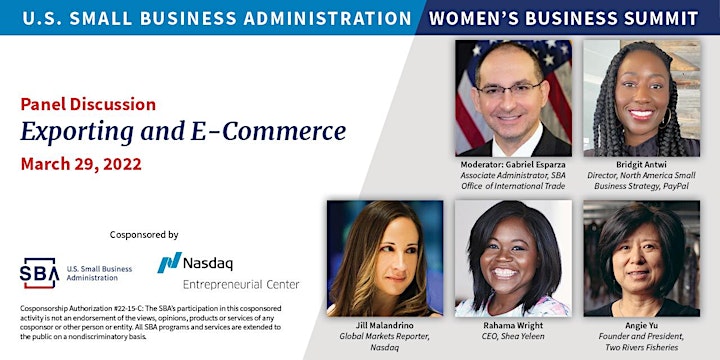 Exporting & E-Commerce: International markets are a significant challenge for small business owners who often don't have the tools or knowledge to successfully find and access new customers. This panel will host SBA and its partners as they talk about the relationships and programs they are building to support entrepreneurs as they enter new markets.
Featuring:
Gabriel Esparza, Associate Administrator, Office of International Trade
Jill Malandrino, Global Markets Reporter, Nasdaq
Rahama Wright, CEO, Shea Yeleen
Angie Yu, Founder and President, Two Rivers Fisheries
Bridgit Antwi, North America Small Business Segment, PayPal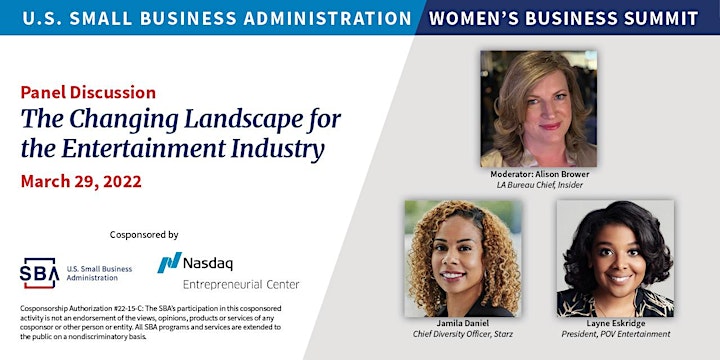 The Changing Landscape for the Entertainment Industry: The entertainment industry was especially hard hit throughout the pandemic. These businesses experienced unprecedented disruptions that threatened not only their livelihoods but also the entire industry. Philanthropic and government programs were created to support these industries and enable business owners to stay afloat. We will convene industry leaders to consider how their work has fundamentally changed and what they see for the future.
Featuring:
Alison Brower, Insider, LA Bureau Chief
Jamila Daniel, Starz, Chief Diversity Officer and Senior Vice President of Human Resources
Layne Eskridge, POV Entertainment, President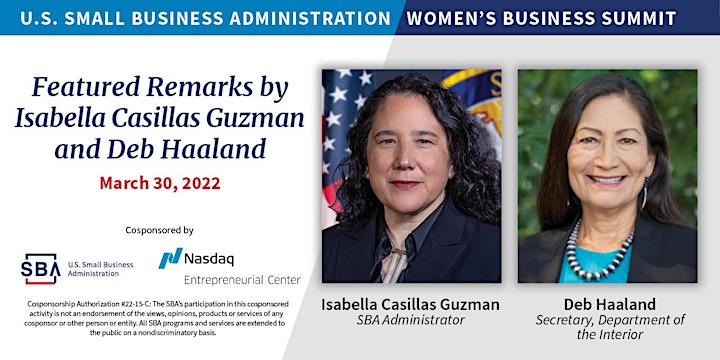 Morning Fireside Chat
Nicola Mendelsohn, Vice President of Global Business Group at Meta, and Ann Lewis, Senior Advisor for Delivery at SBA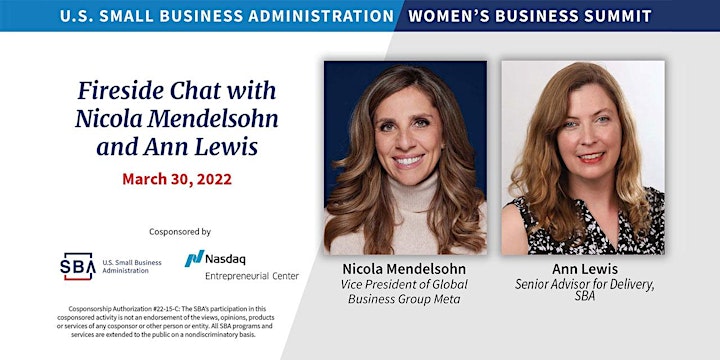 Ask an Expert Workshops
Ask an Expert workshops are technical deep dives into specific topics with leaders from the U.S. Small Business Administration. They provide an opportunity for attendees to ask pressing and more specific questions of our community and to receive technical presentations and 'how tos'. To join one or all sessions, click the Add On section when registering to RSVP for the session of interest.
Innovation and Investment 'Ask An Expert'
Jennifer Shieh, Director of Ecosystem Development, SBA Office of Investment and Innovation
Rikki Jones, Program Analyst, Office of Investment and Innovation
Certification and Contracting with GCBD 'Ask An Expert'
Cynthia Almendarez, Business Opportunity Specialist, SBA Office of Government Contracting and Business Development
Kiya Perrin, Supervisory Business Opportunity Specialist, SBA Office of Government Contracting and Business Development
Alisa Sheard, Women Owned Small Business Director, Office of Government Contracting and Business Development
Valerie Coleman, Program Manager, Office of Government Contracting and Business Development
Simona Duffin, Program Analyst, Office of Government Contracting and Business Development
OED and Accessing SBA Resource Providers 'Ask An Expert'
Shalei Holway, Senior Advisor, SBA Office of Entrepreneurial Development
International Trade, Exports 'Ask An Expert'
Sarah Bonner, International Trade Policy Specialist, SBA Office of International Trade
Accessing Loans and Micro Finance 'Ask An Expert'
Veronica Pugin, Senior Advisor, SBA Office of Capital Access
Cosponsorship Authorization #22-15-C: The SBA's participation in this cosponsored activity is not an endorsement of the views, opinions, products or services of any cosponsor or other person or entity. All SBA programs and services are extended to the public on a nondiscriminatory basis. Reasonable accommodations for persons with disabilities will be made if requested at least 48 hours in advance of this event; please send an email to reasonableaccommodation@sba.gov with subject header ACCOMMODATION REQUEST. For assistance with registration or other technical difficulties, please contact owbo@sba.gov.