Description
Training That Every High-Tech Sales Professional Needs for 2017
You probably crushed your numbers in 2016. But if you didn't, or you manage sales reps who you need to get better, then here's the opportunity to learn how to increase your close ratio and build a robust pipeline for 2017. Revenue Performance Group, the top 1% of Sandler training firms worldwide, is in your area on December 15th-16th with a unique training opportunity that was designed for sales professionals looking to sharpen their skills.
Using a combination of lecture, exercises and role plays, you will walk away with a clear system for selling. This will include scripts and techniques to overcome objections, a clean mechanism to separate 'suspects' from 'prospects' and how best to negotiate based on value versus price.
Who Should Attend
Designed for sales teams or managers who sell SaaS, IT Services or On-Prem SW, this 2-day sales immersion training opportunity will provide you with the foundational skills you need to prospect, qualify (or disqualify) and close quality business.
Workshop Highlights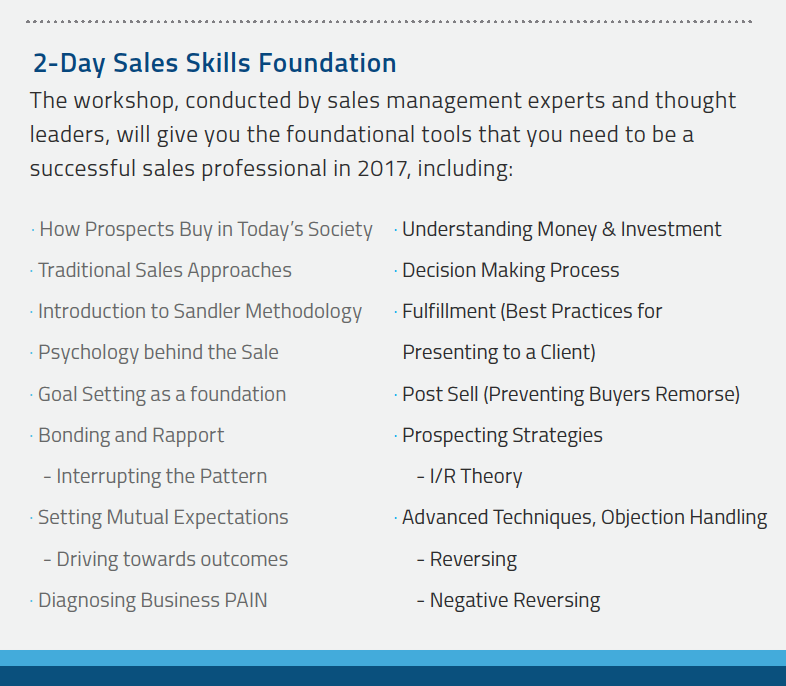 What Past Attendees are Saying


"I really liked the level of engagement & % of activity with role play. Participants had no choice NOT to participate."

"Excellent bonding and team building experience"

"Informative/enthusiastic/invaluable information presented in a fantastic, easily absorbable way."

"We need to get back to teaching this in the VAR channel."

"Very pleased – was entertained and learned some great techniques"
"Great workshop, great concepts and applied correctly will ensure success."
"Extremely informative. I've learned skills that will be very useful in years to come."