Two-Day Fundamentals of DSLR Video Production Workshop - MARCH 25 - 26, 201...
Description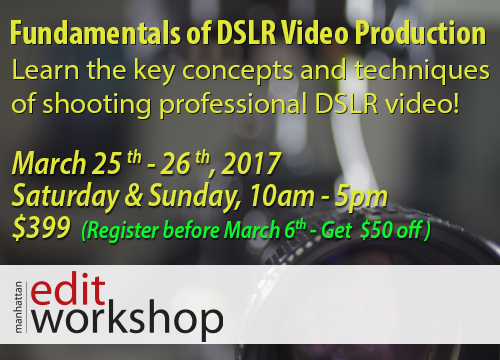 Through discussing key concepts of DLSR Video, demonstration on the camera components and hands-on shooting activities, students will learn the basic principles and applicable skills of operating a DSLR camera for video production, and some techniques and strategies for shooting high quality video.
Class Outline:
DAY 1
---
10:00am – 11:30am
Setting up and controlling your DSLR

An introduction to making connections and installing cards.
Menu Controls (Resolution, Frame Rate)
Understanding all the relevant menu settings and which controls are important under which circumstances.
Lens Controls (Iris, Shutter, ISO)
A basic overview of the buttons on the lens and camera body to get the best default picture settings.
---
11:30am – 1:00pm
Lenses (Fixed, Variable, Focal Length)
Understanding lenses may be the most important part of working the camera. Addressing common types, configurations and visual relationships will be the "focus"
Shot Composition (Framing, Thirds)
Working with different shots and when to use them. How to use the frame and working with perspective and depth.
---
1:00pm - 2:00pm - Lunch Break
---
2:00pm – 3:00pm
Studio Demo
Taking all the skills learned so far, into a fun interactive demo. Examining different environments and how to take advantage of a real world shoot. Some focus on SetUp and going handheld.
---
3:00pm – 4:00pm
Audio Setup (on camera, external)
Working with different mics and checking levels in the camera and with outboard gear.
---
4:00pm - ?
Practice Shoot
Go out and show us what you can do.
---
Day 2
---
10:00am – 11:00am
Shoot Review
Examine the footage and make critiques and review in effort to improve on different shots. Discussion of what worked and what didn't.
---
11:00am - 1:00pm
Interview Set Up, 3 point Lighting, Framing and Design
Examining the role of the producer and camera operator of a field news shoot. How to stage an interview as well as working with field lights in a location environment.
---
1:00pm - 2:00pm - Lunch Break
---
2:00pm – 3:30pm
Video for FX, Green Screen, background plates
Shooting original footage to be used in visual FX projects demands some extra considerations and techniques involving lighting, framing and establishing source material for the effects edit.
---
3:00pm – 4:00pm
Day 2 Practice Shoot
An opportunity to shoot some additional footage with additional skills and a more advanced techniques.
---
4:00pm – 5:00pm
Post Production, Transfer and Transcode
Working with the editor as a camera operator, and transitioning between the role of DP and assistant editor. Working with different file formats and organizing and storing your content.
STUDENTS WILL RECEIVE $50.00 OFF IF THEY REGISTER BEFORE March 10th!



Class size is limited to 16 students. There will be a limited number of DSLR cameras provided for the class. Students are encouraged to bring their own DSLR cameras to use for their class projects.
Instructor Chad Anderson is a college professor, animation geek, poet, video editor & skateboarder from the Jersey Shore. He has worked on a range of editing and visual FX projects for corporate, educational, broadcast, non-profit and military organizations all over the country (and once in Korea). Previous clients have included E! Entertainment, The Charlie Rose Show, the WB, The Count Basie Theatre and a film that went straight to video with John Stamos in it. He holds a Master's in Education from NJCU and has been teaching for over 17 years.