Description
In celebration of DEFA Film Library's 25th anniversary, please join us for the screenings of two movies by (East) German film director Konrad Wolf (1925-1982). Konrad Wolf's films are well known for critically exploring art, memories, and history.
---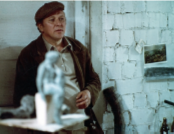 The Naked Man on the Sports Field - Der Nackte Mann auf dem Sportplatz (1973)
Kemmel, a renown sculptor, lives and works in a small town in (East) Germany. He accepts public commissions for his work—with mixed receptions by the small town public. The film is a quiet satire about the role of the artist and the place of the art (literally!) in socialist society.
The Wolf/Kohlhaase team based this tongue-in-cheek, episodic film on the life of Werner Stötzer, one of (East) Germany's most important sculptors.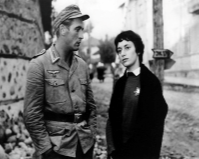 Stars - Sterne (1959)
2:30 PM
Stationed in a secluded Bulgarian village in 1943, Walter—a German Wehrmacht sergeant and artist—lives in almost idyllic distance from the war. Then a transit camp is set up for Sephardic Jews arriving from Greece. When Ruth, one of the internees, asks Walter to help a pregnant woman, the two form an unlikely bond. This gripping drama, based on authentic events by screenwriter Angel Wagenstein, was awarded the Special Grand Jury Prize at the 1959 Cannes Film Festival.
Discussion to follow screenings. Both films in German with English Subtitles.
Co-sponsored by:
International Association of New Haven
City of New Haven Peace Commission
"Each person must take the first steps on the often contradictory path in search of home, in discovering his place in the struggle for the possible future of his people. After emigration and return, that has been and remains the crucial experience in my development." Konrad Wolf