Two Bridges Music Concert Series Featuring Music, Masquerade and Magic with...
Description
Join us for an evening at the magical, musical masquerade!
Sara Leila Sherman will talk about and perform a selection from the following works:
Robert Schumann, selections from Carnaval, Op. 9: Pierrot, Arlequin, Pantalone et Colombine, Valse Noble
Aram Khatchaturian, Waltz from Masquerade
Robert Schumann, Papillons, Op. 2
Sergei Prokofiev - Romeo and Juliet, Capulets vs. Montagues
Claude Debussy, Clair de Lune from Suite Bergamasque
Franz Liszt - Mephisto Waltz No. 1

Khachaturian draws inspiration from the masquerade, Schumann from the colorful characters of commedia dell'arte, and Prokofiev from the feuding families of Shakespeare's Romeo and Juliet. The ball ends with Liszt's devilish waltz.
This performance is free and open the public but an RSVP is required.


---

ABOUT THE ARTIST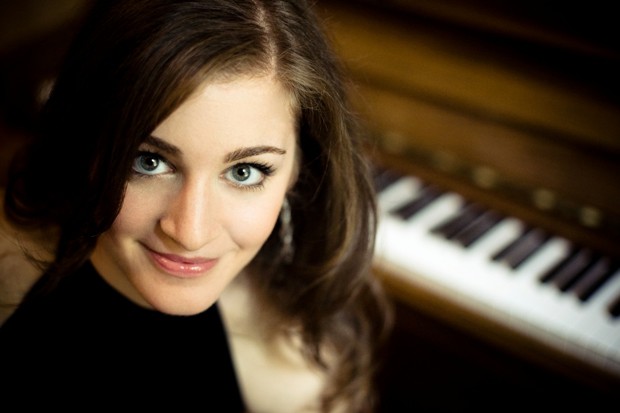 Sara Leila Sherman is an accomplished pianist whose playing has been described as "deeply satisfying, fresh, and insightful…evidencing both poetry and emotion" (Epoch Times). An expressive solo and chamber pianist, Sara is rapidly becoming a familiar face on the New York classical music scene.
Honors and achievements include first prize in the Shining Debut Series, NJMTA, Young Artists' Competition, Heritage Music Festival, and Leschetizky Young Gifted Artists Concert in New York City. She has been awarded scholarships at Casalmaggiore International Festival in Italy, International Music Festival in Ukraine, and Eastern Music Festival in North Carolina. Other honors include participating in the Académie Internationale de Courchevel in France and winning the Sylvia Denbo Memorial Scholarship.
Sara received a Master of Music degree and Professional Studies certificate in piano performance at the Manhattan School of Music and completed undergraduate studies from Jacobs School of Music, Indiana University. Her teachers include Jeffrey Cohen, Veda Zuponcic, Luba Edlina-Dubinsky, David Kraukauer, and Wolfram Koessel. As a performer, Sara has been seen on stage in New York at Lincoln Center, Yamaha Artist Salon, Alexandria Performing Arts Society, Center for Fiction, The Living Room, and she was recently invited to play as a guest soloist for the German Ambassador in Washington, D.C. Internationally, she has performed in Castle of San Lorenzo Picenardi, Capella di Santa Chiari, San Secondo Parmense, France, and Ukraine.
Sara's performances have also been featured at the Franklin Institute in the national museum exhibit "Dead Sea Scrolls." Her work has been featured around the world on her solo album of original compositions and arrangements entitled Sounds of the Scrolls. She is an active accompanist, educator, and arranger for various artists and groups in New York City. A highly sought-after teacher, Sara's students have performed at Lincoln Center as well as other major venues.
Sara has been featured in the New York Times, BUST Magazine, Epoch Times and Linked OnLine. After a master class performance by Sara, Grammy award winner Peter Nero was quoted in the Courier Post as saying her playing left him "speechless."
For more information go to: www.saraleilasherman.com


---

ABOUT THE TWO BRIDGES MUSIC PROGRAM
Two Bridges Neighborhood Council has been dedicated to serving the many neighborhoods of Manhattan's Lower East Side since 1955. We create equitable housing, celebrate cultural diversity through neighborhood-based programs, and work together with local residents, businesses, entrepreneurs, and leaders to stimulate and maintain economic vitality. We offer an array of community programs available to residents of all ages. These programs include the Two Bridges Music program, which currently offers music lessons (group and individual) at an accessible cost to local families.

As part of our 2016 programming, Two Bridges Music continues its series of free music concerts and performances, open to the public. Each month we will invite seasoned, professional musicians who have studied at leading New York conservatories (Julliard, Manhattan School of Music, Mannes) to perform for and share their talent with our local community.