Description
The clowns and creators of Two Bit Circus cordially request your participation in our 2019 Anti-Gala!

See multiplayer VR! Social games! Fire! Performances! And much more. This is not your grandmother's gala.

Join us as we launch Two Bit Circus' 2020 master plan and raise money to bring invention programs to all the communities of Los Angeles.

Let's smash science, immersion, creativity and fun to inspire the next generation of inventors.


Cocktails, food and entertainment


Attire: Creative cocktail + comfy shoes


SPONSORSHIP QUESTIONS: antigala@twobitcircus.org
Please note: Paypal does not require creating an account to process a purchase. You will be able to make this purchase using a credit card only.
PARKING:
Parking is limited. We highly encourage ride share programs.

Valet only. First come first serve basis.

Limited street parking is available around the park.

Nearby pay parking lots in the area are also available. Please check each lot for their respective operating hours. Options may include:

Tow Away Parking

Parking lot

660 Mateo St

(323) 913-4040

At Mateo Public Parking Garage

Parking garage

1262 Palmetto St

(213) 335-3448
Dress Code:
Creative Cocktail

Imagine a fun, whimsical, take on traditional Gala attire, but comfortable enough that you can tackle escape rooms and VR games in, while having elbow-to-elbow fun in our arcade. Feel free to wear your loudest blazers and your most chic cocktail dresses. LED Lights and DIY accessories are highly encouraged.

Comfortable shoes are a must! Props if you come wearing Vans!
REMINDER: This is a Charity Event:
Just a friendly reminder that proceeds from this event go to support the Two Bit Circus Foundation, a 501(c)3 nonprofit organization, and our mission to serve underserved youth in Los Angeles and around the world through our Science, Technology, Engineering, Arts, and Math programming.
We are celebrating the coming together of four awesome non-profit organizations, LA Makerspace, Imagination.org, STEAM Carnival, and T4T, all under the Two Bit Circus Foundation tent.
Whether you are snacking on food truck gyros or slaying zombies in a VR experience, there will be many fun ways to contribute to our good cause!
FEATURED ATTRACTIONS:
Le PeTiT CiRqUe will be LIVE at our Anti-Gala. Known for their breakneck stunts and spectacular stage performances, this awe-inspiring and mystifying production company of young contortionists, acrobats, aerialists, martial artists, singers, and musicians features pro-level youths ranging in age from 6-15. Pure. Magic.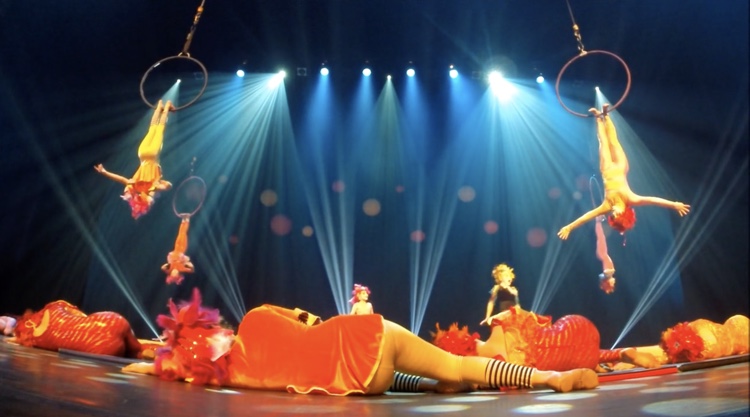 The dunk tank has been a carnival favorite for decades…Who doesn't love to torment a taunting adversary? But we leveled our Dunk Tank Flambé up by a factor of exactly one million by wrapping the dunkee in a fire-retardant suit (see where we're going with this….) and splashing them with FIRE. Because water is for drinking. Line up early - this is a serious crowd favorite every time we pull it out!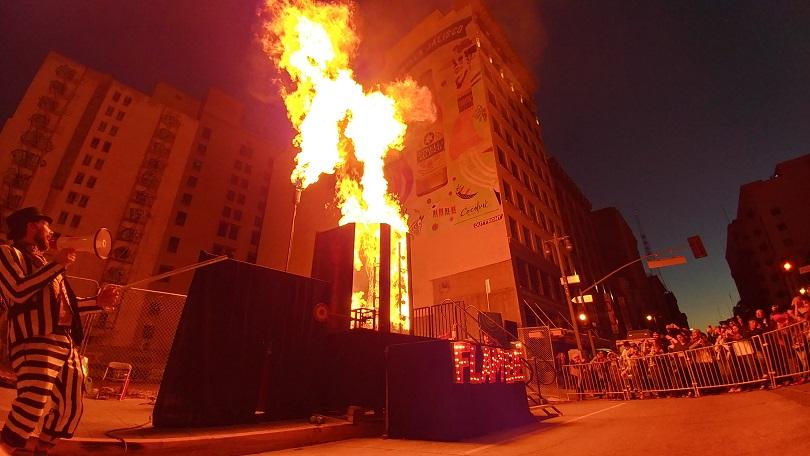 Did you know that every silent auction you've ever attended was actually an incomplete event? Because, honestly, where was the the Mime auctioneer? Exactly. Missing in action. Or stuck in a box. But we're proud to excuse half-measures for our Anti-Gala and offer the real deal, a true Super Silent Auction. Take your bidding war to the park floor as auctioneering meets king of the hill IRL!