Description
What: Twitter Chat
Where: Twitter - #AlibabaChat
When: Wednesday, March 20, 5:00pm PDT

Join us on Wednesday, March 20 at 8:00pm EDT, 5:00pm PDT for an hour-long, informative and lively Twitter chat with Frank Lavin, CEO of ExportNow (@ExportNow) and former Undersecretary for International Trade at the U.S. Department of Commerce.

Conducted via the @AlibabaTalk Twitter account and using the hashtag #AlibabaChat, ask questions and get insightful answers about doing e-commerce with China, including:
How can I buy and sell items in China via e-commerce?

Is e-commerce a good market entry strategy for China?

What are the potential risks or pitfalls in the China market, such as payment risk or intellectual property protection?
You can also feel free to submit your questions in advance to @AlibabaTalk using the #AlibabaChat hashtag.


About Frank Lavin: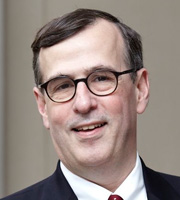 Frank Lavin, CEO of Export Now, has devoted his government and private sector career to helping companies succeed in new markets, with an emphasis on China. Export Now supports the e-commerce operations of over 100 foreign brands in China. In government, Frank served as Undersecretary for International Trade at the U.S. Department of Commerce. Frank was previously the U.S. Ambassador to Singapore and served in the White House and on the National Security Council Staff. In the private sector, he worked in senior finance and management positions in Hong Kong and Singapore with Bank of America and Citibank, and as the leader of the Public Affairs practice in Asia for Edelman. Frank is the co-author of "Export Now" (2011), a featured title by John Wiley & Sons.

About Alibaba.com

Launched in 1999, Alibaba.com International (www.alibaba.com) is the leading global e-commerce platform for small businesses around the world. It aims to be the go-to English-language platform for cross-border trade and help small businesses worldwide expand to overseas markets. As of December 31, 2012, the platform had around 36.7 million registered users from more than 240 countries and regions and showcased more than 2.8 million supplier storefronts.