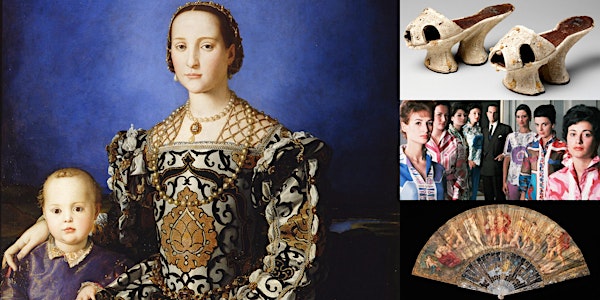 'Twisted Silks & Stilettos: The History of Italian Fashion' Webinar
Can't make it live? Register and get access to the full replay for one week! New York Adventure Club | www.AdventureClub.com
About this event
From the togas of Ancient Rome to the gowns of Valentino and Versace, Italy has been a source of style that has influenced the globe for millennia. But how did cities like Florence, Rome, and Milan contribute to the reputation of Italy as one of the most important centers of fashion innovation? This is the story of Italian fashion and its continued reign as one of the premier fashion hub of the world.
Join New York Adventure Club for a digital journey through the history of Italian fashion and the twisted silks and stilettos that have come to define its garments over the past several hundred years.
Led by fashion historian Caroline Elenowitz-Hess, our virtual experience and showcase of stunning examples of Italian fashion will include:
A discussion around what purple dye in Ancient Rome was made of, and why it was reserved for emperors
Why fashion was crucial for Italian men's reputation in the Renaissance
The origin story behind Gucci, Prada, Valentino, and others
Scandalous stories throughout the ages, including18th century industrial espionage that allowed the French to steal the Italian fashion industry's silk spinning secrets
The tragic murder of Gianni Versace at his house in Miami Beach, and how his sister has carried on his legacy
A virtual peek into the workshops and artisan studios that have built "Made in Italy" into such a trusted name
Afterward, we'll have a Q&A with Caroline — any and all questions about Italian fashion are welcomed and encouraged!
Can't make it live? Don't worry, you'll have access to the full replay for one week!
See you there, virtually!
*Immediately upon registering, you will receive a separate, automated email containing the link to join this webinar
**For the best possible viewing experience, please ensure you're using the latest version of your internet browser — Google Chrome is the most compatible. Exact technical requirements and a webinar user guide will be shared in the automated confirmation email upon registration.
***A full replay of the experience will be available to all registered guests for up to a week
About Caroline
Caroline Elenowitz-Hess is an independent fashion historian based in New York City. Caroline worked for several years as a fashion designer before pursuing her MA in Fashion Studies from Parsons. She previously received a BA in English Literature from Yale University and an AAS in Fashion Design from FIT. Most recently, Caroline has been a curatorial intern at the Costume Institute at the Metropolitan Museum of Art and at the Museum at FIT. Her research is focused on definitions of femininity in the twentieth century in France and the United States.
Testimonials
"Presenter was very knowledgeable. Great slides and fantastic history." -Tonya
"Knowledgeable presenter enjoyable due to excellent illustrations." -Dot
"Great skip through the historical influences on modern Italian fashion, vivid slides of current designers work." -Linde
"Really good research and history. Loved it." -Carol
"Knowledgeable speaker, good visuals." -Jacqueline
"Everything! The topic, the information and the photos. (Thanks for including Roberto Capucci). Caroline's webinars are always so informative and a treat for the eyes!" -Karen
"I appreciated how she drew together different aspects of fashion and how they reappeared it later decades." -Gwen
"So well researched and prevented. Educational and entertaining. Have signed up for the next two in July!" -Catherine
"I enjoyed the earlier history of Italian fashion." -Kathy
"I love all the history that was told, about how the fashion trends, really started with men." -Zahida
"Presenter was very knowledgeable. Great slides and fantastic history." -Tonya
"Very knowledgeable presenter gave a nice trip through history. She was very well prepared." -Elise
"Lots of great information over a broad range of Italian fashion history. I liked how the presenter concentrated on specific time periods that were pivotal." -Jan
"The knowledge of the host. It was such a learning experience spending a great deal of time on the real fashion of Italy from the beginning. Her presentation was wonderful. My husband is Italian and from Milano and was very impressed with the webinar as I was. Thank you very much." -Leslie
"Just fascinating. I knew a bit about the French designers and saw that webinar earlier but I knew zero about the Italians except for their names. The presenter clearly gave the ambience in cultural difference that influenced these new designers. Interesting connection with our social/political history too in the US. Fun too!" -Sharon
"Fascinating history! Loved the part about ancient Rome!" -Sarah
"Great facts and great photos." -Ellen
"Really loved the wide range of fashions covered! I'm so glad Caroline discussed Moschino!" -Ashley
"The presenter was very knowledgeable and made her presentation interesting for me with lots of new information." -Nanette
"The presenter is a pleasure to listen to and she conveys her wealth of knowledge clearly; her excellent images complement her lecture." -Susan
"Very knowledgeable presenter, good slides." -Ellen
"A very good overview, well presented with excellent images." -Susan
"Wonderful visuals with interesting details. Caroline highlights the important features of each design so that it stays in your mind and distinguishes one designer from the next." -Shawna
"Caroline interestingly organized her subject matter to cover Italian Fashion from the earliest to modern reinventing designs. She even provided a reading list at the end <- very much appreciated. Excellent job." -Judi
"Presenter is very knowledgeable. I like the suggested readings alot. I really enjoyed this and the Paris couture one she did as well." -Anna
Disclaimer
By attending a New York Adventure Club experience, you accept our terms of service.
Categories: Virtual, Art & Entertainment