Description
Frank has creatted a monster!
Twisted Cabaret presents their all-new Halloween Spooktacular. The New York Times called the show "wickedly funny."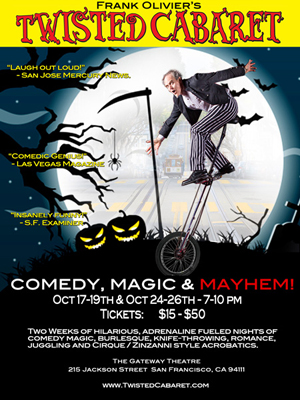 Frank has been in the lab working on an an exciting new show. It's part juggling, magic, sideshow, laughter and lots of tricks and treats for everyone at Twisted Cabaret's Halloween party/show/haunting. You will howl with laughter.

The stage is set for the big comedy varieté show, the theater is packed, the band is ready, but the tour bus with all the performers has broken down. Now Frank Olivier must pull off the show of his life and perform all 16 twisted variety acts himself, aided only by Flynch, his loyal hunchback assistant. The Twisted Cabaret Orchestra accompanies as Olivier delights with juggling, mind reading, knife-throwing, magic, fire-eating and more, like you've never seen before.