Description
Nectar & Solidsound present:
TWISTA
with ZION I and GIFT OF GAB (of Blackalicious)
DJ Indica Jones
$25adv - $35
Nectar Lounge
412 N 36th St
BOOTH RESERVATIONS NOW AVAILABLE!
We are a majority standing-area venue with seating on our heated and covered patio as well as our newly remodeled mezzanine. All seating is first come first serve however, we do have eight booths available for reservations on our mezzanine. Booths 1-6 seat two to four people, booth 7 seats five and booth 8 seats six to eight.
All table reservations are now made at checkout.
Booth reservations are sold on a first come first serve basis.

Reserve multiple booths for larger parties and we will seat you together.

See "Additional Items" on the bottom of checkout page for available booths. If you do not see "Additional Items" unfortunately all booths are SOLD OUT.

We try our best to guarantee your reservation all night, though we ask you to arrive within 2 hours after doors open.

We no longer reserve high top tables behind booths but we encourage people to arrive early to claim available space.

We offer food service once doors officially open. See listing above for specific door time.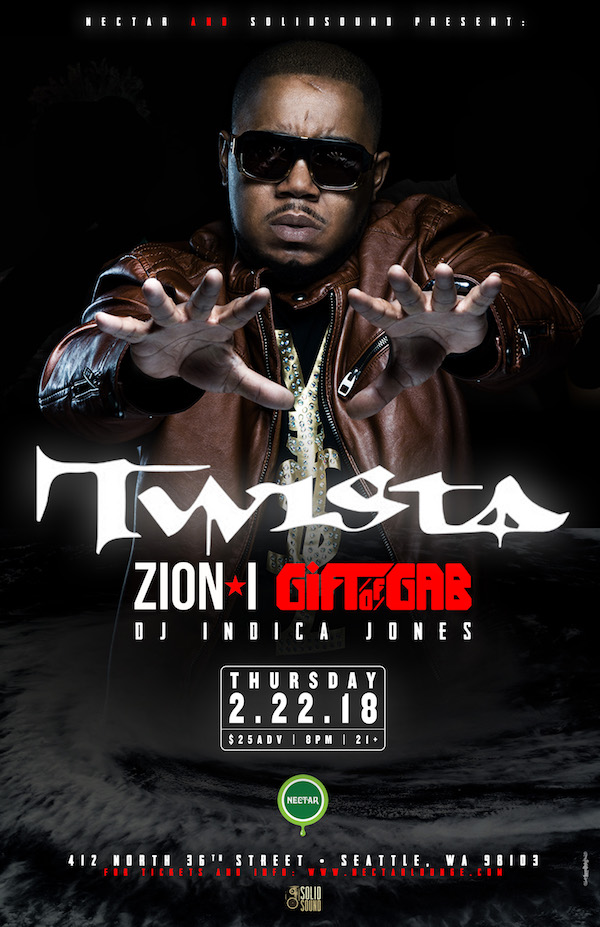 TWISTA
Life's best surprises often come from unlikely places. Twista knows this better than most.
The pioneering platinum rapper put Chicago on the rap map and made the double-time rap style a rap staple. Despite selling millions of albums and popularizing a delivery incorporated by everyone from Jay-Z to Eminem, the Windy City rapper remains largely unheralded by the uninformed. That's why he's named his new album The Dark Horse.
"Knowing my personality, that I'm laid-back and low-key and there's not a lot of rah-rah, I'm usually the one that people least expect to stand out," he says. "I'm not just talking about being on a track. I'm talking about when I'm in a room with the big dogs. I'm usually the last person expected to do something. My name also gets left off the Top MCs list, so I took on the mentality of where feel like I'm looked at as a dark horse in the industry. I like to just come out unexpectedly and shine on them."
Twista does just that on The Dark Horse selections "For Me And You" and "Scale The Wall." Produced by longtime sonic partner The Legendary Traxster (Do Or Die, Mariah Carey), these two songs add new installments to the pair's classic collaborations. "I think those two songs in particular are going to make people feel like, 'Damn, this boy ain't lost a step. This sounds just like 'Adrenaline Rush' or 'Death Before Dishonor' Twista,'" Twista explains. "The people that want to hear that dark, bass-hitting Twistasound with me snapping, I'm definitely going to satisfy them."
The same can be said for the Tech N9ne collaboration "Psycho." Although the pair has worked together over the years, this song showcases a new, dramatic dimension to their material. "It's done in the way that I envisioned a song that Tech N9ne and I would do," Twista says. "Sometimes we've done songs where I haven't really hit that style that I want to hit with him. There's a certain type of vibe that I wanted to hit. By me being the one that picked the beat and being able to tell him how I want to go in on it, it's exactly how I wanted a Tech N9ne and Twista song to sound. We're going in so hard and in such a way that people can see that we're pretty much the top ones doing it."
Twista shifts gears on "Throwin My Money." The future strip club anthem features Twista freaking fast and slow flows and sharing the mic with fellow Chi-Town musical titan R. Kelly. "It's got that Twista swing to it," Twista says. "When I let R. Kelly hear the song, he thought it was a monster once he heard the hook and the vibe of the song. When I heard the finished product, I was like, 'We've got to throw this out there.' Songwise and vibewise, I felt like it's a good song and people will rock to it."
Then there's "Next To You" with crooner Jeremih. The soulful selection features Twista adopting a suave approach and delivering his raps in a distinctive way. "It doesn't feel like a normal song," he says. "It has a tripped out cadence to it to where I'm doing the Twista style, but it's not in the average way where everybody can bite it like they usually do."
Elsewhere, pays homage to rap elder statesmen Run-DMC with the stylish "a.d.i.d.a.s." He got the idea for the song when he and his friends were vibing and listening to beats. "It put me in a Run-DMC mindstate," Twista says. "That's what made me be like, 'Let me go ahead and do this.'"
From the first time Twista rapped, people wanted to hear him do this. He broke through in the early 1990s as Tung Twista, earning acclaim as the fastest rapper in the world, even holding the Guinness World Record title for the distinction.
But it would take a while for people to catch up to Twista's trailblazing rap abilities. When he reemerged in 1996 with Do Or Die on the landmark "Po Pimp" single, the rechristened Twista amazed fans and critics alike with his remarkably smooth rapid-fire raps. Twista then became a rap king with the release of Adrenaline Rush, his 1997 album. The collection's mind-bending vocal performances, terrific storytelling and supreme lyricism placed Twista among rap's premier artists.
"I think I helped offer in a new vibe, a new style to what we already had in hip-hop and rap music," he explains. "Even though you had a few people dabbling in it, the level that I took the double time style to helped contribute to there being another style that you could do your music."
Twista became even more popular in 2003 and 2004 when he teamed with fellow Chicagoan Kanye West and Jamie Foxx for the smash single "Slow Jamz." Twista's 2004 album, Kamikaze, earned him his first platinum plaque. Since then, Twista has remained one of rap's premier practitioners and in-demand collaborators. He's appeared on albums from Mariah Carey, Pitbull and Jay-Z, among others, and released a string of acclaimed albums and mixtapes.
But for Twista, it all comes down to the music. It's the reason he's remained one of rap's top talents for two decades. "It's the love of the music," he says. "I do other things and I have other business ventures that I do, but my love is really with the music. I keep doing it and staying in it because I love music. I still get excited every time I hear a beat or think of a different flow."
Now with The Dark Horse, Twista brings new life into his music by recreating his classic style and building upon it, too. "I try not to break what I know is already cool or what people want from me," he says. "People want to just hear that fierce Twista stuff that they know and love. The main thing I'm doing with this album is staying true to what people know that I do."
ZION I
With more than two-dozen albums, mixtapes, EP's and vibrant collaborations, the Oakland based MC/Producer Zion I (a.k.a. Zumbi) is in the top echelon, as far as conscious party-rocking hip-hop. After years of collaboration with producer Amp Live and DJ K-Genius and other notables, the Oakland-based rapper/ songwriter has evolved as an independent touring artist.

His progressive stay-true-to-the-core lyricism is uniquely embraced across all genres of music and his collaborations, with some of the greatest in the industry, is an evolutionary norm for Zion I. From the reggae-rock giants Rebelution, to hip-hop nostalgia Too Short, along with Devin The Dude and The Roots MC, Black Thought, to EDM DJ extraordinaire, Bassnectar, heavy hitting rockers Linkin Park and alternative rock/reggae-rapper Matisyahu, Zion I continues' to impress with soulful goods.

As an MC, Zion I emulates the purest form of hip-hop, bringing forth a socially conscious lyrical deliverance and high energy party-rockin' live show that captivates his audience, making him a festival fan-favorite from coast to coast. The international touring artist has performed at some of the most reputable music festivals across the globe. Some of the more notable festivals include: Coachella, Rock the Bells, Treasure Island Music Fest, Lightning In A Bottle, Outside Lands, California Roots Music and Arts Festival, Hangout Music Festival, Splash Fest (Germany), HipHop Kemp (Czech Republic), Rifflandia (British Columbia), Sonic Bloom, Paid Dues, Snow Globe and most recently the urban lifestyle music and arts festival, Bay Area Vibez with Bassnectar, Nas and Damian Marley. Zion I toured the summer 2016 with Slightly Stoopid, SOJA, The Grouch and Eligh on The Return Of The Redeye tour.

Some of the many other artists Zion I has performed with include, Kendrick Lamar, Wu-Tang, Pretty Lights, E-40, The Roots, Soja, The Game, Flying Lotus, Matisyahu, Griz, Emancipator, Damian "Jr. Gong" Marley, Collie Buddz and Common.

Zion I is a gestalt of lived geographic experience. Coming from Philadelphia, he also lived in Cincinnati, Rhode Island, Houston and Atlanta – although, he views Oakland, his current residence of nineteen years as his home. "It is the place where my music first grew. I have always loved the diversity and culture of rebellion that is in the heart of Oakland," said Zion I. There's every shade of color here. When people see injustice, there is a collective activation that takes place and we take to the streets to fire back at the system. The history of the Black Panthers is still alive in the hearts of many. I live and breathe this energy of this community, with its turbulent rise and fall of the struggle to live with dignity. I draw tremendous inspiration in my lyrics from the town."

"I hope to be an example for the next generation; showing that you can live out your
dreams and pursue your goals with passion and exuberance," said Zion I.

Zion I released his new full-length fifteen-song album, The Labyrinth in October, 2016. He describes the record as melodic and bass heavy. "It was cool being able to hit the people with some new vibes and give them a current window into my world. I've also got the new ZGE - Zion I, Grouch, and Eligh record on deck, which will drop in early 2017. I'm also working on a dope project with Locksmith, which is a more lyrically driven record with classic sample-driven production. Locksmith is one of the most skilled MC's on the west coast, so this project is for true fans of lyricism," says Zumbi

Catalog highlights include The Grouch-joined linguistic clinic "Silly Puddy," early K.Flay standout appearance on the Electro-driven "Coastin'," and the gritty turf-talk of "Don't Lose Ya Head" alongside Too Short.
GIFT OF GAB
The Gift of Gab is most well known as MC, and one-half, of the rap duo Blackalicious. Along with producer/DJ Chief Xcel, the two have sold over half a million records worldwide, toured extensively across the globe and have had their music licensed by some of the most well-known brands on the
planet.

Born Tim Parker, Gift of Gab spent his childhood growing up in Southern California's San Fernando Valley but attended high school in Sacramento. It was there in 1987 that he first met Chief Xcel (born Xavier Mosley) and the two joined forces. However it wasn't until 1991 that Blackalicious was officially formed at UC Davis College where the two connected with DJ Shadow, MC's Lateef the Truthspeaker & Lyrics Born and author Jeff Chang. The group formed a collective they dubbed SoleSides and went on to
release their own records in the mid to late 90's.

Blackalicious' very first single, "Swan Lake" was released in 1994 with many more to follow, establishing themselves as a major force in the West Coast Hip-Hop scene and resulting in extensive touring taking them all over the United States and Europe.
Work on a full-length album began in earnest during which time SoleSides reconfigured itself in to the seminal record label and collective, Quannum Projects.

In 1999 Blackalicious released the A2G EP which featured the hit "Alphabet Aerobics", solidifying the duo as a force to be reckoned with and establishing The Gift of Gab as one of the most talented MCs in the game.
Blackalicious' first full length album titled Nia was released in 2000 with their second album Blazing Arrow following in 2002. Both albums became a phenomenon and are still considered as two of the most important and influential Underground Hip-Hop records of all time.
The group's third album, The Craft was released in 2005 to critical acclaim. Soon after the group took a hiatus until recently, releasing their fourth album, Imani Vol. 1 in late 2015.

In addition to Blackalicious, Gift of Gab has had a long and prolific solo career that began with his 2004 album, 4th Dimensional Rocketships Going Up, produced by Vitamin D and Jake One.
With Blackalicious on hiatus after The Craft, Gab joined up with fellow Quannum collaborator Lateef the Truthspeaker and Bay Area producer Headnodic (Crown City Rockers) to create The Mighty Underdogs.
The trio released an EP in 2007 (The Prelude) followed by a full-length record in 2008 titled Droppin' Science Fiction.
The following year Gab released his next solo project titled Escape 2 Mars, produced by DNAE Beats. The album featured the track "El Gifto Magnifico", creating another moniker for the famed MC.
In 2012 Gab released his third solo record titled The Next Logical Progression, produced by G Koop. The album featured many guest artists including Martin Luther, Zion I, George Clinton as well as his
Quannum brothers Lyrics Born and Lateef the Truthspeaker.

It was also in 2012 when Gab suffered kidney failure due to Type 1 diabetes just as Blackalicious was getting back in the studio to start working on new material. Unsure of what would happen Gab opted to stay positive and creative and used the downtime to write.
Currently on regular dialysis treatments as he waits for a new kidney, Gab has maintained a positive outlook through the experience and continues to write more than he ever has before. This has led to not only the new Blackalicious record, but also material for a new solo EP and album.

The EP titled Rejoice! Rappers are Rapping Again is available exclusively at Gift of Gab's Patreon page and has set the stage for a new full-length solo record due in 2018.