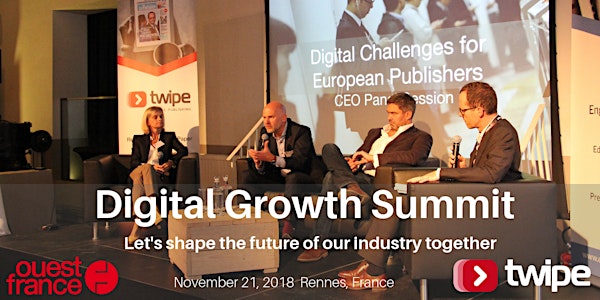 Twipe Digital Growth Summit
When and where
Location
Couvent des Jacobins Place Sainte-Anne 35000 Rennes France
Description
Join us for the second edition of our invitation-only Digital Growth Summit on November 21st in Rennes, France. We will bring thought-provoking speakers, organize a CEO panel and celebrate 5 years of L'édition du Soir with Ouest-France.
Meet with business leaders from all over Europe to find common solutions to the economic and technological factors that are shaping and disrupting our industry. Contribute and learn in the casual environment of "Le Couvent des Jacobins", a recently renovated monastery in Rennes, the capital of Bretagne.
The central theme of this 2nd edition is "Creating a Shared Future in a Disrupted World". The business and technological challenges faced by newspaper publishers are huge. The human, financial and technological resources required to thrive in the future, go beyond individual publishers' capabilities. Collaboration, co-investment and even co-opetition are inevitable.
The full list of speakers to be announced soon. See the highlights from the first Digital Growth Summit.
---
Schedule
November 20 - Newsroom and Print Facilities Visit
On the night before the Summit we organise a visit to the newsroom and printing facility of Ouest-France at peak time.
To participate, please plan to arrive before 9 PM. More details will follow.
November 21 - Digital Growth Summit
Morning Sessions
The summit will begin at 9 AM, with a full day of panels and activities:
CEO round table (Louis Dreyfus - Le Monde, Chris Duncan - The Times)
Learning from peers: Case studies on audio, video and evening editions
Future of media technology presentations
3 innovations you should know about (Speed Pecha-Kucha Sessions)
Afternoon Sessions
After lunch, we have an afternoon of AI and interactive working sessions:
Deep Dive Round Tables (small groups breakout discussions - propose topic) + presentation of insights
AI panel with Claude de Loupy (Syllabs), Sören Karlsson (United Robots), & Benoit Raphael (Flint)
Keynote speech from Robin Govik, MittMedia
Exclusive presentation from Richard Mille, the man behind the world's most advanced watch design brand
Evening
We will end the Summit at 18h30 with drinks and dinner, then we will celebrate together the 5th anniversary of L'édition du Soir in an unforgettable party.
November 22 - Twipe Roadmap Session
We will hold a roadmap session for Twipe customers in the morning of Thursday November 22.
---
Let's shape the future of our industry together. Looking forward to your participation in Rennes!
Please confirm your attendance for the summit and newsroom visit.
FAQs
Where is the Summit being held?
The event takes place at the historic Le Couvent des Jacobins in Rennes, the highly dynamic capital of Bretagne. The first stone for this former church was laid in 1369, and since then it has served as a crossroads dedicated to meeting and exchange.

How should I travel to Rennes?
Rennes is reachable from Paris by high-speed train in 90 minutes. Its airport also offers direct flights from many European cities, including London, Amsterdam, and Dublin.
Where should I stay?
We recommend to stay at the Mercure Rennes Centre Parlement, the former printing facility of Ouest-France. We still have a few rooms left at a promotional rate, contact us for more details.

When do registrations close?
Registrations closed October 19th, but we still have a few tickets available. If you have questions before registering, you can contact Franziska Weik.
How can I contact the organizer with any questions?
Please contact Franziska Weik with questions about your attendance at the Summit.