Twin Tiers Mini Maker Faire 2019

Saturday, April 27, 2019 from 10:00 AM to 3:00 PM (EDT)
Event Details
Attendance is Free! Why sign up for a ticket?
Pre-registration through Eventbrite will enter you to win an incredible Maker prize (approximate value $200) when you have your ticket scanned at the event. Additionally, pre-registration will help us to gauge how many people will be coming and will help us plan our exhibits and interactive displays so that we will have enough materials for everyone to take part and enjoy.
If you'd like to participate in the limited-registration art workshops taking place during the event, visit our website to see a full schedule and sign up: https://twintiers.makerfaire.com/art-workshops-2019/
Special thanks to our event sponsors: https://twintiers.makerfaire.com/sponsors/
Can I volunteer at the Mini Maker Faire?
Yes! We strongly encourage you to become a volunteer at our Maker Faire. You will get behind-the-scenes access to the Faire as well as meeting Makers from all over Western/Central New York State. For more information please visit: https://twintiers.makerfaire.com/volunteer
Assumption of Risk and Release:
By pre-registering, you agree that you are voluntarily participating in a Twin Tiers Mini Maker Faire activity with knowledge of the risks of doing so, such as the risks of injury, property damage, or death resulting from the use of potentially dangerous tools or materials, even if these risks or hazards are unknown to you, and/or the active or passive negligence of Twin Tiers Mini Maker Faire, its sponsors and its respective officers, directors, employees, and agents (collectively, "we" or "us"). You release us from all liability, claims, damage, or demands arising from or related in any way to your participation in this Twin Tiers Mini Maker Faire activity.
Recordings & Images:
By pre-registering there is a chance that we might record this event and take photos (via audio, visual, or audiovisual media). If we do so, you agree to let us use your image and/or voice for any purpose. You release Twin Tiers Mini Maker Faire and its licensees from and waive any claims related to or arising by reason of the making and/or use of any such recordings. By pre-registering, you acknowledge that you have read this Agreement and understand that it includes an assumption of the risk, a release and waiver of liability, and a covenant not to sue. We are relying on the waiver in allowing you to participate in this Twin Tiers Mini Maker Faire activity.
FAQs:
What day(s) and hour(s) will Twin Tiers Mini Maker Faire be open to the public?
Saturday, April 27, 2019 from 10:00 am - 3:00 pm
Where can I park?
There is plenty of parking on the SUNY CCC campus.

Where is the handicap parking located?
The event will primarily take place in the Commons and the Gym on the CCC campus so it is advisable to park in a handicap space in lot G.
Is public transportation available?
Yes! You can take the C-Tran to the CCC from a variety of locations. Click here for the special bus schedule for that day. Free bus fare to our event is available if you stop by either Steele Memorial Library or Southeast Steuben County Library to pick up a free bus ticket.

Will you have bike parking?
You may ride your bicycle to the CCC campus, however we encourage you to bring a bicycle lock, and lock your bicycle up. Bike racks are available along the side of the Commons building.

What if it rains?
The show will go on! The majority of the event will take place indoors. Rain or inclement weather will not stop us! 
What can I expect?
To have a fantastic time! You'll be surprised and intrigued with every corner that you turn.

Twin Tiers Mini Maker Faire is independently organized and operated under license from Maker Media, Inc.
I understand that by registering here, Maker Media may provide me with updates and information about Maker Faires, other events, and products of interest to the maker community. I understand that I may opt out of these communications at any time.
Save This Event
When & Where

Corning Community College
1 Academic Dr
Corning, NY 14830


Saturday, April 27, 2019 from 10:00 AM to 3:00 PM (EDT)
Add to my calendar
Organiser
About Twin Tiers Mini Maker Faire:
About Maker Faire:
Maker Faire is the Greatest Show (and Tell) on Earth—a family-friendly showcase of invention, creativity and resourcefulness, and a celebration of the Maker Movement. It's a place where people show what they are making, and share what they are learning.
Makers range from tech enthusiasts to crafters to homesteaders to scientists to garage tinkerers. They are of all ages and backgrounds. The aim of Maker Faire is to entertain, inform, connect and grow this community.

The original Maker Faire event was held in San Mateo, CA and in 2016 celebrated its eleventh annual show with some 1300 makers and 150,000 people in attendance. World Maker Faire New York, the other flagship event, has grown in five years to 900+ makers and 90,000 attendees. Thirty-one larger scale Maker Faires occur in cities around the world—Detroit, Atlanta, Berlin, Paris, Rome, Tokyo, and Shenzhen to name a few— and over 150 community-driven, independently organized Mini Maker Faires are now being produced in the United States and in 34 other countries around the world.
About Make: Magazine: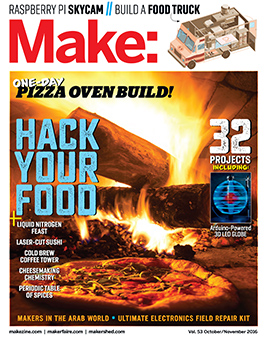 Make: is the first magazine devoted entirely to Do-It-Yourself (DIY) technology projects. Make: unites, inspires, informs, and entertains a growing community of resourceful people who undertake amazing projects in their backyards, basements, and garages. Make: celebrates your right to tweak, hack, and bend any technology to your will. Download a free issue here.
Besides the magazine and the faire, Make: is:
a vital online stream of news and projects, blog.makezine.com;
a retail outlet for kits and books, the Maker Shed;
a steady stream of fun and instruction via our YouTube channel;
Make: Projects, a library of projects with step-by-step instruction;
a publisher of best-in-category titles via Make: Books, including introductions to electronics, Raspberry Pi, 3D printing, Arduino and more.