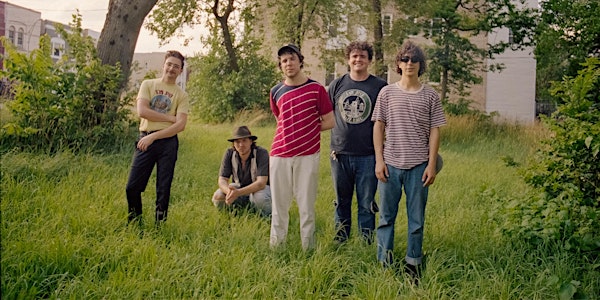 Twin Peaks
Twin Peaks, Lala Lala, & Ohmme appearing at Black Cat in Washington, DC
When and where
Location
Black Cat 1811 14th St. NW Washington, DC 20009
Performers
Headliners
More Performers
About this event
Chicago's Twin Peaks have gleefully embraced change ever since their 2010 formation to become one of the city's most essential rock bands. With their fourth album Lookout Low, the sonic and creative leap the five-piece takes feels like a total revolution in their youthful sound. The 10-track effort was recorded and cut live over three weeks in Wales with legendary producer Ethan Johns. Thanks to the band's dedicated approach to rehearsing and demoing out their material before hitting the studio, the songs burst with life and the undeniable magic of their live show.
2016's Down In Heaven connected with audiences in a big way, seeing the band taking over late night on CONAN, while landing festival slots at Lollapalooza, Bonnaroo & Coachella, and tours supporting luminaries like Spoon, Cage The Elephant, and Wilco.
Armed with four excellent and collaborative songwriters, each member upped their game on Lookout Low. Guitarist Cadien Lake James' mind-bending opener "Casey's Groove" is expansive and reassuring, bassist Jack Dolan's "Unfamiliar Sun" is patient and affecting, guitarist Clay Frankel translates heartache into catharsis on the title track, while multi-instrumentalist Colin Croom reaches new performing heights on "Ferry Song." Lookout Low shows that Twin Peaks is less a band and more a brotherhood, one that's endured for almost a decade.
"The Lamb was written during a time of intense paranoia after a home invasion, deaths of loved ones and general violence around me and my friends," says Lillie West, the Chicago-based songwriter behind Lala Lala. "I began to frequently and vividly imagine the end of the world, eventually becoming too frightened to leave my house. This led me to spend a lot of time examining my relationships and the choices I'd made, often wondering if they were correct and/or kind."
West initially started Lala Lala as a way to communicate things that she felt she could never say out loud. But on The Lamb, her sophomore LP and debut for Hardly Art, she has found strength in vulnerability. Through bracing hooks and sharp lyrics, the 24-year-old songwriter and guitarist illustrates a nuanced look on her own adulthood—her fraught insecurity, struggles with addiction, and the loss of several people close to her.
Originally from London, West moved with her family to Los Angeles, where she spent her teenage years, and later to Chicago, where she enrolled at the School of the Art Institute of Chicago. Inspired by those cities' DIY music communities, she started Lala Lala as an outlet where she could process her new experiences, which often involved toxic relationships and partying around the city with beloved friends. The turbulence in West's life throughout that period resulted in an abrasive but tender debut album, Sleepyhead (self-released, 2016). West decided to quit drinking, and she began booking her own DIY tours across the country. Sobriety provided her with a newfound sense of self and clarity, and she began writing the songs for The Lamb while also starting the process of re-learning how to live her life.
Across the album's 12 tracks, West carefully examines the skeletons in her closet for the first time, hoping to capture honest snapshots of her past selves. Many of the songs show West asking herself agonizing questions about her life with a clever and hopeful curiosity. On the album's first single and opening track, "Destroyer," she reflects on feeling self-destructive and the delayed realization something in the past has irrevocably hurt you. In "Water Over Sex," West laments her old precarious lifestyle, while trying to readjust to her newfound sobriety, and "Copycat" confronts her feelings of alienation and boredom. "Some of this album is about being frustrated that everything is always repeating itself and being bored with your own feelings," she explains. "'Copycat' in particular is about how everyone talks exactly the same on the Internet and how it sometimes feels futile to try and be yourself."
The catalyst for the starkly titled "When You Die" came when West's friend Jilian Medford of IAN SWEET texted about the band getting into a car accident. In the song, she grapples with her lack of control over certain things and the inevitable regrets that come with it. Though that experience served as the song's initial inspiration, "When You Die" also reflects on a string of three months in 2017 when West experienced several close deaths. The spare and stunning album highlight "Dove" further explores this tragic string of events; West explains, "It is very plainly about the death of someone I loved a lot and the guilt I had, and still have, afterwards."
After testing a handful of the new songs while on the road, The Lamb's final form came together while recording at Rose Raft Studio in rural Illinois. Performed by West with Emily Kempf on bass/backup vocals and Ben Leach on drums, the musical arrangements of the album—blending post punk with dream pop influences that incorporate vibrant synths, a drum machine, and even saxophone—find a balance between light and dark, reinforcing these dynamic and intimate songs that will surely resonate.
Already celebrated as the "Heart of Chicago's Music Community" (Noisey) by both fans and tastemakers alike, OHMME (aka the duo of Sima Cunningham and Macie Stewart) amalgamate the aggressive and the meditative on their bold debut full-length album, Parts.
Still in their 20s, Stewart and Cunningham are both classically trained musicians and are established players within the Chicago music scene. They are especially involved in performing and working for venues within the local experimental music scene. They're constant collaborators and have recorded and toured with homegrown acts as varied as Tweedy, Whitney, Chance The Rapper and Twin Peaks.
Cunningham and Stewart are multi-instrumentalist, singer-songwriters with a penchant for two instruments in particular. "The band started because we knew we could sing well together and we wanted to make some noise with the guitar," says Cunningham. Stewart elaborates, "Sima and I are both trained classical pianists and we know many of the sonic spaces keyboards have to offer. Since we were interested in experimenting and creating something different from what we had both done in the past, we chose guitar as our outlet for this band. We wanted to create both new and uncomfortable parameters for ourselves to force us into a different creative space." These guitar-heavy experiments are sometimes earthy and resounding, at other times shimmering and buzzing—swirling around the duo's expertly crafted vocals while creating a chaotic bed of harmony. Cunningham's smoky alto complements Stewart's higher-register croon, all underpinned by the restrained yet highly inventive polyrhythmic percussion of drummer Matt Carroll. Think Amber Coffman and Angel Deradoorian-era Dirty Projectors.
Enlisting fellow Chicago cohorts Doug McCombs (Tortoise), Ken Vandermark and cellist Tomeka Reid, OHMME recorded and self-produced Parts from Cunningham's Logan Square home studio, Fox Hall. With Parts, OHMME "wanted to capture a moment in time instead of something perfect." The results are thrilling: from the pure pop opening track "Icon" to the candied sludge of "Peach" to the skipping rhythms of "Parts" and the dusky closer "Walk Me," Parts draws from influences as diverse as Kate Bush and Brian Eno's Here Come the Warm Jets to jazz and improvisational music, making for an electric debut listening experience.
This range from sweetly shiny 2-minute hypnotic bangers to woozy and sprawling 7-minute long tracks boasting moodily atmospheric wafting guitars and piercing feedback shows a band colliding thoughtfulness and creative ingenuity to produce music as unique as it is earworm-worthy. With Parts, OHMME manage to organically marry a breadth of divergent styles into an album that is cohesive, daring, and distinctly their own.