About this Event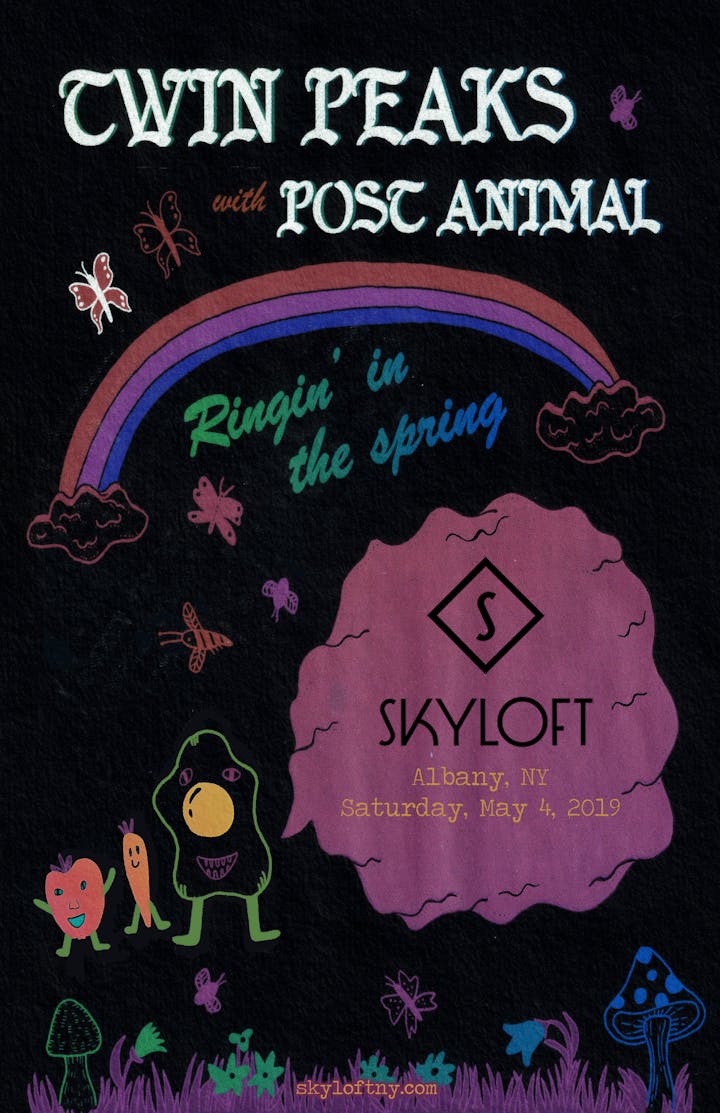 TWIN PEAKS
Give Twin Peaks an inch and they'll take a stretch of the road. Having careened across America and beyond, sharing their staggering energy, the band made their third album the best way they know how: by themselves. The same group that produced the scuzzy squalor of their debut 'Sunken' and had legions of fans screaming along to their anthemic sophomore effort, 'Wild Onion,' now swings and serenades with 'Down In Heaven' (out on Grand Jury on May 13, 2016).
Co-produced by the band and longtime collaborator R. Andrew Humphrey, and mixed by new confidant John Agnello (Dinosaur Jr., Kurt Vile, Sonic Youth), the record is by turns raw, polished and wise beyond its years. The diverse new songs beg the listener to sway slowly, bang their head wildly and question what they were doing wasting emotional time on anything less. It is a marked, and some may say mature, development for a band that doesn't know how to play it safe. They aren't here to tell you what youth is like or what being a little older now means, though; they want to join you in a conversation about why we hurt, love and tug at each other.
While Twin Peaks is a bit older, they're not necessarily calmer; their restlessness endures. Born of Chicago's league-leading DIY scene and with several of them remaining friends since elementary school, Cadien Lake James, Clay Frankel, Connor Brodner, Jack Dolan, and most recent addition Colin Croom share an enthusiasm, authenticity and passion their audiences have found contagious. In the three years since dropping out of college to support their debut album 'Sunken,' the band has covered a lot of ground. They've played to ever-increasing crowds, bigger and rowdier each time they come barreling into a city; they were anointed "Best New Band" by NME and countless other blogs, and they have performed for (and partied with) more than hospitable masses at festivals in the states and Europe, including Pitchfork, Lollapalooza, Reading & Leeds, and Roskilde. In between all this action, the group set up camp in the summer of 2015 amidst the solitude of a murky lake in Western Massachusetts, where they could experiment and record on their own terms in the warm living room of a good friend's house.
Recording on reel-to-reel with the band learning studio tricks on the fly, Twin Peaks set out to a make an LP that reflects how far they've come and how much of life is left, trusting themselves to make a record they'd want to hear. James explains, "I've been particularly drawn to records that have a more personal feel, not necessarily lyrically, but in sonic aesthetic, like The Kinks' 'Village Green Society,' Beatles' 'White Album,' and Rolling Stones' 'Beggars Banquet.' We wanted to make a record that employed the restraints of our favorite artists from yesteryear. It was about trying to simplify and hone in on the things that are important to our music and ethos." In considering the development of the band's sound from 'Sunken' to 'Wild Onion' and now to 'Down in Heaven,' Frankel adds, "The bands we admire are the ones who change drastically over the course of their span, like The Velvet Underground, where no two records of theirs sound the same."
Whether sneering or pleading, aggressive or impatient, the thirteen tracks of 'Down In Heaven' are a continuation of the bands path and an eschewing of previous comparisons. It is a record all about feel: heartbreak, forgiveness, anger, jubilation, re-invention, growth. Album opener "Walk To The One You Love," written by James about letting someone close to you go is immediately followed by Frankel's song "Wanted You," with lyrics about not getting the one that you yearn for. With "Stain," perhaps the biggest departure for the band on the record, Frankel says, "I didn't want another love song, so after a while I got what it is, how you suffer for your art but you put up with it because you don't wanna do anything else. It's a song about the love of music." Even though four of the five members contribute lyrics, there are obvious connections both thematically and musically across the record and the band's voice rises unified.
'Down in Heaven' will bring old fans and new Twin Peaks most complex record to date, encompassing elements only teased on their previous efforts. Frankel says, "I don't know yet what kind of band we are, since we keep changing with every year. I guess we are a band unafraid of new influences and changes." Put simply, 'Down In Heaven' makes it increasingly hard to call their sound "classic." It's rock new and old, it's a little bit of country, it's a whole lot of punk attitude, and it's something to get excited about. Twin Peaks is here to stay, and they aren't going to get pinned down.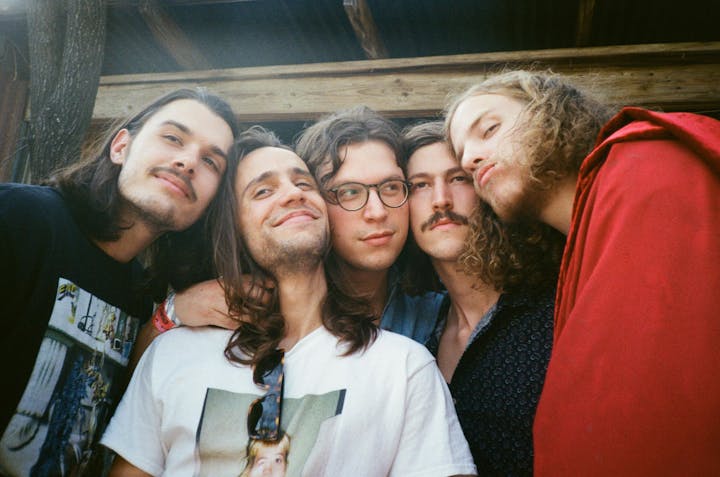 Chicago-based Post Animal are a band of brothers. Though they formed in 2014 and just began touring in 2017, their affinity for slick riffs, pop hooks, and psychedelic tendencies join them in a bond much tighter than their years suggest. Initially formed when childhood friends, bassist Dalton Allison and guitarist Matt Williams, met keyboardist and guitarist Jake Hirshland, the band's sound began to take shape when the three enlisted some more pals from both the Chicago music scene and through their time working at local burger joints. Rounding out the band's lineup, Post Animal is completed by drummer Wesley Toledo and guitarists Javi Reyes and Joe Keery.
Like most band's in Chicago's inclusive music community, Post Animal got their start playing DIY basements and small rock clubs. With their wavy and warped first project 2015's Post Animal Perform The Most Curious Water Activities EP and then 2016's memorable singles collection The Garden Series, the band showcased mesmerizing and infectious pop melodies. Between their impressive early releases and their wild live shows which feature the band members sharing lead vocal duties, Post Animal have unquestionably solidified themselves as one of Chicago's most exciting up-and-coming acts. Having taken that intensity across the country, touring with bands like Twin Peaks, Wavves, White Reaper, and more, Post Animal have found they are happiest when playing to a room full of fellow music-lovers. As a result, they are road tested and stronger than ever.
The Chicagoans' debut full-length When I Think Of You In A Castle, out 4/20 via Polyvinyl, is the product of six friends creating music they love, even if the circumstances weren't always in their favor. "Before this album, we weren't sure what the future of the band was going to look like. I was considering moving to Los Angeles and Joe [Keery] was off filming Stranger Things. We didn't know where we were all going but we knew we wanted to make an album with all of us in the same room," explains Toledo. Being the first time all Post Animal members recorded together, the album's collaborative spirit is more-than-evident throughout its 10 carefully curated tracks. Even Keery, who's no longer an active touring member of the band due to his skyrocketing acting career, was integral to the album's inception.
In the summer of 2016, the band retreated to a lake house in Watervliet, Michigan to record When I Think Of You In A Castle. For a week and a half, they tracked the LP—all while realizing they weren't really alone in the house. According to the band, a ghost dwelled there that would jolt them awake from naps and even ended up with a guest appearance on the album. Toledo explains, "There's a moment on 'Heart Made of Metal' where I hit the cymbals and, for some reason, it was recorded in reverse. We think that's the ghost."
Of course, not all of the magic on When I Think Of You In A Castle can be pinned on the supernatural. Following the lake house trip, the band finished the album at their house in Chicago with Allison perfecting the mix over the next year; even while on their 48-city summer tour in their beloved van (RIP Shannon). Take the first single "Ralphie," which finds Keery and Allison gleefully trading lead vocals while sounding like what would happen if Jeff Lynne fronted Thin Lizzy. Though Post Animal's live shows have long proven that swirling riffs are the band's bread-and-butter, it's earworms like "Ralphie" that show how easily they can churn out an infectious pop melody.
"Ralphie" isn't the only song that finds the band sharing lead vocal duties. In fact, each band member contributes vocals like Hirshland's mesmerizing turn on "Castle" or Williams' punchy performance on "Heart Made of Metal." Other songs, like the dynamic "Gelatin Mode," shift from a lighthearted experience in dueling lead guitars to a face-melting dose of sludge with ease. It's such a transportive track that when Keery menacingly intones, "Below, traveling slow out on your own / Your mind gelatin mode time to explode" it's a welcome invitation.
Elsewhere, a longtime live staple "Tire Eyes" finds new life on the LP. It's a swaggering ode to a timeless classic rock song with Allison's falsetto beckoning, "So forget about your day and let this record float you away / As your mind is winding, finding cause to be easy." The finished album, which was mastered by Jake's brother, Jared Hirshland, is a truly collaborative continuation on the band's kaleidoscopic and sprawling early beginnings.
But most importantly, When I Think Of You In A Castle is a testament to not only the brotherly connection that these friends share, but also to the power of collaboration between like-minded musicians who just get one another. "Before we recorded it, it was an uncertain time for us as a band, but we all just had a magical time at this lake house in the middle of summer," explains Toledo. Almost impossible to describe, the Post Animal bond is best observed while foolin' at the merch table after a sweaty show. They look forward to seeing you there and, naturally, becoming your new best friends.
—Josh Terry