Twin Cities Organized Retail Crime Association Annual Conference & Training

Tuesday, August 16, 2016 at 7:00 AM

-

Wednesday, August 17, 2016 at 6:00 PM (CDT)
Event Details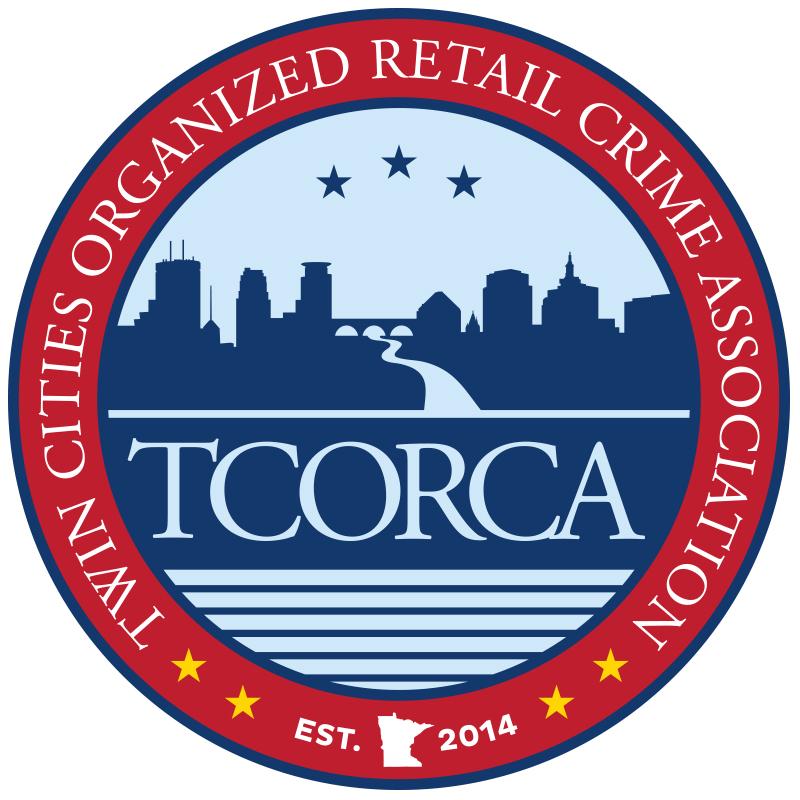 ANNOUNCING THE PREMIER TRAINING EVENT FOR RETAIL & FINANCIAL INVESTIGATORS, PROSECUTORS, CRIME ANALYSTS, CRIME PREVENTION SPECIALISTS, AND LAW ENFORCEMENT OFFICERS CONDUCTING INVESTIGATIONS WITHIN THE REALM OF ORGANIZED CRIME.
Registration is open for the second annual Twin Cities Organized Retail Crime Association (TCORCA) Training & Conference to be held at the Crowne Plaza Minneapolis West in Plymouth, MN Tuesday, August 16th and Wednesday, August 17th, 2016.
What did last year's attendees have to say about the TCORCA Conference?
I directly credit the recent TCORCA conference training for assisting me in my investigation.
Excellent job! Loved the break-out sessions!
Conference location and food was fantastic.
Top notch! Best training I've ever been to.
Great conference, especially given that it was a new one. Nicely planned. I was afraid I would be the only one from out of state, but I wasn't, and I felt welcome.
Exceptionally well organized and attended. You've set the bar high TCORCA! Keep it up.
First rate. I can't wait for next year!
Loved the conference! Many sessions had direct relation to my job on the retail side. Can't wait to come back and learn more next year!
Fantastic content. Just wish I could have attended more sessions!
The world has changed. Every single crime we encounter is facilitated or committed through the internet or use of digital media. Criminals harness social networks to create customer bases, and traffic in stolen or fraudulently obtained goods. Cloned credit cards and identity theft victimizes countless citizens, retail, and financial businesses every day. Organized shoplifting rings launder money overseas to rogue countries and terrorist groups. Gangs finance their crimes through fraud schemes. Our legitimate businesses are threatened by violence and loss on a daily basis, while other businesses act as fences for crimes that affect public safety in multiple ways.
Learn how to combat organized crime affecting the retail, financial, and public sectors from federal, state, and local law enforcement officials, as well as dynamic leaders across the retail and financial services spectrum. There will be over twenty break-out sessions on four tracks. The conference includes advanced training on numerous topics from subject matter experts across the country.
The conference includes two days of full breakfast, lunch, beverages and snacks, as well as a Tuesday night hosted outdoor bonfire reception. Accommodations are available and encouraged. Upon completing registration for the conference, contact the Crowne Plaza Minneapolis West at (763) 559-6600 and request the preferred rate of $124 per night for the Twin Cities Organized Retail Crime Association. Standard rates are between $160 and $180 per night - don't miss out on this exceptional deal! 
Early Bird and Group registration discounts are available!
We are pleased to offer 14 P.O.S.T. credits to all Minnesota law enforcement officers, as well as CEUs for prosecutors. Our retail and financial investigator partners will receive continuing education credits for CFI, CFE, LPC, and LPQ.
We're excited to see you there!
Cheers,
Twin Cities Organized Retail Crime Association
FAQs
What is the agenda for the conference?
While we're still working out the details, here is the tentative agenda for the conference. We think it does a good job of representing our coalition. We hope you think so, too.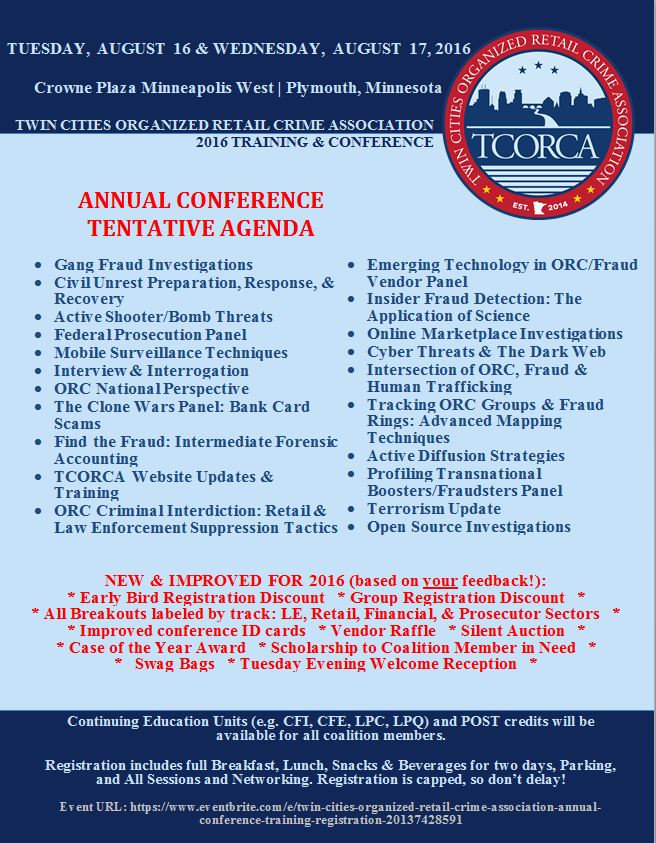 What about lodging?

The Crowne Plaza Minneapolis West is a premier conference center with world-class accomodations. We received overwhelmingly positive feedback from those attendees who stayed at the hotel last year. Even if you're from the Cities, why not make it a stay-cation? With a full service spa and easy access to Minneapolis shopping, attractions, and dining, staying at the Crowne Plaza is a no-brainer. When booking a reservation, don't forget to ask for the TCORCA conference rate! Here's their website, and here's the hotel flyer: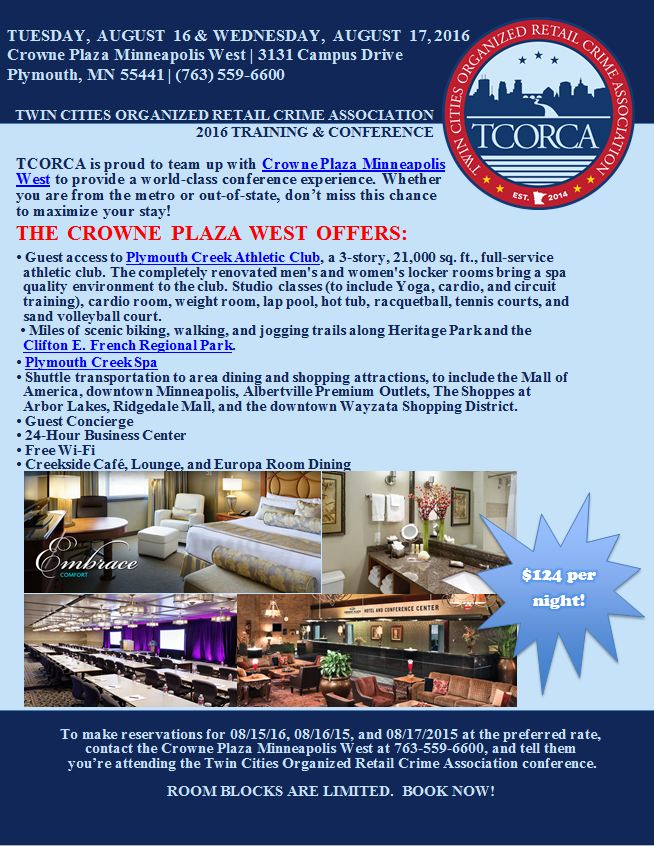 What are my transportation/parking options for the event?
Last year's road construction project along Hwy 169 has been completed. According to MnDOT, there are no other major projects slated for the area. The hotel is a short distance from the MSP airport, and well positioned for easy access from the metropolitan area. Parking is free and on-site.
How can I contact the organizers with questions?
Contact admin@tcorca.org with any questions. Charlie Anderson can be contacted directly at charles.anderson@ci.stpaul.mn.us, Dave Leinfelder at david.leinfelder@bestbuy.com, and Adam Sack at asack@ci.woodbury.mn.us.
How are continuing education credits being processed?
Our Training & Standards directors are working to stream-line the certification process this year. Please help this process by indicating your certifications (e.g. LPC, LPQ, CFE, CFI) per the prompt during the online registration process. Sign-in sheets will be at the registration table throughout the conference. Law enforcement officers and prosecutors will have separate sign-in sheets for POST credits and CEUs. Please contact Robert.Wilkinson@co.ramsey.mn.us or Robert.Congdon@hennepin.us for pre-conference information. 
Can I update my registration information?
Yes. You can do this easily through the Eventbrite site.
Do I have to bring my printed ticket to the event?
While not required, it would be be extremely helpful in keeping the registration process stream-lined.
What is the refund policy?
Full refunds will be granted up until July 15th, 2016. No refunds will be granted after that date.
What is the dress code for the conference?
Business casual.
Are there any perks to attending the conference?
Other than the stellar content, hosted reception, and amazing networking opportunities, we will have a silent auction and vendor raffle this year. Visit all the vendor booths, have your ID card "punched", and enter to win fabulous prizes!
Can I request an invoice for registration purposes?

We understand that some agencies and/or companies request invoices in order to ease the internal processes for registration. We can also provide you with a W-9 if necessary. Email admin@tcorca.org, and we will arrange for an invoice and/or W-9 to be sent to you electronically.
Can I pay by check?
Sure. Here's the form. Copy & Paste the image and print it out.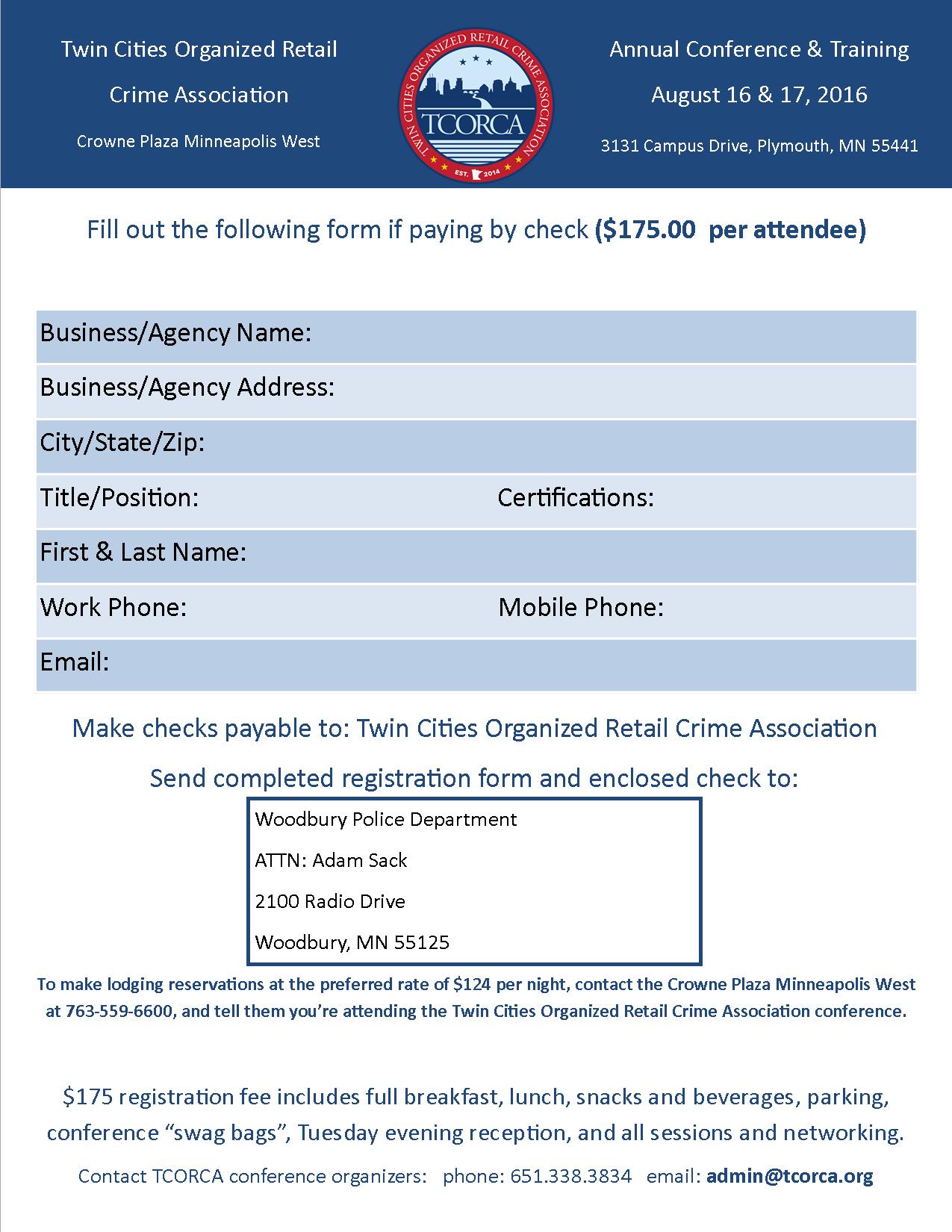 I'm a vendor, and I'd like more information on opportunties to connect with attendees at this year's conference.
We'd love to have you showcase your services to our attendees! We are offering about twenty vendor tables in direct proximity to our main conference area. There will be ample exposure time. We are happy to accomodate your specific needs as a vendor. New opportunities this year include vendor presentations during the lunch hour, as well as a break-out session vendor panel. Attendees will have the opporuntiy to enter a raffle if they visit all the tables, thereby increasing exposure and contacts. We are also in need of sponsors. For vendor/sponsor queries, please contact Kellen.Mcwhite@bestbuy.com or Chuck Armstrong at carmstrong@propcocapitaltrust.com. Here's a vendor/sponsor information bulletin: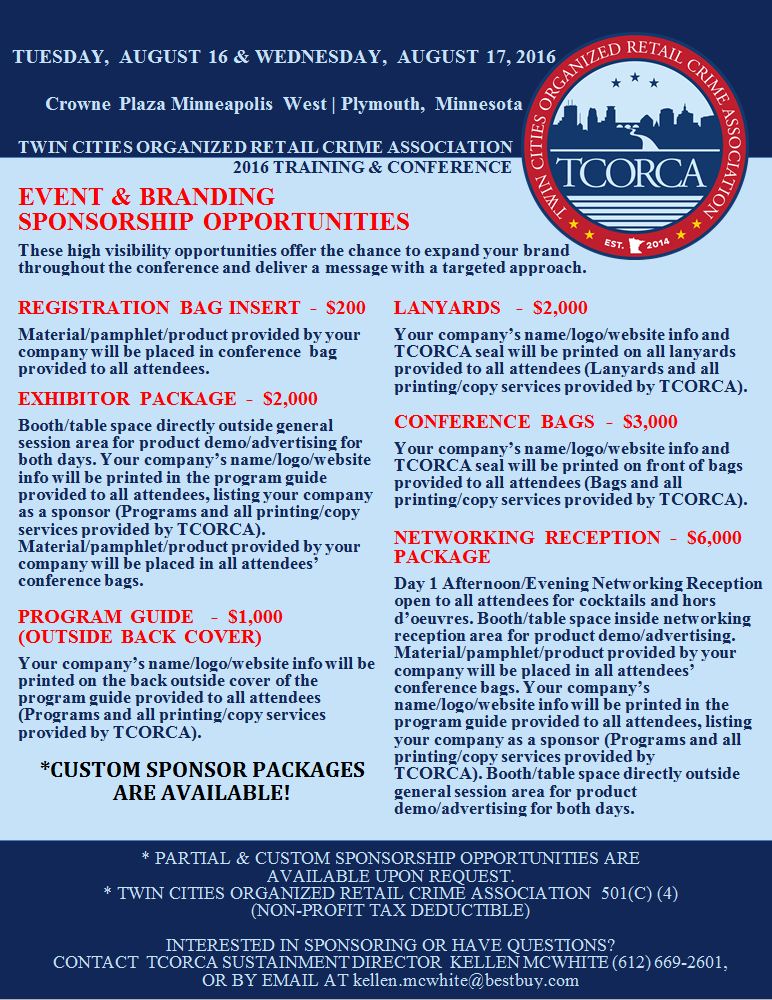 Attendee List
Sort by:
Date
When & Where

Crowne Plaza Minneapolis West
3131 Campus Dr
Minneapolis, MN 55441


Tuesday, August 16, 2016 at 7:00 AM

-

Wednesday, August 17, 2016 at 6:00 PM (CDT)
Add to my calendar