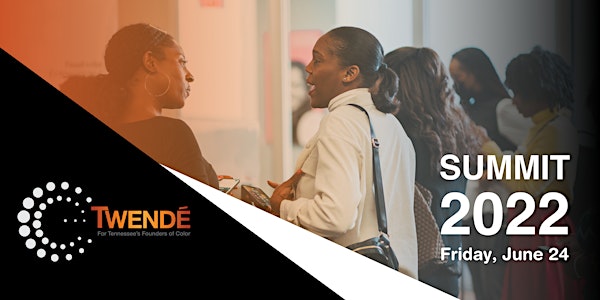 Twende Summit 2022
Twende is Kiswahili for "Let's Go!" It's our rallying cry here at the EC to support Founders of Color across the stage of Tennessee.
When and where
Location
The Nashville Entrepreneur Center 41 Peabody St Nashville, TN 37210
About this event
VIRTUAL LOGIN: Join HERE.
UPDATE:
Twende Summit is here! We have over 250 registered attendees, so you'll want to get here early to secure your seat!
We are so excited to celebrate our Twende' founders and amplify Black entrepreneurs across Tennessee! Here's some helpful information about the event tomorrow.
Here's how to prep for the day:
Join our Twende' Connect Group here - See who's coming before you arrive and get the networking started, let's go! (You can also access all session virtually from here.)
Attending in person? You'll want to! Location & details are here
Learn more about our noon BuildTN powered by LaunchTN speaker - Arlan Hamilon - here!
Got questions: Ask away in the Twende' Connect Group here!
Parking:
Free parking is available with validation in the garage located off of Lea Ave located behind the EC. Kindly note, this is not the garage located off of Peabody below Fourth Capital bank.
Let's go!
The TN Twende' Summit Team

Join the Nashville Entrepreneur Center and our partners for the 2022 Twende' Summit on Friday, June 24, 2022 where our theme is Amplifying Black Entrepreneurs!
The purpose of the Twende' Summit is to bring together entrepreneurs, community leaders, partners, and supporters across TN for a day of learning and support to:
Elevate & recognize members in our Twende' program
Equip Black and Latinx entrepreneurs with tools and resources to grow their business
Engage Black and Latinx founders in joining Twende as we expand the program across TN
Join us for networking with business leaders, investors, and entrepreneurs across the state plus sessions designed to help you grow your business such as:
How to Do Business with Big Businesses: A panel discussion with leaders across TN on ways Black entrepreneurs can grow their business with government and corporate partners.
Show Me the Money: A workshop to learn about funding opportunities with grants, loans, and private investments.
Thriving in Life and Business as a Black Entrepreneur: A conversation on how to build a successful business, amplify your brand, and build relationships that help you thrive as a Black entrepreneur.
Register and come celebrate with us - "Let's go!"