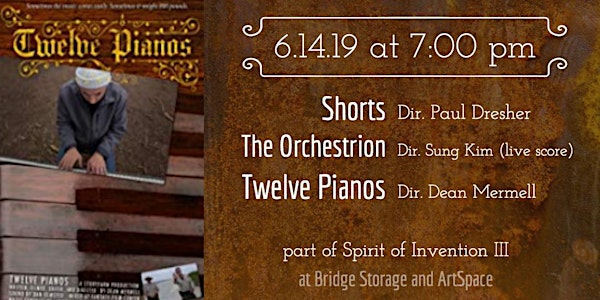 Twelve Pianos Dir. Dean Mermell + Short films from Paul Dresher and Sung Kim
When and where
Location
Bridge Storage and ArtSpace 23 Maine Avenue Richmond, CA 94804
Description
Join us for a unique evening of film and music.
Short films from Paul Dresher and Sung Kim (with live improvised score), followed by the documentary Twelve Pianos, directed by Dean Mermell. Twelve Pianos focuses on the piano installations of Mauro Fortissimo, well known in the Bay Area as co-founder of music installation festivals Flower Piano and Sunset Piano with Dean Mermell.
Doors at 7pm, Screening at 7:30pm. Refreshments will be available for purchase.
Paul Dresher Project (shorts)


The Orchestrion (3 Shorts with live, improvised score)
Director Sung Kim is an improvisor, sculptor, and instrument building. These 3 short films are accompanied by a live, improvised score
The Orchestrion-Pizzicato (12 min)

The Orchestrion-Lungs (15 min)

The Orchestrion-Dynamo (9 min)
Twelve Pianos (63 min) Director: Dean Mermell / Starring: Mauro Fortissimo
This documentary gets up close with Mauro Fortissimo's piano installations, in select locations, which draws world-class musicians and novices alike to come and play - from the cliffs of Half Moon Bay to the streets of San Francisco. VIEW TRAILER https://www.youtube.com/watch?v=UmiLLIufuco
The gallery will be open to explore before the show and during intermission. This exhibition represents the great variety of work being created in the field of instrument design and invention in the Bay Area. All types of instrument are represented – from the simple, quick to make, to more sophisticated hand-crafted designs, new variations on folk instruments, recycled junk constructions, re-configured pianos, electro- acoustic sound sculptures and electronics.