Twelve Days of Christmas, Inc. Atlanta Chapter - 2017 Party with a Purpose:...
Description
The Atlanta Chapter of Twelve Days of Christmas is excited to kick off the Holiday season with our 2017 Party with a Purpose: Spirit of Giving on December 6, 2017 at 6:00pm at Studio No.7 Join us for music from DJ Condo the ambassador of Turn-up, discounted holiday drinks and treats, networking with a range of professionals.
Spice up your night with an exclusive VIP reception and enjoy small bites, three complimentary drinks, and live music. We are thankful for our VIP Reception Sponsor, Javan Bass of Metro Foot and Ankle Centers, PC. VIP just got that much more special!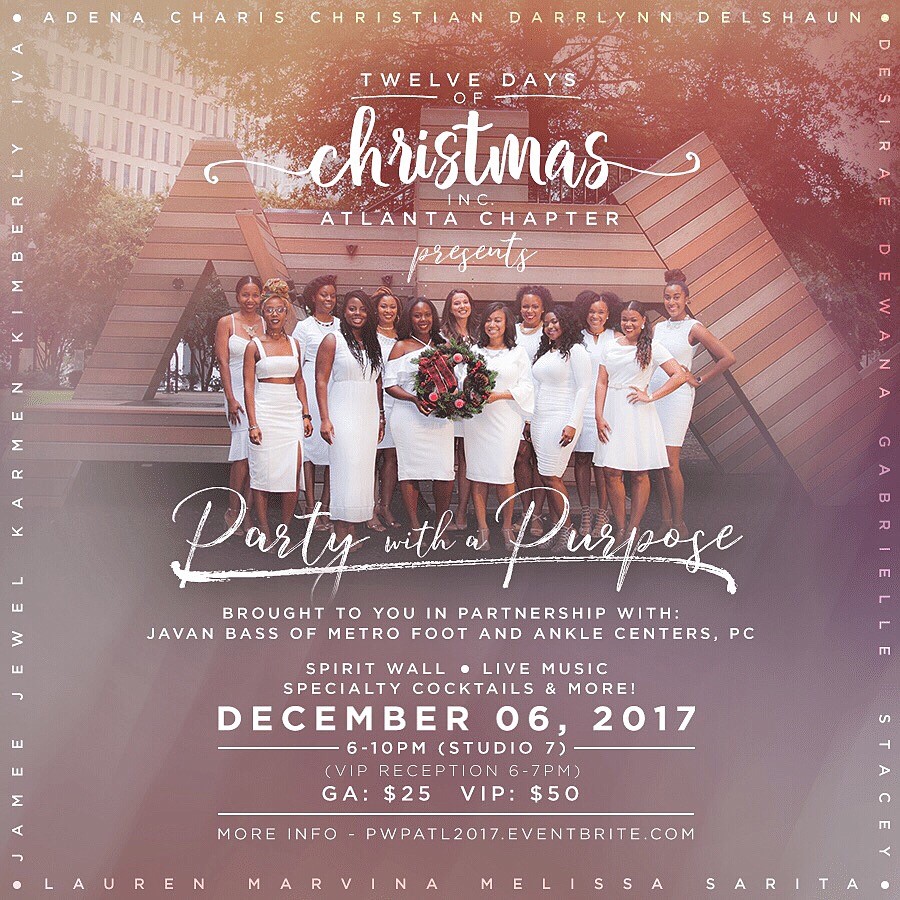 What is a "Party with a Purpose"?
Twelve Days Chapters across the U.S. host fundraisers each December and use 100% of the funds raised to meet the needs of less-fortunate families. The members of the organization provide selected families with the joys of Christmas, which include clothing, shoes, toys, books, nonperishable food items, and Christmas decorations. Families are sometimes given special "wish-list" items that range anywhere from personal items to bicycles to household items, such as mattresses.
Atlanta Chapter
The Atlanta Chapter of Twelve Days of Christmas, Inc. was established in 2014 to bring the Party with a Purpose model to Atlanta for the benefit of families in need. The 2017 Spirit of Giving is member driven and brought to you by Members: Melissa Brogdon, Christian Murphy, Jewel Burks, Kimberly Hogg, Marvina Walker, Iva Stewart- Barre, Desirae Cardiel, Karmen Gary, Lauren Hill, Dewana Plowden, Charis Dorsey, Darrlynn Alston, Delshaun Hudson, Jamee Lawson, Sarita Shepherd and Hostesess Stacey Mason, Gabrielle Newton and Adena Hill.