Tweens and Teens Inventor's Summit
Actions and Detail Panel
Tweens and Teens Inventor's Summit
Sat, May 6, 2017, 10:45 AM – 5:00 PM EDT
Description
Summit Presenters include: Google, MakerBot, PopUp for Change and more!
Summit Details: http://ttinventors.org
OVERVIEW:
The first free summit of its kind that targets young people within the ages of 11-14, Tweens & Teens Inventor's Summit, is one that drives collective imagination and action to fuel the next big idea. Nestled in the heart of Silicon Alley lives Educational Alliance Boys & Girls Club of School of the Future, which is gearing up to host over 150 tweens and teens at its inaugural inventor's summit.
Collaborating with leading tech companies, social entrepreneurs, and organizations, the summit will reimagine what it means to be a 'creator' in the eyes of a tween or teen of the 21st century.
We will DISCOVER what unique inventions our youth can create, once given the resources, knowledge, structured play, and mentorship—in one very special day: Saturday, May 6, 2017 from 10:45 AM – 5:00 PM.
QUESTIONS: ttsummit@edalliance.org
------------------------------------------------------------------------------------------------------------------------------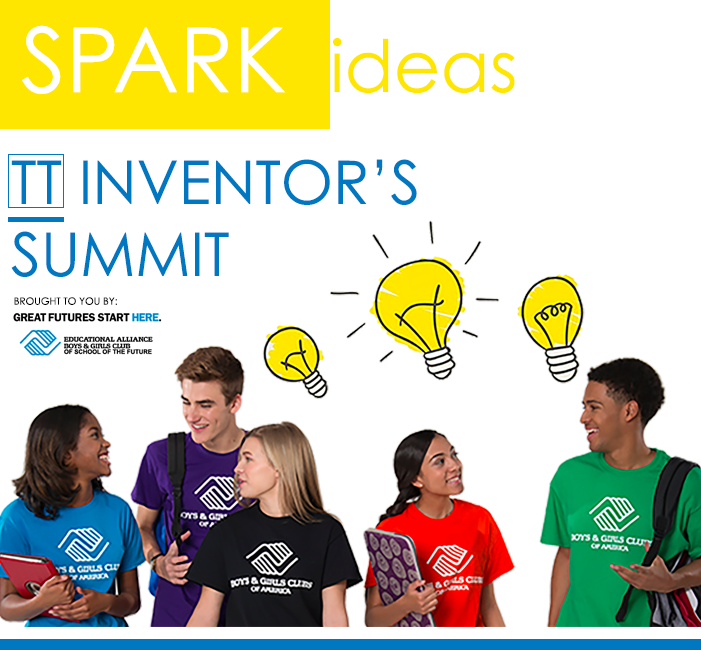 Save
Save