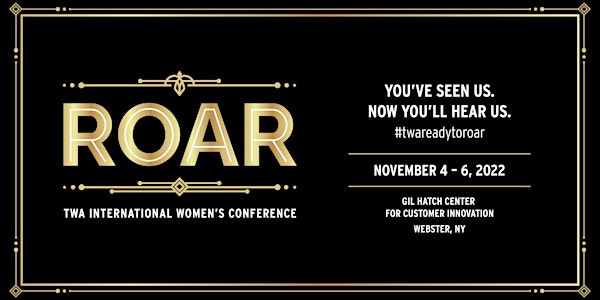 TWA International Women's Conference
TWA International Women's Conference November 4-5, 2022 Rochester, NY
When and where
Location
Xerox Gil Hatch Center for Customer Innovation 209 Mitcheldean Drive Webster, NY 14580
About this event
Are you Ready to Roar at the TWA International Women's Conference!
Revival always comes on the heels of disruption – a word we're all tired of. The 2020's came in with a roar, and our response was to roar back with renewed tenacity. New ways of flexing, creating and barrier-breaking as women.
You've seen us. Now you'll hear us. Because doing what they say couldn't be done is what we do best.
Hearing is Believing. Representation matters, a truth Xerox has always embraced. When we see and hear other women roar with revival, it inspires our peers to dream big and believe they can do the same.
To see the full TWA 2022 Conference agenda and learn more about this incredible weekend, as well as to get other information about TWA (including how to become a member) please visit the TWA Annual Conference Page and/or TWA Home Page Site:
2022 TWA International Women's Conference
If you have any questions, please email: thewomensalliance@xerox.com
Registration Deadlines:
Early Bird and In-Person Registration has been extended to October 28th!
Virtual Attendee Registration Ends: November 3, 2022
*Please note, we will do our best but cannot guarantee that dietary requests made after October 28 will be fully met.
COVID Precautions:
We ask that you take a COVID-19 rapid test before coming to the campus to ensure you are COVID-free. If you do not have a rapid test, tests will be provided at the Gil Hatch Center reception entrance.
Masking is optional during the conference but highly recommended.
Ticket Prices (all prices in US$):
++Full Conference rate: Includes all Friday and Saturday conference activities, meals and drinks :
$209.00 TWA Member Early Bird Extended to October 28th!
$269.00 Non-TWA Member Early Bird Extended to October 28th!
++Friday-only rate: Includes Friday events, Cocktail Reception and Dinner
$179.00 TWA Member Early Bird Extended to October 28th!
$239.00 Non-TWA Member Early Bird Extended to October 28th!
++ Virtual Attendee Rate:
$29.00 TWA Member
$29.00 Non-TWA Member
To take advantage of TWA member pricing, and enjoy benefits such as webinars, TWA circles, networking and other member benefits, click here to join.
Payment Options:
You may pay via MasterCard, Visa, or American Express. US employees have an additional option to pay via payroll deduction (ticket price deducted over 2 payroll cycles).
Please note a ticket processing fee will be added to your ticket price when registering.
Payroll deduction - *important* - to choose the payroll deduction option, please pick "Pay by Invoice" in the dropdown for Payment Method when checking out. Choosing this option will also reduce the total processing fee. Please note that the ENTIRE ticket amount will be divided into two equal payments, with deduction starting with the next available pay cycle.
Lodging:
TWA B&B Option:
Limited spots available for TWA B&B where we can connect out of town guests with local TWA members. TWA Registration Committee will coordinate the match and will advise when all the spots are filled. Please see the order form for details and provide your preference.
Hotel Reservation Option & Details:
There are rooms available for the conference at a negotiated rate of $99 per night (plus taxes & fees).
Holiday Inn Express & Suites
860 Holt Road
Webster, NY 14580
1-585-872-0900
To make a reservation, call the hotel directly and ask for the Women's Alliance Conference group rate or by using this link.
**Please note: The group rate will show up once attendees enter the conference dates in the check in/check out fields on the page.
Transportation:
The hotel does not have shuttle service to the airport; Uber and Lyft are both active throughout the Rochester region. The hotel does have a shuttle service which operates within a 3 mile radius (the conference site is 1.5 miles from the hotel). Shuttle seats are limited, so attendees will need to be flexible to make best use of the shuttle.
There is no fee for parking at the hotel.