Description
TV of Tomorrow Show NYC 2013 Hackathon

December 10-11, 2013
12:00 PM - 12:00 PM
Hackathon Finalists Will Be Showcased and the Winner Announced December 11th at TVOT NYC 2013
Hackathon Winner Will Receive a $6,000 Grand Prize, Sponsored by Comcast/NBCU
[itvt], producer of the TV of Tomorrow Show (TVOT) conference series, is pleased to announce the TVOT NYC 2013 Hackathon, an event that brings together hackers and creatives to envision and build the TV of Tomorrow.


What is the TV of Tomorrow? As with our last Hackathon event (video recap), we'll leave that entirely up to your vision and creativity! However, it could encompass such platforms, technologies and user experiences as the second screen (smartphones, tablets, etc.), game consoles, next-generation cable set-top boxes, smart TV's, gestural control, voice control, automatic content recognition, augmented reality, rich interactivity, binge-viewing, big data, metadata, gamification, personalization, audience participation, social media integration, geolocation, transmedia storytelling, and more.

Photos from TVOT San Franicsco 2013 Hackathon
Video recap highlights from TVOT SF 2013 Hackathon
Video recap highlights from TV of Tomorrow Show SF 2013

Grand Prize: The winner of the TVOT NYC 2013 Hackathon will receive a $6,000 Grand Prize, presented by Comcast. Finalists and runners-up will also be awarded prizes and schwag. TBA soon.
Can My Company Participate as a Hackathon Host or Participating API/SDK Sponsor?: Yes, though time is running out! For more information, please contact Tracy Swedlow, editor-in-chief of the [itvt] newsletter and producer of The TV of Tomorrow Show NYC, at swedlow@itvt.com
Platforms Being Used: Connected TV, Tablets, Smartphones, PCs, or Other Platforms You Choose!


Hacker League Page: https://www.hackerleague.org/hackathons/tvot-nyc-2013-hackathon


SDKs: Zeebox and others to be revealed.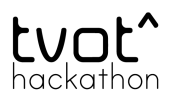 Contact: Tracy Swedlow, swedlow@itvt.com or call 415-608-4766.


When: The TVOT NYC 2013 Hackathon will take place 12:00PM, December 10th-12:00PM December 11th (Tuesday-Wednesday). The finalists will then be showcased and the winner selected December 11th in a special session at our East Coast TV of Tomorrow Show event, TVOT NYC 2013, a gathering that attracts many of the leading lights of the advanced-TV industry.


Where: The TVOT NYC 2013 Hackathon will take place at 450 W. 31st Street in Manhattan. Registration is on the 10th Floor.


How to Register: Registration is free, but spaces are limited. So register here soon to reserve your place. Please note that registered TVOT NYC 2013 Hackathon participants also qualify for discount admission to TVOT NYC 2013. Email swedlow@itvt.com for more information.
The Challenge: Hackers will be challenged to envision the TV of Tomorrow by conceiving, designing and building TV/video apps and experiences, primarily--though not exclusively--using technologies, platforms, content and knowledge contributed by the Hackathon sponsors. Participants are free to implement their visions of the TV of Tomorrow however they wish. While they will receive points for every participating company's technology that they employ, they will be judged primarily on the originality, elegance and usefulness (viability, scalability, monetizability etc.) of the app or experience they create.


Who Should Participate?: The TVOT NYC 2013 Hackathon is open to "hackers" of all kinds, including coders, but also front-end and motion-graphic designers, content visionaries, business visionaries, students, storytellers, filmmakers and others.


What to Expect: The TVOT NYC 2013 Hackathon will last 29 hours, and food and drink will be provided. Representatives from the Hackathon sponsors will be on hand to share advice on using their platforms, API's and other technologies. In addition, you'll be able to participate in breakout sessions with other advanced-/interactive-/social-/multiplatform-TV experts/mentors who can provide you with guidance and inspiration. Once you have completed a prototype or real implementation of your project, you will be asked to pitch it to a panel of judges who will select the three finalist projects that will be showcased at TVOT NYC 2013. The winner, finalists and runners-up will also be featured in a special issue of the [itvt] newsletter, the first, best and most widely read publication on the interactive-TV industry.


What to Bring:
Your laptop and cables.

The hardware platform(s) you are developing for, such as tablets, smartphones, NFC chips, Google TV, Apple TV, Roku, etc.

Cameras, microphones and any other equipment you think you will need, if you are planning to create original video content on-site for your app (however, we will have video assets available, if you would prefer to use them).

Any software and apps you need in order to create your app or front-end design.

If you are already planning out your app in advance of the Hackathon, any additional assets you need in order to implement it (video, audio, images, vector art, wireframes, mockups, etc.).

Anything else you need for a marathon of creativity and innovation!
I Just Want to Hang Out and Watch--Can I?: We expect that the TVOT NYC 2013 Hackathon will be a highly enjoyable and very social event, and that it will present great opportunities for schmoozing and networking. However, because space at 450 W. 31st Street is limited, non-"hackers" will only be admitted if they are TVOT NYC 2013 ticket holders or speakers. Sorry, no exceptions! If you have not yet purchased your TVOT NYC 2013 tickets, you can do so here.