Description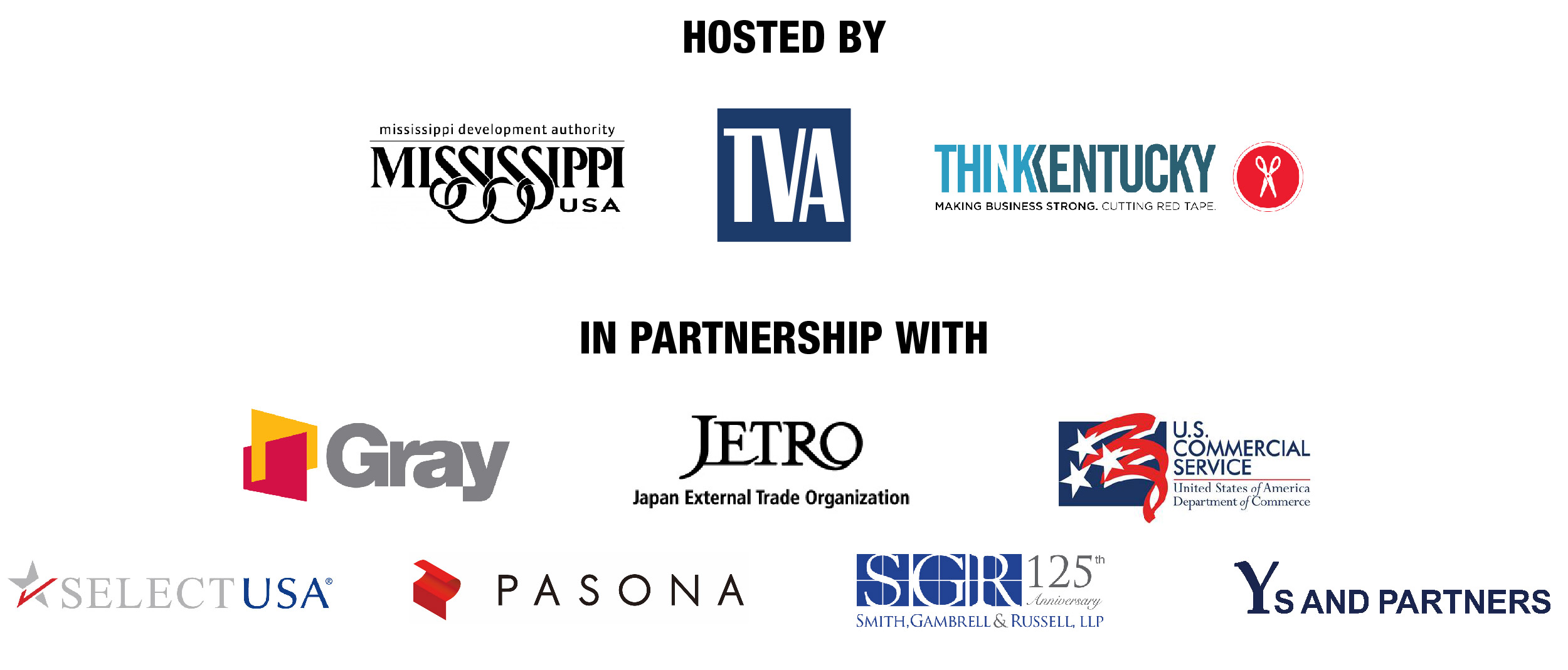 消費財メーカーは、どのようにアメリカ市場での事業を成功させるのでしょうか? 本セミナーでは、消費財市場の動向、代理店のマネジメント、工場や物流施設建設、ロジスティックス、および日本企業がアメリカで直面する人事上の課題について考察していきます。また、テネシー川流域開発公社(以下TVA)のサービス地域にある日本企業を支援してきた経験と知識をみなさまに共有致します。利用可能な様々な助成金を最大限に活用し、事業に最適な用地を選定する方法や、建設費用を最小限に抑える方法、どのような環境規制があるのかについて、人事問題の対処法と日米間の人事業務の違い、および法的側面からのリスクを最小限に抑える方法についてご紹介致します。このセミナーはTVAの主催、ミシシッピ州、およびケンタッキー州の共催、アメリカ大使館セレクトUSA、JETRO、Ys and Partners, グレイ建設、株式会社パソナ、Smith Gambrell & Russellの後援しております。
How do consumer goods manufacturers successfully launch operations in United States? This session will focus on consumer goods market trends, distributor management, construction, logistics, and HR issues that Japanese companies may face in the US.
Speakers will share their knowledge and experience in assisting Japanese companies located in the Tennessee Valley Authority region. Attendees will understand how to select best site for your business with various incentives available, how to minimize construction cost, what kind of environmental regulations are there, how to manage HR issues and differences in HR operations between US and Japan, and how to minimize risks from legal aspects.

This seminar is hosted by the Tennessee Valley Authority and co-organized by the State of Mississippi and Commonwealth of Kentucky, and is supported by the US Embassy and Select USA.

---
プログラム
Program
13:00
開場、受付開始
Open and start registration
13:30
開会の挨拶
Greeting by TVA
13:35 – 14:05
米国における消費財市場のトレンドとマーケティング
講師:Y's and Partners
US consumer goods market trend and marketing (Speaker: Ys and Partners)
14:05 – 14:35
米国における販売代理店マネジメント
講師:小嶋弁護士
Distributor management in US (Speaker: Kiyo Kojima, SGR)
14:35 – 15:05
アメリカ物流事情
講師:Fedex
Logistics in US (Speaker: Fedex)
15:05 – 15:20
休憩
Break
15:20 –15:40
アメリカ南東部の魅力
講師:TVA、テネシー州、ミシシッピ州、ケンタッキー州
Advantage of Southeast US (Speaker: TVA, Mississippi, Kentucky)
15:40 – 16:00
米国建設事情
講師: Gray建設
Construction in US (Speaker: Shigeru Masuko)
16:00 – 16:30
米国の人事労務管理について
講師:パソナ
HR issues Japanese company faces in US (Speaker: Pasona)
16:30 – 17:00
ネットワーキングセッション(コーヒーと軽食)
Open networking session
17:00
終了
End of event