Sales Have Ended
Ticket sales have ended
We are no longer taking submissions. If you'd like to register for the next Master Series Seminar, please visit: http://www.networkisa.org/classes.php
Sales Have Ended
Ticket sales have ended
We are no longer taking submissions. If you'd like to register for the next Master Series Seminar, please visit: http://www.networkisa.org/classes.php
Description
TV Weekend Chicago: From Concept to Studio Deal
The biggest names in the industry, who have worked with and developed writers for 20th CENTURY FOX, WARNER BROTHERS, DISNEY, NBC UNIVERSAL, ABC TV, WGA and more, are coming to Chicago! They'll teach:
• Writing Memorable Characters
• Creating a Strong Internal Story
• Developing a Pilot Execs Can't Ignore
• Specific Pitching Skills and Techniques
• Getting an Agent or Manager
• Launching and Building a TV Career
• How to Book Writing Assignments and Get Staffed on a Show
Paid registrants receive:

THE CRAFT COURSE (value $99)

A Free 1-year subscription to MovieMaker Magazine

An Industry Networking Party Hosted by Nickelodeon

5 lucky attendees receive IFP Chicago Memberships.

Plus many other giveaways from Final Draft and the ISA!
If you want to write for television, you don't want to miss this 3-day event at Columbia College in Chicago packed with the tools you need to write a pilot that sells!




LOCATION:
Columbia College Film Row Cinema
1104 S Wabash Ave
Chicago, IL 60605
---


Join us for lectures, workshops, pitching, panels and more. With panelists from:

Our Lecturers are Experts in Screenwriting Success:
44 of Jen Grisanti's clients have gone on to sell their pilots, five of which went to series. 75 have been staffed.

87 graduates of Corey Mandell's classes have sold original pilots.

Lee Jessup's clients have sold screenplays and pilots to major studios and booked network writing assignments.
Open to all storytellers – screenwriters, TV writers, novelists, filmmakers, producers, agents, actors, development executives and more are welcome to attend.


"We've never had this many industry experts in one short weekend. It's exciting to bring this much value to emerging writers in my home town!"
WATCH VIDEO - Craig James (ISA Founder)
"Each speaker was so compelling, and interestingly, they each spoke to something very different. You get such a cohesive look at things from different lenses."
WATCH VIDEO - Los Angeles TV Weekend Participant


---

CLASS SCHEDULE SUMMARY
BONUS DAY: Friday, May 5th - 3:00 p.m. - 6:00 p.m.
3:00 pm – 6:00 pm - NBC's TIMELESS and Netflix's STRANGER THINGS:
Breaking Down Story Through The Recurring Moment with Max Timm
MAIN EVENT: Saturday, May 6th - 9:00 a.m. - 5:30 p.m.
9:00 am – 1:15 pm - WRITING A PILOT THAT SELLS with Jen Grisanti
1:15 pm - 2:30 pm - Lunch
2:30 pm - 5:30 pm - YOUR TELEVISION WRITING CAREER with Lee Jessup
MAIN EVENT: Sunday, May 7th - 9:00 a.m. - 5:15 p.m.
9:00 am – 12:15 pm – PITCHING PILOTS THAT SELL with Corey Mandell
12:15 pm - 1:30 pm - Lunch
1:30 pm - 3:00 pm - Industry Panel
3:15 pm - 5:15 pm - Pitching Event, Moderated by Corey Mandell


A COMPLIMENTARY HAPPY HOUR for Registrants on SATURDAY at 6 pm.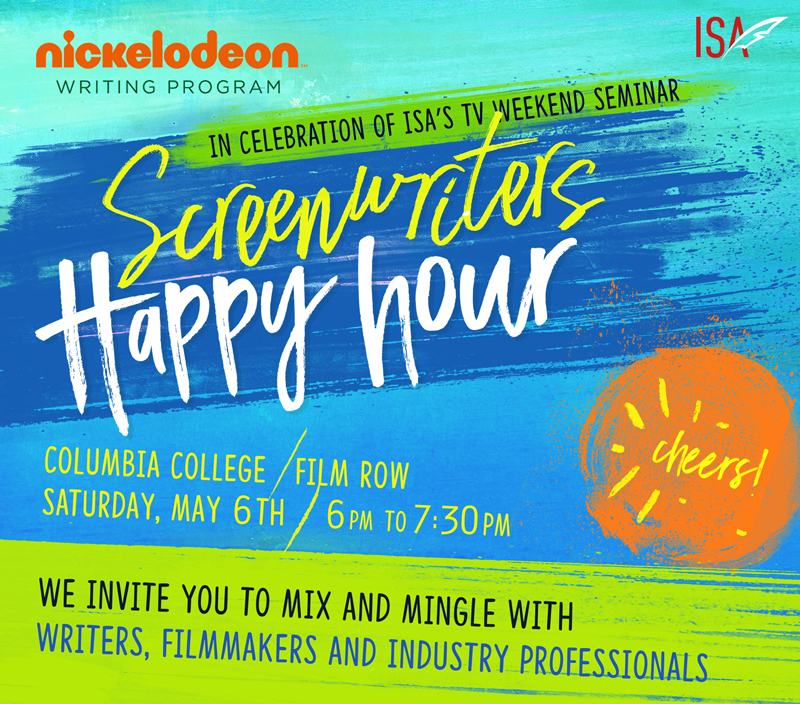 ---


BREAKDOWN OF EVENTS and SPEAKERS
NBC's TIMELESS and Netflix's STRANGER THINGS: Breaking Down Story Through The Recurring Moment with Max Timm
Friday: 3:00 pm – 6:00 pm
Audiences will tune in to watch a pilot episode due to the basic conceptual make-up of a particular show, its tone, and possibly a leading actor, but they continue watching the series if and when the well-crafted characters are entertaining, emotionally developed, and intertwined with a unique sequence of recurring and repeated action. What does all of that really mean? What kind of ride will you put your audience on, and more importantly, how do you develop a show that will continually entertain the audience week in and week out? Using examples from the hit NBC drama Timeless, and Netflix's cult-favorite, Stranger Things, Max will break down the storylines for each show in order to prove how important it is to develop your own show's recurring moment before ever writing a page of the script.

MAX TIMM
The Director of Community Outreach with the International Screenwriters' Association, and with over a decade of experience in developing material and writers' careers, Max Timm's focus with the ISA is to build a creative community and bring ISA writers closer to ISA Industry Professionals. Having attended Holy Cross College at Notre Dame and then transferring to Columbia College Chicago to study screenwriting and producing, Max is a Midwesterner and Chicagoan at heart who prides himself on supporting creative people in as many ways possible. Recently he helped build a development program with the ISA, submitting writers' projects on their behalf and helping them launch their careers – eight writers received options and representation in 2015-16 because of Max's assistance and support. His Personal Coaching Service develops working writers and their material much like a studio executive would, and his online classes, titled The Craft Course in Screenwriting, offer writers outside the Los Angeles area to take part in professional full development.
A development consultant, manager, and screenwriting instructor, Max is a screenwriter and author himself. His debut novel, a young adult fantasy adventure titled The WishKeeper, about a teenage fairy with broken wings, won the young adult category of the 2015 Los Angeles Book Festival and released nationwide in the Summer of 2016. Max has also served as a part-time instructor at UCLA, will be a mentor in 2017 with the acclaimed Rocaberti Castle Writers Retreat, and travels nationally and internationally speaking at a multitude of industry events such as the Sundance Film Festival, Nashville Writers Conference, and even educating art program teachers through the LA Unified School District.
WRITING THE TV PILOT THAT SELLS:

Telling the Inside Story Through Structure and Emotion
with Jen Grisanti
Saturday: 9:00 am – 1:15 pm
The key to becoming a working writer or creating longevity as a working writer is writing a TV pilot script that they can't ignore. The pilot script is one of the hardest to write. In this 4-hour Master Series class Jen Grisanti will take you through her story system that has led 44 of her clients to sell their pilots, five of which went to series. Part of her system includes story structure, writing memorable characters and character dynamics, creating a strong internal story and she will do a workshop element on adding fiction to your truth. She plans to discuss the following shows - FLEABAG (Amazon), WESTWORLD (HBO) and NIGHT MANAGER (AMC) and recommends that the participants watch the pilots for these shows.

JEN GRISANTI
Mentored by Aaron Spelling, one of the greatest executives and most prolific producers in the business, Jen learned early on how to develop a story and make a script the best it could be before it hit the air. She worked with the executive producers, showrunners and staff of over 15 primetime shows such as: Medium, Numbers, NCIS, Girlfriends, Charmed, Seventh Heaven, Melrose Place, 90210 and many more. She has helped to launch countless writing careers over the last twenty-five years. As a nine-year Writing Instructor for Writers on the Verge at NBC, a 12-year former studio executive and a panelist for the WGA and DGA, she also helped other creative talents see the business through the eyes of an executive. Jen's system for telling and selling story has also led to SEVENTY-FIVE OF HER WRITERS GETTING STAFFED.
YOUR TELEVSION WRITING CAREER
with Lee Jessup
Saturday: 2:30 pm – 5:30 pm
In this 3-hour Master Series class Lee will share with you everything you need to know about becoming a working television writer. This session will explore the current television landscape, the realities and requirements for landing the agent or manager who will become instrumental for connecting you with the television industry, the various paths available for staffing on a show or selling your pilot, the contests, fellowships and programs available to writers seeking to stand out in the television space, and much more.

LEE JESSUP
Lee is a career coach for professional and emerging screenwriters, with an exclusive focus on the screenwriter's ongoing professional development. Her clients include working screenwriters who have sold screenplays and pilots to major studios and booked writing assignments, staffed television writers, best-selling authors, television writing programs and feature fellowships participants, contest winners, as well as emerging screenwriters just starting on their screenwriting journey. In her role as career coach, Lee serves as a sort of industry guidance counselor, adviser, drill Sargent, cheerleader, confidant and strategic partner. Lee's knowledge and expertise in the space have been utilized by such entities as the WGA, NBC International, and FilmCourage, to name a few, as well as screenwriting conferences and film festivals across the United States and around the world. Her previous book, Getting It Write: An Insider's Guide To A Screenwriting Career is a bestseller, and her next book Breaking In: Tales From the Screenwriting Trenches is due out from Focal Press in late 2016/early 2017. Additionally, she has been the interview subject of countless podcasts and screenwriting-centric websites. With her husband, two children, a dog, two cats, and hippie parents living upstairs, Lee currently resides in Los Angeles, where she continues to shepherd, champion and challenge her stable of talented, ambitious and dedicated writers.
PITCHING PILOTS THAT SELL
with Corey Mandell
Sunday: 9:00 am – 12:15 pm
The ability to pitch yourself and your ideas is an absolutely essential skill for anyone serious about launching or building a TV writing career. In addition to knowing what is required to sell an original idea in the current marketplace, writers need to know how to effectively market themselves in the room in order to land a staff writing job. In this 3-hour Master Series Class, Corey teaches the specific pitching skills and techniques that have helped his students and clients sell pitches to all of the major broadcast, cable and streaming buyers.

COREY MANDELL
Corey is an award-winning playwright and screenwriter who has written projects for Ridley Scott, Warner Brothers, Universal, 20th Century Fox, Fox 2000, Fox Family, Working Title, Paramount, Live Planet, Beacon Films, Touchstone, Walt Disney Pictures and more.
His Professional Screenwriting and Television Writing Workshops offer an alternative to the same old tired rules and formulas found in most screenwriting classes, books and seminars. In the past three years, 87 graduates of his classes have sold original pilots. Others have been staffed on such shows as Community, The Fosters, Jane The Vigrin, Bones, Justificed, BoJack Horseman, The Mentalist, Marvel's Agents of the Shield, Up All Night, Rosewood, The Leftovers, Treme and more.
INDUSTRY PANEL DISCUSSION - Navigating the Screenwriting Business and Breaking into Hollywood from Chicago
moderated by ISA's Max Timm

Sunday: 1:30 pm – 3:00 pm
Join the ISA as we host a panel of distinguished industry guests who will focus on how to make the most of your screenwriting career, intentions, and creative pursuits no matter where in the country you live. With a focus on the Chicago creative community, the ISA will bring you an educational, empowering, and inspiring panel that will get you excited to pursue your writing dreams, with a practical and realistic approach.

ANGIE GAFFNEY
Angie Gaffney is a Midwest-based producer and entrepreneur who serves as the President of Black Apple Media and Co-Founder of Stage 18 Chicago.

CRAIG J. HARRIS
A veteran TV Producer with numerous credits and hundreds of hours of produced programming, including CNN's Chicagoland and A&E's The First 48, Craig J. Harris is also an award winning Writer, whose work has been recognized with five Emmys and a Telly Award.

MATT ABRAMSON
Matt is a producer and original content creator. He is an executive producer of the hit web series Teachers that was produced by Cap Gun Collective and is now in production as a television series for TV Land.
Matt started out in Chicago as an ad agency producer and improv comedian. Following a stint at DDB where he produced Super Bowl spots and high profile ads, Matt teamed up with director Alex Fendrich to launch Cap Gun Collective. Driven to create both exciting original content and produce traditional commercial work, the company has grown while producing spots for clients including Lexus, Hyundai, AT&T, Allstate, Sprint, and Motorola. The original content arm also produced Cap Gun's pilot The Venue which won the Comedy Central Pilot Competition and they are in development on several other projects.

KAREN KIRKLAND
Karen Kirkland is the Vice President, Talent Development and Outreach for Nickelodeon Group. In this position, she oversees the network's writing incubation program and is responsible for identifying and developing new writing talent. Under her leadership, Nickelodeon's Writing Program has expanded world-wide and has blossomed into one of the most competitive and successful programs for emerging television writers. During her 11-years at Nickelodeon she has helped launch the careers of many successful creative visionaries onto such shows as Avatar: The Last Airbender, Big Time Rush, Ned's Declassified School Survival Guide, The Penguins of Madagascar, Fanboy & Chum Chum, Sanjay and Craig, The Haunted Hathaways, The Thundermans and Bella and the Bulldogs. Karen is an industry veteran, who over the past 25 years has worked as an independent producer, compiling over 50 commercial and music video credits. She was also the producer of the Los Angeles Film Festival from 1995 to 2001. Additionally, she has been nominated for multiple MTV Music Video Awards and won an NAACP Image Award for Video of the Year.



PITCHING EVENT and COMPETITION M

oderated by Corey Mandell

Sunday: 3:15 pm – 5:15 pm

Ten lucky writers registered for TV Weekend will get the chance to pitch our Producer's Panel. The panel will provide notes and give advice on their pitch. The top two pitches will receive a FREE ISA Development Program Evaluation valued at $199!

To apply to pitch you must be registered for TV Weekend. Once you are confirmed you'll receive an email notification with the information needed to submit to pitch. All pitches will be considered, 10 will be chosen to pitch on stage. Please come prepared to pitch or listen and learn, and be sure to have fun!


---

TESTIMONIALS
"Working together with other people is the best experience, so this is a great opportunity to meet people that are going through what you're going through."
"You could see that most of the people in there were on the edge of their seats."
"I love the ISA - great people who are working so hard for writers to make their lives better, to provide more information, to provide more opportunities." - TV Weekend Speaker, Lee Jessup
"You're practicing your craft, you're rewriting your material, you're taking the classes; there are so many opportunities that will allow yourself to go from good to great. And the difference means either you're not a working writer or you are a working writer. So the ISA Master Series was launched so we can help all our members get to the level of being a working writer." - TV Weekend Speaker, Max Timm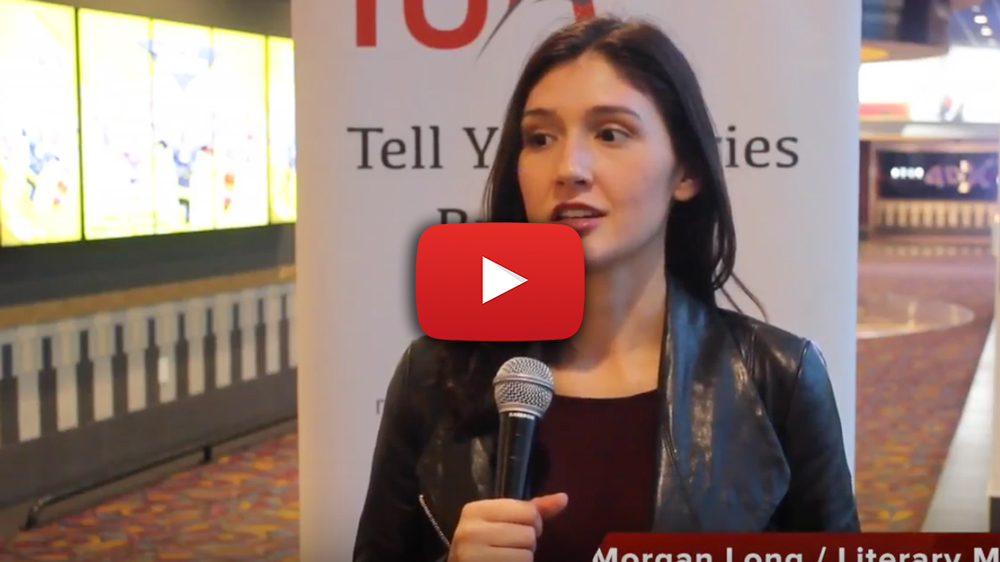 ---
HOTEL LODGING & TRANSPORTATION

We do not have any arrangement with local hotels but here is a list you can check out to secure your stay:
Travel to and from the event is up to you. There is a train station location nearby. Please refer to the Chicago Transit Authority for details.
---
THE CRAFT COURSE

All registrants for TV Weekend will receive The Craft Course ($99 value) for FREE!*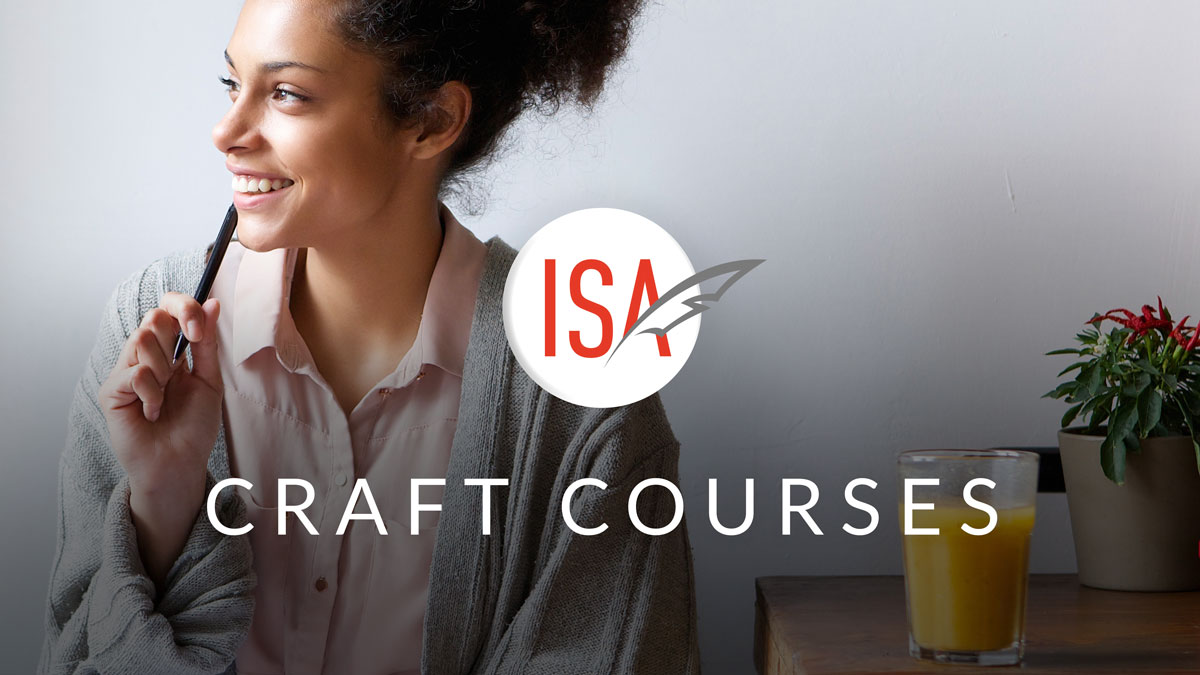 Presented as an online version of the live Master Class hosted by Max Timm in Los Angeles, this course was inspired by his popular writing podcast, The Craft, and will offer you exclusive podcast episodes only online class writers will receive.
Receive immediate access to all lessons, lectures, and audio, and the material provided within this full development screenwriting course will help you build your script, one step at a time. This course allows you to work at your own pace and finish a script in less than 12 weeks!
With the amount of material that is covered in this course, you will not find a more inexpensive course on screenwriting that offers as much as The Craft Course. The International Screenwriters' Association takes pride in offering services to writers without breaking the bank. Take advantage of what is offered here and we promise you will come away with a stronger draft of your script had you tried to go this route alone.
So jump in and get ready to write!
*Valid only for Craft Course-Online Only, or as a discount from other Craft Courses. A discount code will be emailed to you upon completion of your payment for TV Weekend.
---
DEVELOPMENT PROGRAM EVALUATION


For a limited time, you can add an ISA Development Program Evaluaton ($199 value) for only $150 with your TV Weekend registration.

The ISA Development Program can now be accessed through application! This specialized program was created to develop and support emerging screenwriters who have yet to secure an agent or manager, while helping writers better navigate this highly competitive business to find a path to break through. Our mission is to ultimately help you get represented and sell your work.

After applying and regardless of acceptance into the program, your material will receive a full evaluation with up to five pages of notes. Your project will be rated and considered for inclusion in the ISA's Development Program and, if accepted, will immediately enable you and your project to be submitted to ISA approved agents, managers, production companies, producers and more.
EIGHT writers in the program have signed with an agency or had their work optioned in the past TEN months. You can find out more about the ISA Development Program below, or by visiting www.networkisa.org.
---
FAQs


What time does the event start?
- Doors open at 8:30 a.m. on Saturday and Sunday, but classes start promptly at 9:00 each day. Please give yourself enough time to check in, find a seat and settle in.
What's the address of the location?
Columbia College Film Row Cinema
1104 S Wabash Ave - 8th Floor
Chicago, IL 60605
Is parking included?
- Parking is not included so be careful where you park.

Parking lot entrance 1001 S. Wabash
$14 on Friday and $12 on Saturday and Sunday.
There is a train station location nearby. Please refer to the Chicago Transit Authority for details.
How do I submit a pitch for the Pitch Panel?
If you would like the opportunity to pitch, you must send:Title, Logline, One paragraph pitch by Monday, May 1st. Please send to: Info@NetworkISA.org.
If selected, you will be notified by Friday, May 5th. You will have 90 seconds to pitch to the panel and attendees on Sunday, May 7th during the Pitch Panel.
We will only accept one pitch request per attendee, so please be sure that you select the project you intend to present.
Any suggestions on how to pitch?
The best approach to pitching is to always, as quickly as possible, let the audience (producer, manager, agent, whomever) know what the entertaining hook is and how that relays into a unique quality. For TV, it's even more important to deliver that hook since the point of a TV show is to get viewers eager to tune in week in and week out. Listen to some practice pitches here: PITCHING
I'm traveling in from another city. Is there a hotel sponsoring the event?
- We do not have any arrangement with local hotels but there is a list you can check above.
Can students under 21 years of age attend?
- Yes
My children are interested in writing. Can they come? Is there a discount?
- There is no age limit as long as they are old enough to sit quietly for the duration of the class and listen. There is no discount for multiple ticket purchases.
Will I be able to set up my laptop?
- You are welcome to bring your laptop if you are comfortable using it on your lap but there may be limited access to power. A notepad may be provided for you but pleaes plan ahead. There will not be internet access.
Will breakfast be provided?
- No, breakfast will be not provided.
Is lunch included?
- Lunch is not included, but there are plenty of places around the neighborhood to eat. Please no eating in the theater.
What if I bring my own lunch?
- You can bring your own lunch, but please do not eat in the theater.
Will drinks be provided during the day?
- No drinks are provided but feel free to bring water.
Will the mentors/lecturers read my screenplay or connect me with producers?
- We do not guarantee this as part of the Master Series, however you are welcome to contact and request to work with the mentors when you meet them at the event.
How do I receive The Craft Course or MovieMaker Magazine Subscription for Free?
- Discount codes will be emailed to you after TV Weekend. You can apply the course code to any of The Craft Course classes.
Is my registration/ticket transferrable?
- It is transferable only if you email us with the person's name at least 48 hours before the event. The ticket must be in the person's name who is attending.
Do I have to bring my printed ticket to the event?
- You should bring a copy of your ticket or eventbrite confirmation, although we will be checking you in from our master list.
What is the refund policy?
- Absolutely no refunds.
The name on the registration/ticket doesn't match the attendee. Is that okay?
- No. Please email us if there is an error.
Other questions?
- Please email us at: Info@NetworkISA.org