Description

[itvt] Presents...The TV of Tomorrow Show NYC 2014
Web Site: http://www.thetvoftomorrowshow.com
Follow on Twitter: @tvotshow or @tswedlow
To find out more about SPONSORSHIP and EXHIBITION opportunities, contact us at swedlow@itvt.com or 415-824-5806. Please note that we are very happy to work with your marketing department to develop creative, custom sponsorship packages that are specifically tailored to your company's communications needs.
To find out more about SPEAKING opportunities, contact us at swedlow@itvt.com or 415-824-5806
To view TESTIMONIALS from sponsors, exhibitors, speakers and attendees about our two most recent TV of Tomorrow Show events (The TV of Tomorrow Show 2014, June 10th-11th; and

TVOT NYC 2013

, December 10th), click here
For a video overview of The TV of Tomorrow Show 2014, click here
For a video overview of TVOT NYC 2013, click here
For a gallery of photos from The TV of Tomorrow Show 2014, click here
To explore the TV of Tomorrow Show Web site, click here
To discuss TVOT NYC 2014, or to give us feedback and suggestions (including new technologies you would like to see showcased, topics you would like to see discussed, and creative ideas for how your company can sponsor the show), email us at swedlow@itvt.com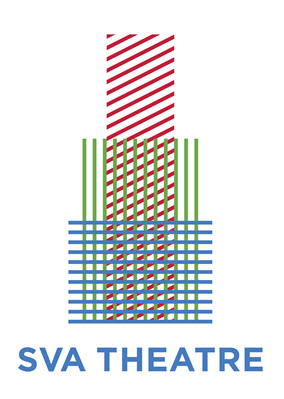 WEB SITE

http://www.thetvoftomorrowshow.com
SHOW DATE

December 9, 2014 (All Day Tuesday)

LOCATION

School of Visual Arts, 333 West 23rd Street
New York City, New York 10011

TICKETS

TVOT NYC 2014 is a limited-attendance event, so we strongly encourage you to register early. To purchase your tickets, click here.
November 1st through December 9th, they will be priced at $

1,075

.
A special package that includes both a ticket to TVOT NYC Intensive and a ticket to the TV of Tomorrow Show 2015 in San Francisco is also available (representing a savings on the full ticket price of both shows). To purchase this special two-event package, see above,
To find out about special group rates (three or more), as well as special rates for industry analysts, PR professionals, students and other qualified parties, contact Tracy Swedlow at swedlow@itvt.com or (415) 824-5806.
NEED ALTERNATIVE REGISTRATION FORM?: The Eventbrite service sometimes does not accept certain corporate credit cards. Please contact us or download this REGISTRATION FORM here and email it back as completed PDF to swedlow@itvt.com or fax to 415-707-2154. Thanks.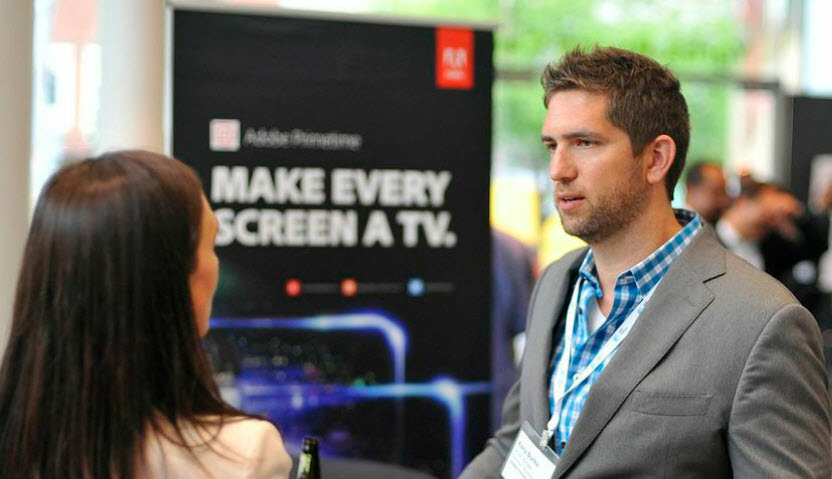 Premier Sponsor: Adobe Primetime

SPONSOR
TVOT NYC 2014 offers several different sponsorship levels, each designed to ensure maximum marketing exposure for your company--at the event itself, in the [itvt] newsletter and on our Web site, and in our talk radio show. As a sponsor, you also have such options as:
taking advantage of the SVA Theatre's advanced audio-visual capabilities to showcase your company's work on the show's main stages

organizing a Workshop/Master Class on your company's solutions or on an industry topic of importance to your company;

customer hospitality and demos or even;

co-locating your corporate event at the show.
Moreover, we are very open to working with your marketing department to devise creative, custom sponsorship packages that are tailored to your company's specific communications needs.
If you would like to find out more about sponsoring TVOT NYC 2014, email us at swedlow@itvt.com or call 415-824-5806.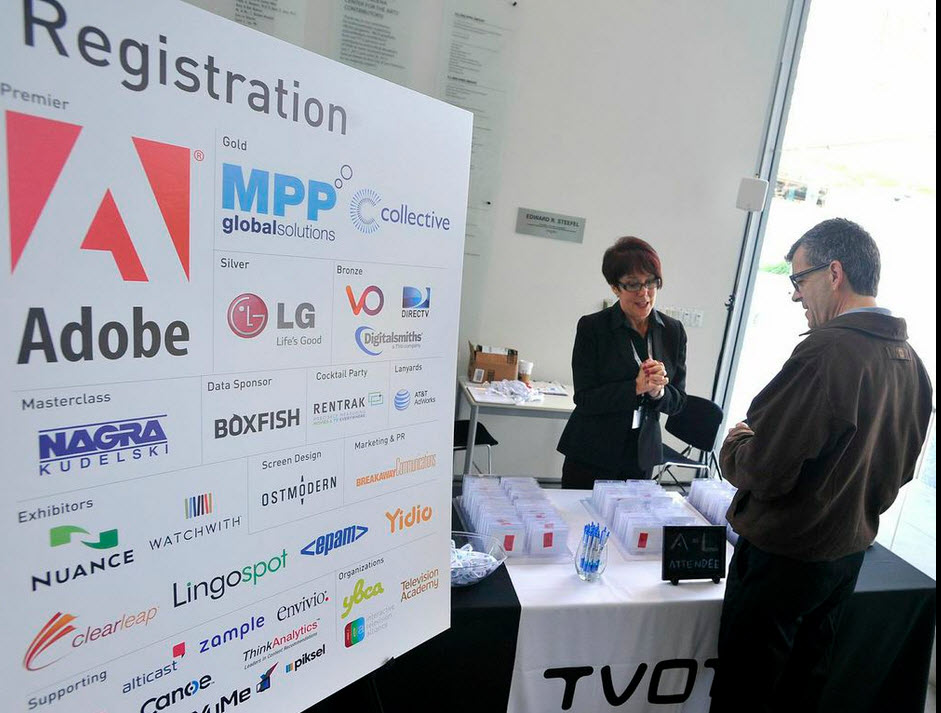 EXHIBITORS

TVOT NYC 2014's exhibitor showcase will be located in an area that is highly trafficked by the event's attendees. However, exhibit space is limited and we are assigning it on a first-come-first-served basis. So to guarantee that your company will have a booth at the show, please contact us as soon as possible at swedlow@itvt.com or 415-824-5806.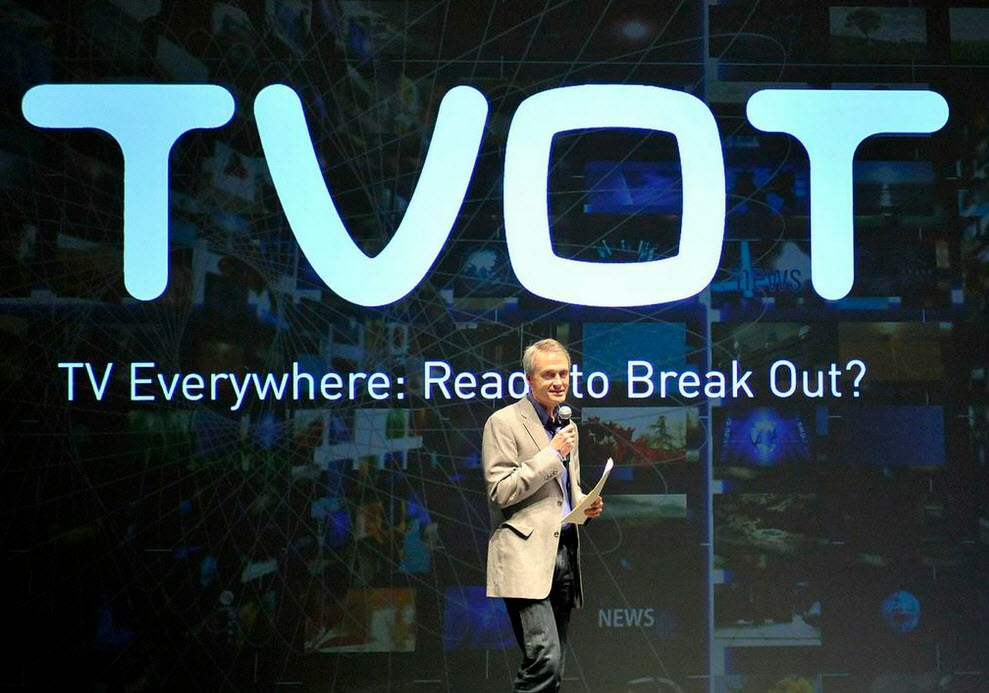 Colin Dixon, principal of nScreenmedia, about to moderate a panel on TV Everywhere

SPEAKERS

We are still accepting speaker/panelist proposals, and welcome your suggestions for topics you would like to see covered on the event's schedule. Uniquely among tradeshows, TVOT and TVOT NYC feature an agenda that is developed through ongoing dialog with the industry. Please contact Tracy Swedlow, at swedlow@itvt.com or 415-824-5806, to discuss your proposal. Also, please note that [itvt] is not a pay-for-play organization and that speakers do not have to pay any fee to participate in our TVOT events.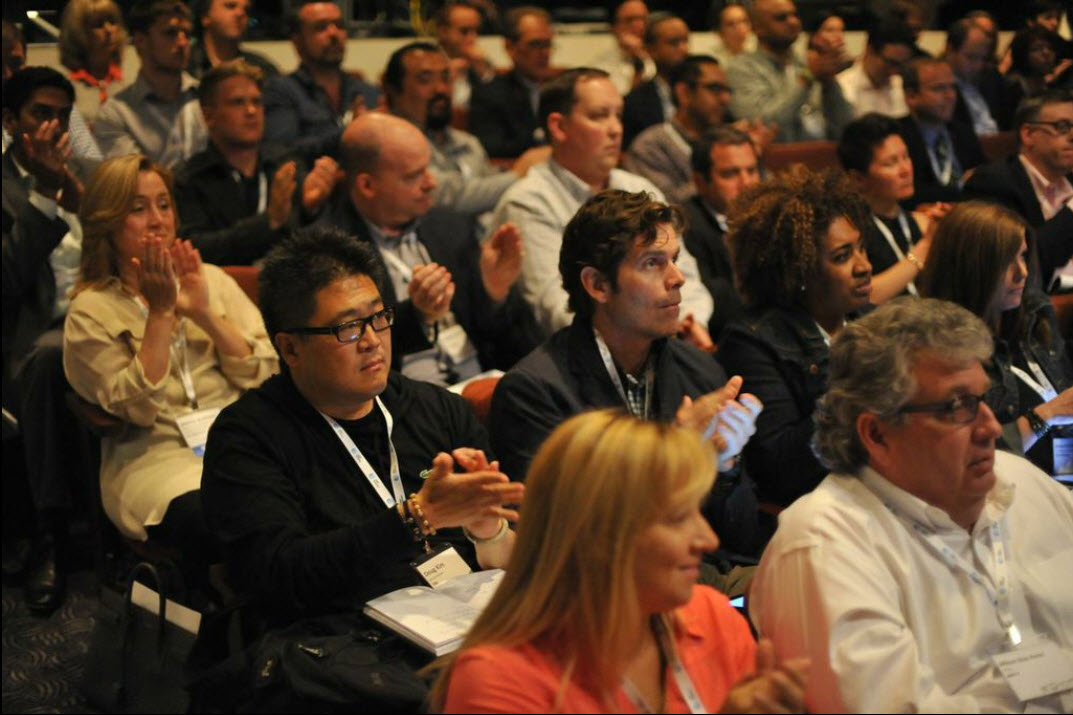 A packed session at TVOT SF 2014

SUGGESTIONS AND FEEDBACK

To discuss the TV of Tomorrow Show, or to give us feedback and suggestions (including new technologies you would like to see showcased and topics you would like to see discussed), email Tracy at swedlow@itvt.com.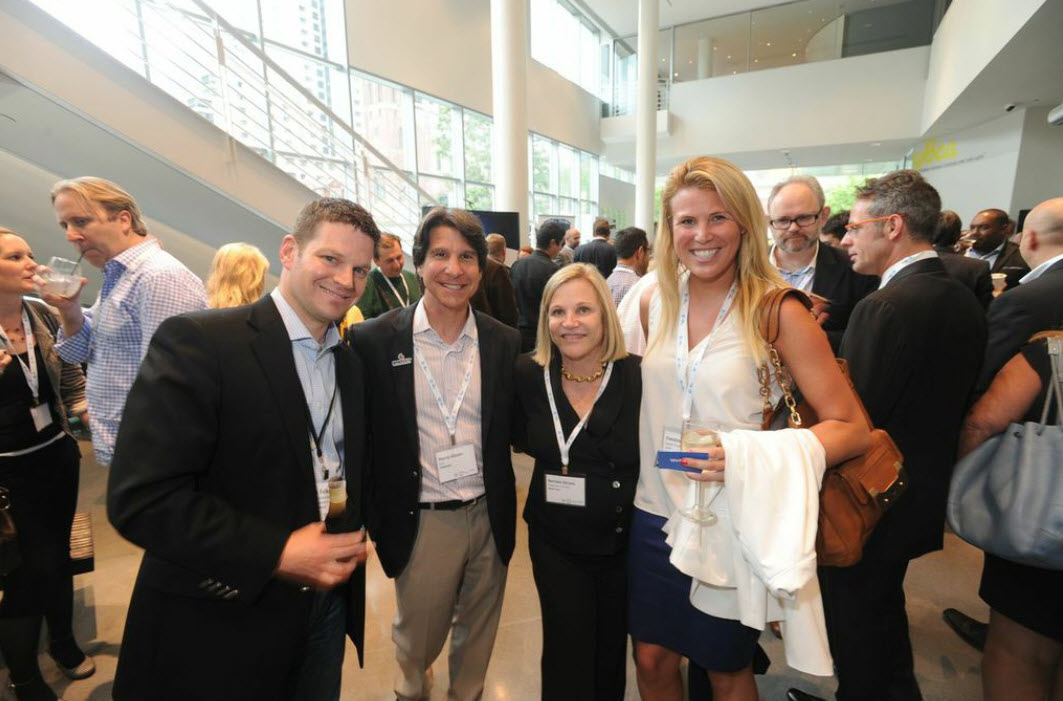 Cocktail party sponsored by Rentrak

MAIN CONTACT

Please contact Tracy Swedlow at swedlow@itvt.com or 415-824-5806 (office) or 415-608-4766 (mobile) to find out more about GROUP RATES, SPONSORSHIP and EXHIBITION OPPORTUNITIES, SPEAKING PROPOSALS.
PRESS CONTACT

Please contact Tracey Sheehy at tsheehy@breakawaycom.com to find out more about attending as press or covering the show.

Organizer of TV of Tomorrow Show NYC 2014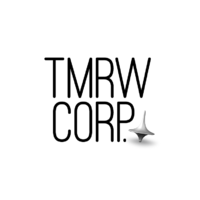 TMRW Corp. / TVOT / InteractiveTV Today ITVT is the 1st, best and most widely respected and trusted news source on the rapidly emerging medium of multiplatform streaming and interactive television. We provide concise, original coverage of industry developments, technologies, content projects, and the people building the business through our free email newsletter, news Web site, radio interview programs (Radio ITVT) and our bi-annual industry conferences, the TV of Tomorrow Show held in San Francisco & New York City. Our audience is made up of executives, technologists and creatives from over 150 countries. This company was founded in 1998 by Tracy Swedlow and the conferences have been happening since 2007. TMRW Corp. is co-owned by Tracy Swedlow & Richard Washbourne.