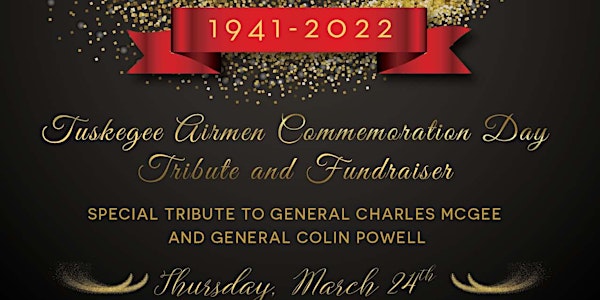 Tuskegee Airmen Commemoration Day
Tuskegee Airmen Commemoration Day, celebrating the 81st anniversary of the Tuskegee Experience - Tribute | Silent Auction | Fundraiser
About this event
The Legacy of the Tuskegee Airmen Continues:  Black Excellence Rising to New Heights
 On March 24, 2022, the East Coast Chapter Tuskegee Airmen Inc. (ECCTAI), the oldest and largest chapter of the Tuskegee Airmen Incorporated, will be hosting the annual Tuskegee Airmen Commemoration Day (TACD), celebrating the 81st Anniversary of the Tuskegee Airmen Experience.  Special confirmed guests include Smithsonian Secretary Lonnie Bunch and Rev. Dr. Grainger Browning, Jr.. the Senior Pastor of Ebenezer African Methodist Episcopal (A.M.E.) Church.
The Tuskegee Airmen were the first African American fighter pilots and support crews to serve in the U.S. Army Air Corps and were recognized as one of the best Fighter Groups of World War II.  The Tuskegee Airmen valiantly and expertly fought for a 'Double Victory' and marked the start of the modern Civil Rights Movement in our nation.  First, overseas against enemy forces; and second, at home against racism, bigotry, and segregation. That success inspired the issuance of Presidential Executive Order #9981 that desegregated the entire U. S. Military in July 1948.
The Tuskegee Airmen Commemoration Day will be like no other - complete with the official Wreath Laying ceremony and a special tribute to honor the "Lonely Eagles" at The United States Air Force Memorial in the morning. Later in the day, the annual TACD fundraiser celebration will be held virtually, with a salute to the late General Colin Powell and Brigadier General Charles McGee. The funds raised will impact the lives of our aspiring youth through our programs that include educational assistance grants and scholarships focused on STEM and hands-on training in the aviation field through our Youth In Aviation Program.
Partnership/Sponsorship opportunity available
Consider partnering with us in catalyzing the movement towards racial justice and equity in the African American community. View sponsorship opportunities: https://www.ecctaicommemoration.com/_files/ugd/7e25c1_8c2f9a10aacc441eac98debe3632e0f5.pdf
Proceeds will support our educational programs and cover administrative fees.
ECCTAI is a 501(c) 3
If you are unable to attend, consider giving a donation www.ecctai.org/donate
Special Guests include:
Maureen Bunyan, Mistress of Ceremonies.
Secretary Lonnie G. Bunch III, Smithsonian Institute
Rev. Dr. Grainger Browning, Jr.
Rev. Dr. Jo Ann Browning
Congresswoman Eleanor Holmes Norton
Rear Admiral Arthur Johnson (Ret)
Yvonne McGee, daughter of Brigadier General Charles McGee
Michael Powell, former FCC Chairman and son of Colin Powell
Date and time
Location
Refund policy