Description
Join us for an inspiring red carpet event with live music, celebrity hosts, vegan cuisine, live and silent auction, plus more!
Meet Wildlife SOS co-founder Kartick Satyanarayan at Tusk After Dusk, a red-carpet charity gala. The benefit will take place in the Bardot Room at the Avalon theatre in Hollywood on November 4 from 6:00 to 10:00 pm.

We are excited to present an exhilarating music line up with world groove instrumentalists, Maetar, "the Jimi Hendrix of Violin," Lili Haydn, and avant-pop multi-media performance artist ANML.
Wildlife SOS has selected three outstanding individuals to honor for their work in animal welfare and wildlife conservation. Their names with their celebrity presenters are as follows. Nolan Gould (activist, environmentalist and star of Modern Family) presented by Sean Marquette ("The Goldbergs"), Jennifer Conrad (wildlife veterinarian and founder of the PAW Project) presented by actor William McNamara, and Patty Shenker (animal activist and co-founder of the Animal Advocacy Museum) presented by artist Sue Coe.
Kip Andersen ("Cowspiracy", "What The Health") will introduce Wildlife SOS Founder Kartick Satyanarayan. Our emcee for this evening will be Mark Thompson.

THE IMPORTANCE OF THE BENEFIT:
India's wildlife is under severe threat – every animal from the majestic elephant and the tiger, to the shy sloth bear and rare pangolins, is under threat of extinction. While time is running out for these animals, it is not too late to help. Wildlife SOS works around the clock to rescue, rehabilitate and defend wildlife and the environment.
DID YOU KNOW:
- An elephant is killed every fifteen minutes for its ivory.
- The illegal wildlife trade is one of the world's most lucrative global industries.
- Scientists estimate we're now losing species at 1,000 to 10,000 times the natural background rate, due to human activity. Dozens of species are going extinct every day.
ABOUT WILDLIFE SOS:
Wildlife SOS (WSOS) was founded in 1995 and is credited with ending the cruel dancing bear industry in India. The successful campaign included the rescue of over 600 bears while providing their captors with alternative means of earning a living that does not include exploiting wildlife. Today, the organization is actively working towards protecting Indian wildlife, conserving habitat, studying biodiversity, conducting research and creating alternative sustainable livelihoods for erstwhile poacher communities.
WSOS has the only round-the-clock emergency wildlife rescue hotline and the only elephant ambulance in India. Their center provides world class veterinary care, rescue, rehab and release programs. They provide educational and work programs for the local people and training for police on handling human/animal conflict. They will go to court to gain the freedom of abused wildlife and they run one of the largest wildlife sanctuaries in India. Wildlife SOS is working towards rescuing every remaining circus elephant in India.
For more info: Please visit: http://wildlifesos.org/history/
THE FOUNDERS OF WILDLIFE SOS: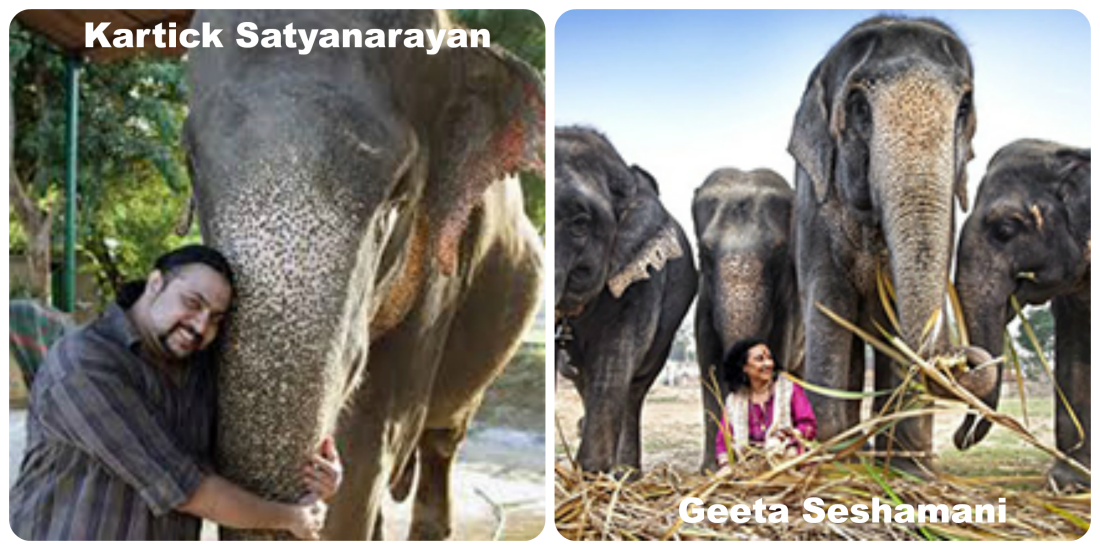 Website: www.tuskafterdusk.com
Promo Video: https://vimeo.com/search?q=tusk+after+dusk
Coming into town for the event? We have discounted rooms at the brand new, beautiful Kimpton Everly Hotel, Hollywood - just up the street from the Avalon. Just click on this link to book: https://gc.synxis.com/rez.aspx?Hotel=74900&Chain=10179&arrive=11/2/2017&depart=11/5/2017&adult=1&child=0&group=G2B
Sponsorships available! Email LAevents@wildlifesos.org
Check back for more exciting announcements.
We'll see you at the Avalon!
*Must be at least 21 years old to attend