Sales Have Ended
Ticket sales have ended
Registration for the Tuscany Crossing 2013 has closed. Please visit our website at for information about some of our other races. http://www.lostworldsracing.com
Sales Have Ended
Ticket sales have ended
Registration for the Tuscany Crossing 2013 has closed. Please visit our website at for information about some of our other races. http://www.lostworldsracing.com
Description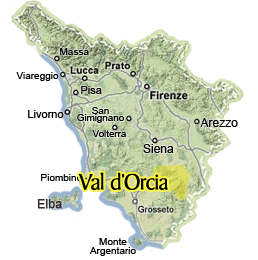 Be sure to click on the red "more info" next to each category above for addistional details.
Consider this for your next big race - Val d'Orcia, a region in the heart of Tuscany, in central Italy. The farming community of the Val d'Orcia has never surrendered to progress and has always welcomed travellers and pilgrims and always made them welcome.
Lost Worlds Racing is partnering with experienced local organizers to bring you what will be one of the most beautiful and memorable race locations in the series! With it's rolling hills, mild and dry climate, rugged trails and bucolic backdrop it is a perfect venue to run a fast and unforgettable 100k/50k.
Route Details and Profile (click here)
Interest in the race location is already very high and we will be limited to 200 international entries due to permit restrictions. Join us at the Tuscany Crossing in 2013 but make sure to reserve a space soon!
WHATS INCLUDED IN REGISTRATION:
Race registration for ultra or trail trek includes: airport transfers to lodging area, 1 night's lodging, breakfast, pre-race dinner, race shirt and other cool gear, finishers medal and awards.
Click on links below for more info:
TRAVEL. GETTING TO THE RACE: PICK UP/DROP OFF FOR INTERNATIONAL PARTICIPANTS
SCHEDULED RACES:
Tuscany Crossing: Italy - April 27th, 2013
Causeway Crossing, 2nd Edition: Ireland May 4th, 2013
Ladonia Crossing: Sweden May 11th, 2013
5 ways to participate at Lost Worlds Racing:
1) Trail Series - Ultra races
2) Trail Series - Relay races
3) Trail Series – Trek (Fast-packing)
4) Guest
---
Details - Trail Series - Ultras and Relays
Categories:
Individuals - 100k Ultra/50k Ultra
Teams of 2 – Relay (split 100k or 50k route with teammate - 50k + 50k)
Teams of 4 (NEW) – Relay (split 100k - 25 + 25 + 25 + 25)
---
Details -Trail Series – Team Trek
Trail Trek (teams of four) - 50k
Fast packing teams will travel same route as runners but be expected to be self-sufficient and carry water and food with them in the spirit of fast packing adventure. These races will offer a variety of terrains, environments and adventure for individuals and teams that have come to run the route or fast pack it and take in the views:
---
Event Guests:
Event guests of registered competitors must register and can run a 10k category that starts later in the day and will receive the same access to transportation, lodging and food. Fee is $325.00 per person.
Prizing and Winners:
Winner in male/female of each ultra race receives automatic entry to the next race in the series.
Due to permit restrictions each race will be capped at 200 international participants.
For more info info@lostworldsracing.com
GENERAL EVENT INFORMATION: http://lostworldsracing.com/
---
For more info or to register: http://lostworldsracing.wordpress.com/
Each race is a qualifier for a final 100 mile race set in a very unique location with limited entries allowed. Those entered in the full 100k or 50k distance categories will be have first options to participate in this 100 miler when its location is announced in 2013.
In order to participate in the 100 mile final race you must qualify by either completing two of our 50k or 100k races in the series or by placing in the top 25 percent of the field at any of the qualifying races and categories.

Contact us if interested in working with us to create a future race at a World Heritage site in your country. info@lostworlds100.com
---
Post race celebrations will be legend and the thing to remember, whether it's world famous Irish hospitality during a fare-thee-well pub crawl with staff and racers after the Causeway Crossing or relaxing and people watching in a medieval Tuscan piazza after the Tuscany Crossing. We will also be allocating a portion of race fees toward the preservation and responsible stewardship of these areas and their communities.
So please consider joining us on this remarkable journey for runners, trekkers and adventure seekers. We know it will be unforgettable!
See you there.
-Lost Worlds Racing
___________________________________________________________________________________________________
Cancellation Policy
Lost Worlds Trail Series has a NO REFUND policy. However we do offer partial discount for cancellations during our cancellation periods.
If you cancel up to 60 days before an event a discount code for 50% of your race registration fee can be applied to the next Lost Worlds Race. It is valid for 11 months.