Description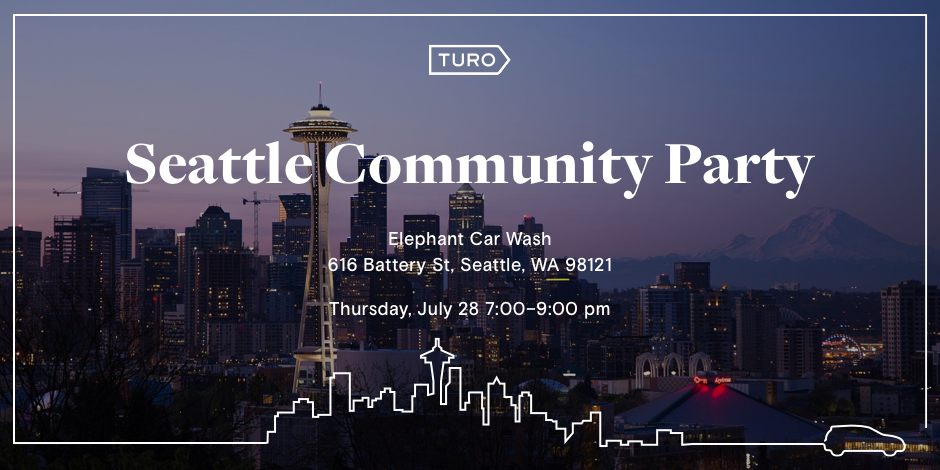 Come hang out with the Turo team at Elephant Car Wash in Seattle, for an evening of sparkling cars, free professional photography, plus a bevy of complimentary food truck bites from Cheese Wizards.
You'll be able to catch up with other members of the Seattle Turo community and the Turo team while your car gets squeaky clean on us. Our local photography team will also be on site offering free professional headshots for your Turo profile.
Hope to see you there!


FAQs
Who can attend?
This is an event exclusive to the Turo community and their guests. Members can bring one guest each.
Free car wash?! Can I bring more than one car to have washed?
Nope, just one car per attendee on a first come, first served basis.
What are my transport/parking options getting to the event?
Parking will be provided on-site.
Use King County Trip Planner for public transportation routes and scheudles.
Where can I contact the organizer with any questions?
Your Community Manager, Chris, can be reached at chris.witmer@turo.com.
Your RSVP is your agreement and consent to the following:
I grant to Turo Inc., and its subsidiaries, affiliates, licensees, assigns, agents and successors in interest ("Turo") the following rights: To take photographs and/or video that may contain my likeness, as well as the likeness or image of my property (the "Photographs");To take, record, publish or obtain testimonials or other statements from me (the "Statements"); and To use, copy, modify, adapt, distribute, publish, display, exhibit and otherwise use without limitation, either in whole or in part, the Photographs and/or Statements for commercial and business purposes in one or more film, videotape, or multimedia productions; and/or on Turo's website and/or in any educational, advertising, marketing and promotional materials.I understand and agree that the Photographs may or may not contain attributions specifically identifying me or any of my property. Turo shall have the right to modify, reproduce, display or otherwise disseminate the Photographs and/or Statements, in whole or in part, provided that any modifications or alterations made to such Photographs and/orStatements do not significantly alter or misrepresent the original content. I hereby release and discharge, Turo, its employees, agents, successors, licensees and assigns from any and all claims I might have in connection with Turo's use, display, dissemination or exploitation of the Photographs and/or Statements, including, but not limited to, any claims for defamation or slander; violation of any moral or artist rights; and/or any right of privacy or publicity. I further acknowledge that I will receive no compensation from Turo other than any goodwill and publicity that I may receive relating to the publication, distribution or other use of the Photographs and/or Statements as set forth in this Release. I acknowledge that Turo is the sole and exclusive owner of all right, title, and interest in all copyrights, trademark rights, and any and all other intellectual property rights, worldwide, in the Photographs and/or Statements and the individual components thereof and I shall take no action to challenge or object to the validity of such rights or Turo's ownership or registration thereof. This document represents the entire agreement between Turo and myself with respect to this subject matter. This agreement and all actions related to it shall be governed by the laws of the State of California (excluding any conflicts of laws principles that would require the application of the laws of a different state).