| | |
| --- | --- |
| Turnkey Done-For-You Real Estate – Out-of-State Investing | |
Event Details
Dr. Teresa R. Martin, Esq. speaks on …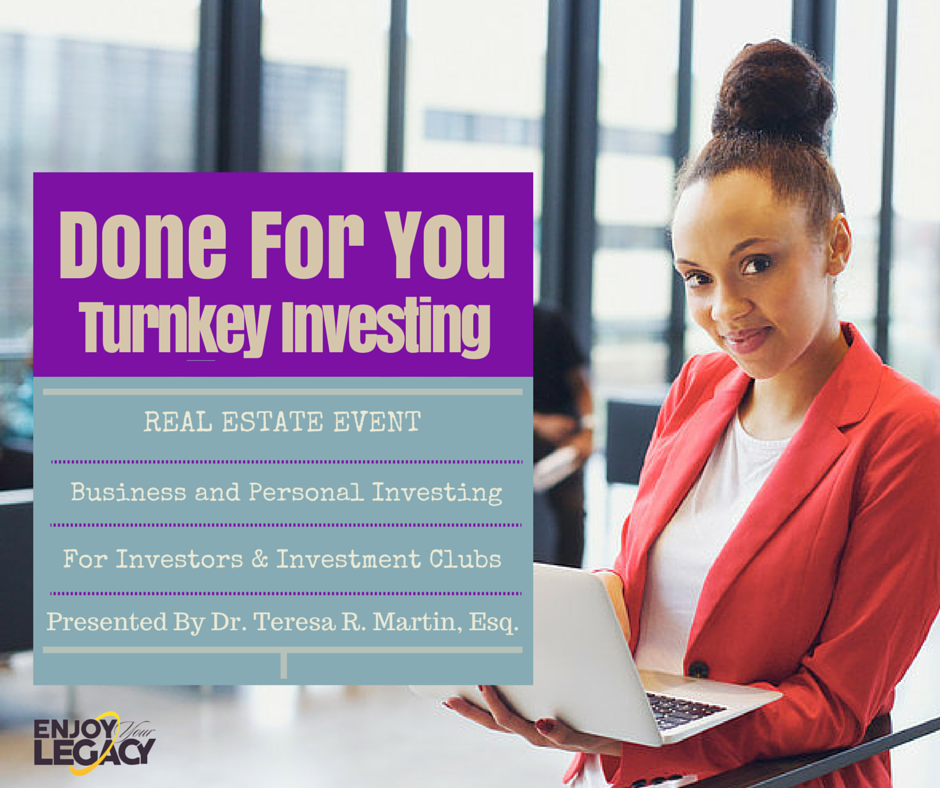 How to Start and Run an Investment Club
Buying Turnkey Real Estate
  Part I – Monday, July 20, 2015
 Part II – Monday, August 17, 2015
 An investment club is simply a small group of individuals, usually comprised of friends, coworkers, church members, neighbors and/or family members, who meet on a regular basis for the purpose of pooling their funds and investing in a club portfolio.
Anyone Can Do Real Estate ... Not Everyone Will! Will You?

 With an educational component in the forefront, investment clubs can be a great vehicle for beginning investors. NOW YOU CAN!
 Turnkey Done-For-You Real Estate – Out-of-State Investing
We don't just teach you how to succeed in rental real estate - We Do It For You!
THIS IS NOT FOR SHORT SALE, WHOLESALE or FLIP INVESTORS!
Learn Why Equity & Cashflow Investors Are Investing Outside of New York…
EVERY THIRD MONDAY OF EACH MONTH! (LIMITED TO 30 ATTENDEES)

MONTHLY TOPICS OF DISCUSSION INCLUDE:
Hot Equity and Cashflow Markets Analysis for Real Estate Investors

Our Unique 5-10 Year Retirement Game Plan and 6-12 Month Income Game Plan.

How to Build and Manage Out-of-State Power Teams

How to become a successful business owner of a powerful real estate portfolio that is built completely for them. 

Creative ways to partner with hundreds on Real Estate Deals where you get the homes without using your own money or credit!

Creative Lease Option/Compassionate Financing Strategies using a Power Team

Real Estate Investing Franchise & Referral Compensation Programs

Investment and Leadership Coaching

And More!
WHO ARE INVITED TO ATTEND?
Anyone who is or was an active investor (in real estate or otherwise) –Anyone that isn't satisfied with the performance of their IRA or 401k

Anyone that is employed and has a desire to create a more stable retirement

A nonprofit or organization looking for opportunities in real estate

Internet Marketers a strong social media presence (i.e. Facebook, Twitter, LinkedIn, Google+, etc.)
ALL registrants to this event receive a COMPLIMENTARY personalized Financial Game Plan.
People everywhere are discovering that a lifetime of accumulating 401Ks, IRAs, and paying off their house may not be enough to create the retirement they deserve. You will receive our new two-step Financial Game Plan - one that have been proven time and again by over 1000 investors to date just for attending.
Discover how our Power Team can build your wealth and turbo-charge your retirement cash-flow through real estate!
Real Estate Can Create Positive Cash Flow for Life…Join the Movement!
In order for us to keep our events free of charge, there will be a minimum $10.00 food/beverage purchase requirement to patronize our restaurant host.
When & Where

Dallas BBQ - Chelsea
261 8th Avenue (@ 23rd Street)
Lower Level
New York, NY 10011


Organizer
THE BRAND
Dr. Teresa R. Martin is the Founder, President & CEO of Generational Wealth Zone LLC, a premier full-service wealth creation company featuring a portfolio of category-leading brands that include Real Estate Investors Association NYC (REIA NYC), REIAWealthAcademy.com, Enjoy Your Legacy / Legacy Coaching, a leading business, business finance and real estate coaching brand.

BEHIND THE BRAND
Teresa is one of the most-sought after business finance and real estate strategist in the industry and a competent consultant, attorney, real estate investor, entrepreneur, educator, facilitator and a steward of hope as well as financial peace who deeply understands and emphasizes the importance of financial education both in business and in life. Dr. Teresa is dedicated to showing individuals and entrepreneurs how to become financially empowered by turning the work they love into a profitable and sustainable business. She reveals the secret to finding hidden money in client's bank accounts through a simple mindset and business-model shift which quickly attracts new money.​

THE MOVEMENT
Aside from being a successful attorney and founder of Enjoy Your Legacy, Teresa is also a well-seasoned real estate investor who took the industry in awe with her focus on creative acquisition strategies that she has developed alone, has implemented and taught to others as the Founder/ Counsel of Real Estate Investors Association NYC. She was looked up by many people as well for being an inspiring Director as well as past President of the nation's largest non-profit organization that is very much dedicated to investment education, New York Chapter of Better Investing.

Teresa also sits on the Board of Directors for National Real Estate Investors Association and represents the interests of about 40,000 members across the United States. Her extensive legal experience which is coupled with her great passion for financial ministry and consumer education made her join as well as complete her Group Leader training with the Fellowship of Companies for Christ International (FCCI) in 2005. Teresa continues to equip, encourage and help the others to understand sound financial biblical principles through Generational Wealth Zone LLC. It is a conduit for a person to achieve financial freedom through a tutelage in the areas of business ownership, financial education and real estate investing. Her core interest is the financial literacy of young adults, women and other possible emerging markets that represent the financially disenfranchised segments in the population.