Description



P.S: Purchase your copy of the book on the day or at the Nan Tien Temple, IBAA Chatswood and IBAA Parramatta Book Shops.
We're also proud to introduce to you our first two episodes of Turning Points stories! A big thank you to Tom and the team, and ALL of the storytellers who have generously shared their experiences over these past six months here, and on the Turning Points facebook page.
We hope you all enjoy these episodes and would love to hear your feedback! We have future episodes in the pipeline so if you have a story you'd be willing to share too, please let us know.
1. Episode 1 (On Death, On Anger, On Perfectionism)
https://www.youtube.com/watch?v=wtj3a1AEpcA

2. Episode 2 (On Perspective, On Relationships, On Self-Discovery)
https://www.youtube.com/watch?v=UmKn2L1_g_8
About Turning Points Founder- Venerable Dr Juewei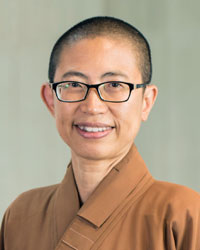 Ph.D (Religious Studies) University of the West, USA, MA (Buddhist Studies) Tsung-Lin Buddhist College, Taiwan, MBA (Cranfield University) Bedford, UK, MS (Computer Science and Engineering) University of Michigan, Ann Arbor, USA, BS with highest distinction (Computer Science and Engineering), Honors in Computer Science, University of Michigan, Ann Arbor, USA.
Lecturer - Nan Tien Institute
Venerable Dr Juewei is an active member of the Fo Guang Shan Buddhist order. She has held many international positions within the order's University Consortium and Temples, including University of the West and Hsi Lai Temple in California, USA, and Australia's Nan Tien Temple. She is now Associate Lecturer, Special Assistant and Director, Humanistic Buddhism Centre at NTI. best practice implementation.
Venerable Dr Juewei holds a PhD in Religious Studies, and is heading a worldwide tour entitled 'Buddha's Birthday Education Project – Through These Doors: Connecting Past and Present, East and West' based on her Dissertation. She also holds a Masters in Buddhist Studies from Tsung-Lin Buddhist College in Taiwan.
She regularly delivers public lectures on topics related to Buddhist festivals, Chinese Buddhist history and Buddhist art; conducts Dharma ritual services; and teaches Buddhist classes throughout the community. She has broad experience in interfaith activities, including organising Buddhist-Christian dialogues between Claremont School of Theology and University of the West involving class sessions and Temple tours; presenting in several interfaith sessions in Southern California and Chicago; and researching the conversations among religions and cultures for her dissertation.