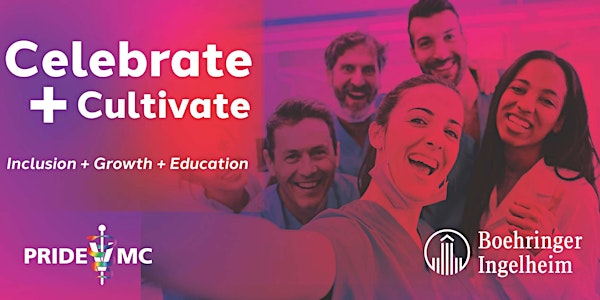 Turning Passion Into Purpose
Celebrate & Cultivate: Creating a safe space for inclusion, education, and growth
About this event
Let's Celebrate Together!
As part of National Veterinary Technician Week 2022, Boehringer Ingelheim is working with PrideVMC to celebrate and advocate for veterinary technicians and all members of the LGBTQ+ veterinary medical community.
Join Us
In appreciation of everything you do for your patients, your clients, and your clinic, we are hosting a series of Zoom continuing education (CE) presentations during 2022 Vet Tech Week. These empowering, enriching RACE CE sessions will be focused on professional career development and allyship for our LGBTQ+ colleagues.
Turning Passion Into Purpose
Course Description:
"If you want to be happy in life, find your passion." We hear this common saying all the time. But is passion truly all we need to have a fulfilling career? While finding your passion is extremely important, turning it into purpose is necessary for finding meaningfulness in a career and life. Through an exploration of my own career journey, I'll discuss concepts such as passion vs. purpose, luck, defining moments, and crossroads.
Learning Objectives:
1. Explore the concept of how defining moments can affect your sense of purpose.
2. Identify factors that contribute to fulfillment.
3. Inspire participants to reflect on their own meanings.
This course is eligible for 1 hour of non-medical RACE CE credits for Veterinary Technicians ONLY.
Meet Today's Speaker
Kenichro Yagi, MS, RVT, VTS (ECC, SAIM) - he/him
During his 20 years in the field, Ken Yagi has discovered and refined his role as a veterinary technician by promoting compassionate and progressive care for patients and their families. He obtained his VTS certification in emergency and critical care (ECC) as well as small animal internal medicine and achieved his master's degree in veterinary science.
Mr. Yagi served as the ICU manager and blood bank manager at Adobe Animal Hospital until 2018 and is now the program director for the RECOVER CPR Initiative and the Veterinary Education Simulation Lab Manager at the Tetlow and Roy Park Veterinary Innovation Laboratory at the Cornell University. He also co-edited the Manual of Veterinary Transfusion Medicine and Blood Banking and has published text chapters and articles in various publications.
Mr. Yagi is currently the chief veterinary nursing officer for Veterinary Emergency Group and the program director for the RECOVER Initiative. He was awarded the National Association of Veterinary Technicians in America (NAVTA) Veterinary Technician of the Year award in 2016, the California Veterinary Medical Association Veterinary Technician of the Year award in 2016, and the California RVT Association of the Year award in 2017. Mr. Yagi co-edited the Manual of Veterinary Transfusion Medicine and Blood Banking and publishes articles and presents internationally on topics in ECC, transfusion medicine, and the veterinary nursing profession.
Mr. Yagi works to encourage further recognition of the vital role of veterinary technicians and nurses through work with organizations, including being the immediate past president of NAVTA and president elect of the Veterinary Emergency and Critical Care Society. He is also an advocate for the Open Hospital Concept, encouraging veterinary practices to invite pet owners to "the back" as a part of the team.
Mr. Yagi invites everyone to ask "Why?" to understand the "What" and "How" of our field and to constantly pursue new limits as veterinary professionals and individuals.
This Talk is Proudly Sponsored by Boehringer Ingelheim and PrideVMC
Boehringer Ingelheim
Boehringer Ingelheim is working on breakthrough therapies that transform lives, today and for generations to come. As a leading research-driven biopharmaceutical company, the company creates value through innovation in areas of high unmet medical need. Founded in 1885 and family-owned ever since, Boehringer Ingelheim takes a long-term perspective. More than 52,000 employees serve over 130 markets in the three business areas, Human Pharma, Animal Health, and Biopharmaceutical Contract Manufacturing.
PrideVMC
PrideVMC membership is open to the entire animal health and veterinary community regardless of role, race, color, religion, national origin or citizenship status, sex, gender identity or expression, sexual orientation, age, disability, or military status. Allies are welcome!
The vision of PrideVMC is an empowered LGBTQ+ veterinary community that embraces wellbeing by being their authentic selves. To become a member of PrideVMC, enroll at pridevmc.org.
All trademarks shown are the property of their respective owner.
©2022 Boehringer Ingelheim Animal Health USA Inc., Duluth, GA. All rights reserved. US-PET-0511-2022D