Description
Are you a People, HR, Talent or Culture professional in Toronto struggling to retain great talent? But don't know why..
Are you trying to build your employer brand? But not getting many internal referrals...
Do you struggle to get substantial feedback from your employees or executives?
If any of these sound familiar, this is the event for you!
9 to Thrive presents, Turning Employee Feedback Into Action- a tactical panel discussion with best-in-class People and Talent leaders on how organizations can diagnose and address communication gaps to improve employee engagement.

You'll learn:
Strategies to diagnose and address communication gaps between employees and execs

Tactics for effectively collect and analyze employee feedback

How to get exec buy-in by tying feedback to KPIs that impact your business

Insights into the future of employee engagement
Food & drinks will be provided (thanks to our wonderful sponsors, B.Good, TWG, ContactMonkey )
The Panelists: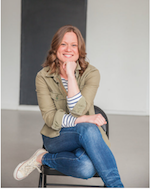 Leah Shelly- Director of Global Learning & Engagement for G Adventures
Leah leads a team of experience-designers across the areas of Learning, Engagement, Leadership Development, and Talent Management in developing customer-centric programs and content that is in line with G Adventure's purpose, vision, and goals.
Leah is a passionate strategic designer, experienced in untapping human potential to optimize team effectiveness around the world. On a daily basis she is focused on the intersection of connection, communication and performance; creating experiences that allow people to be energized and thrive at work.
It's Leah's interest in people, places, and perspectives that has taken her to all seven continents, and fuelled her curiosity for how to support individuals and teams to work best together to achieve the task at hand. Whether training on-board a ship in Antarctica, in an office in London, or at the top of Machu Picchu, Leah believes that by understanding each other's human experience, we have the power to transform how we connect and work together for the better.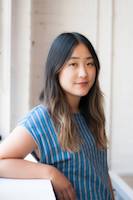 Lisa Madokoro- Employee Experience Research Lead at Shopify
Lisa currently leads Shopify's Employee Experience Research team, which is part of the organization's Employee Experience, Diversity and Belonging Team.
Her previous career as a product manager gives her a unique skillset and perspective she applies to employee engagement, by leveraging design thinking and service design methodologies to develop a deeper understanding of Shopify's employees globally. Her work helps Shopify's 4,000 global employees stay engaged today and in the future.
Outside of work, Lisa loves preparing elaborate travel guides and cheering on the Blue Jays through the highs and lows.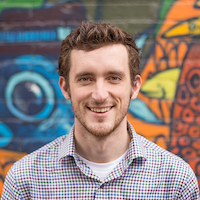 Brennan McEachran- CEO & Co-Founder at SoapBox
Brennan McEachran is CEO and Co-founder of SoapBox: the manager's sidekick. An app/bot for better one-on-ones, team meetings and company-wide AMAs. 20,000 managers from scaling tech companies like Intercom, Foodora, Wayfair and more trust SoapBox to have more meaningful conversations with their team, every single day.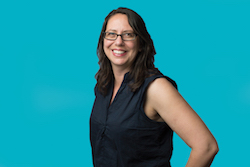 Amber Authier- People Operations Manager at TWG
Amber is the People Operations Manager at TWG, a Toronto-based consultancy dedicated to helping companies build the software they need to innovate, grow, adapt and change. As a member of the Toronto tech community since 2006, Amber built her career on two very specific things: 1) bringing people together and 2) helping people reach their full potential.
Since joining the TWG team in 2013, Amber has touched all aspects of HR including talent acquisition, training & development, compensation, employee onboarding & offboarding and reviews & feedback, to name a few. She is currently focused on creating a healthy and feedback-rich environment that allows all TWGers to understand the value they bring to work every day. Amber is a music fanatic — in the truest sense of the word — and can often be found in live music venues throughout the city. She is also an accomplished writer, with published articles appearing in The Globe & Mail and Exclaim.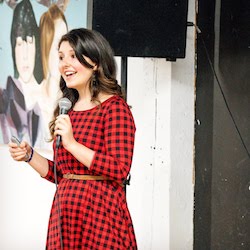 About the Host, Sarah Beatty
Sarah is the Founder of 9 to Thrive, a one-stop shop that helps busy leaders create better employee experiences. Starting her PR and event planning career in a cubicle farm, she quickly realized the importance of a good employee experience. She launched 9 to Thrive to help employers improve morale, build employer brands and retain great talent with one of a kind tailored experiences to bring teams together AND address underlying pain points in the employee journey. Passionate about fostering a positive employee experience, she also launched a podcast interviewing top employers on how they're engaging their teams.
About 9 to Thrive:
9 to Thrive is improving the employee experience with one of a kind team events. Working with companies across Toronto, the 9 to Thrive team helps employers diagnose and address pain points to improve morale, build their employer brand and most importantly attract and retain great talent. From Tacos and Trivia to a cross-city Amazing Race, 9 to Thrive makes it easy for your team to have a great employee experience.
For more information visit www.9tothrive.ca or follow us on instagram @9tothrive_inc
Our Partners:
This event is powered by our wonderful sponsors, TWG, ContactMonkey, and B.Good

TWG's mission is to help build the most innovative enterprises and startups in the world, and TWG believes software is the most powerful way to do that. They have built solutions for enterprise companies, not-for profit organizations, governments, and some of the fastest growing startups in Canada. They pride ourselves in being of service to these organizations to help them unlock their full potential in this rapidly evolving digital world.
For more information visit www.twg.io

ContactMonkey is the only solution that enables you to measure individual employee email engagement and send beautiful responsive HTML employee newsletters from Outlook.
Our simple to use internal email solution plugs into your existing Outlook, enabling you to create, send and track all of your internal employee newsletters from Outlook to your existing employee distribution lists. Perfect for HR Teams, Employee Engagement and Internal Communications!
Create responsive HTML email newsletter templates with an easy to use drag-and-drop email template builder.

Engage, understand & influence employees with pulse surveys and social reactions.

Measure as a team with advanced dashboard analytics and shareable reports.
For more information visit www.contactmonkey.com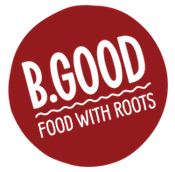 B.GOOD is on a mission to better our communities by serving delicious, healthy food to as many people as possible. We serve farm-fresh, flavour-forward and craveable dishes that taste great and make you feel good. Our wholesome ingredients are pure, simple and sourced sustainably by local farmers and suppliers to increase the health of not only you, but our planet! We serve just the good stuff – fresh, tasty, wholesome and natural burgers, sandwiches, salads, grain bowls and smoothies.
With 4 locations in the downtown core, B.GOOD is the perfect spot to stop and grab lunch, or order in for the office. Our catering menu has something for everyone, from light breakfast bowls to sandwiches, wraps and bowls. Whether it's a last minute lunch meeting or a large office event, B.GOOD Catering is sure to be a crowd pleaser!
For more information visit www.bgood.ca