Description
Come grab a beer, a glass of wine or a healthier option of Kombucha on tap at The Turn2Liberty OPEN MIC style Night of fun !!

If you have received a gift certificate for FREE ADMITTANCE simply enter the name of the person who gave it to you as your discount code at check out. Be sure to bring your ticket when you come.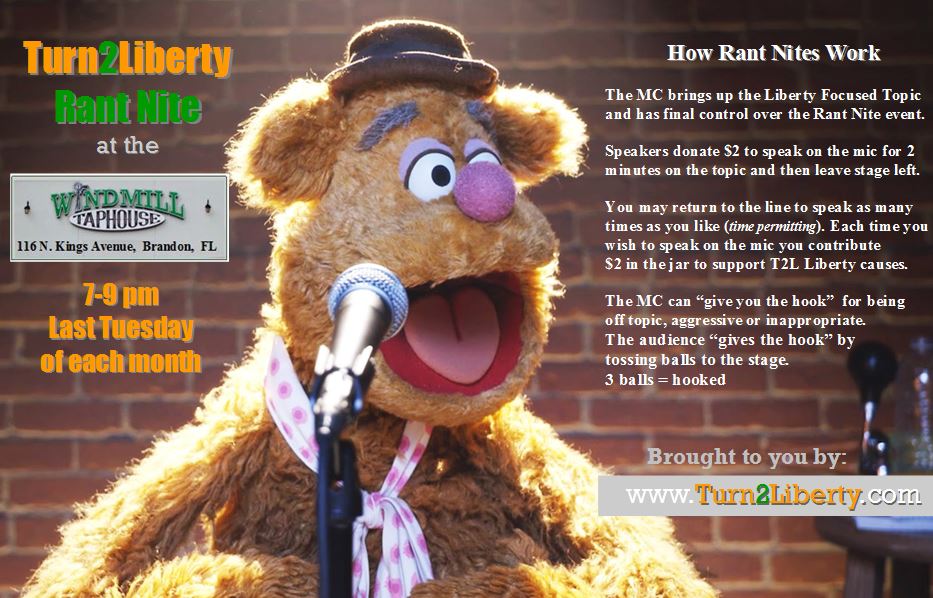 Note: Our T2L Rant Nites are recorded and streamed live. Purchase of tickets to this event means that you acknowledge this fact and waive any and all rights to pictures, video, etc associated with the Turn2Liberty Community events. Please see one of the event hosts at the event if you have a reason to not be photographed.
Join our Turn2Liberty Tampa Bay Community of Liberty Lovers in making a difference.
Subscribe to the T2L YouTube Channel so we can get enough followers to reserve our name Turn2Liberty
https://www.youtube.com/channel/UCj0XuSnGsuTmhtSR_NiVXCA
Look for our RAW Livestream of this and other events on our
Bambuser channel https://bambuser.com/channel/Turn2Liberty
Join in the discussions on our Facebook Group https://www.facebook.com/groups/T2LTampaBay/
Sign up for #ActionAlerts and Event invites today http://eepurl.com/cNufQv
Check on other upcoming events on Eventbrite at http://turn2liberty-TampaBay.eventbrite.com

Feel free to reach out to us if you have any questions about a particular event, are interested in hosting a vendor table at one of our events ($20), sponsor the entire event ($150), or be the presenter or workshop leader.


Kevin@Turn2Liberty.com CoachSusie@Turn2Liberty.com