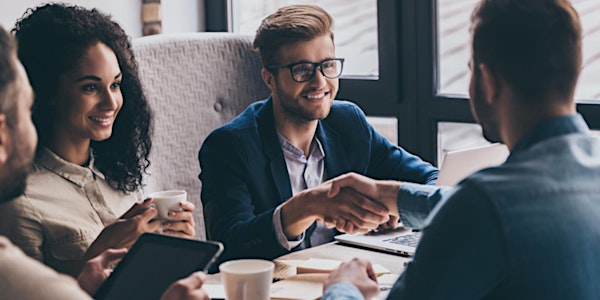 Turn Your Idea into a Company in just 5 days (Introduction) [Hamburg]
Description
Many people are overwhelmed by all the tasks and formalities associated with starting your own venture. However, a startup can be started in as little as a week. We look both at business development and at personal development, as a company can only become as big as you are as a person.

This will be an introduction to the concepts how to move from idea to company in 5 days:

- Why does it normally take so long to set up a company and how can you overcome it?
- What personality traits are needed as an entrepreneur?
- Typical pitfalls and ways around it in founding your company
- Necessary steps to take to form your company In Germany, and specifically Hamburg

We will have an opening presentation of about 60 minutes and then an open Q&A and exchange of ideas.

This event is open to potential founders in any area of business, whether you already have a specific idea or are still looking for it.

It wil be held in English. There will be a German speaking version on the 11th of November at the same location.
Organizer of Turn Your Idea into a Company in just 5 days (Introduction) [Hamburg]
My name is Franz Phillipe Przybyl. I also call myself simply FPP - The Entrepreneur Creator (if you try to pronounce my name, you will understand why I call myself FPP). I am an entrepreneur, investor, mentor, speaker, author, husband and father.
I was born in the US and I have lived and worked not only in the USA but also in Germany, Great Britain, Hong Kong and Gabon. My entrepreneurial career began at the age of 12 - with a computer, a printer and my own small lettershop. From that moment on I was enthusiastic about entrepreneurship.
Since then I have founded many companies in the US, Germany, and Luxembourg. They grew from 0 to up to 150 people with offices in different countries. The companies generated a turnover in the double-digit million range (>10 million dollars).
At some point I got so used to it that founding a new company became an absolute standard for me. People started to ask me how I did it and if I could explain and teach them. This was the beginning of FPP - The Entrepreneur Creator.
My vision is to inspire and empower 100.000 people who start their own company and grow with them, generating a total turnover of $100 billion per year and providing jobs for 1 million people, while the entrepreneurs are fulfilled in all areas of life.