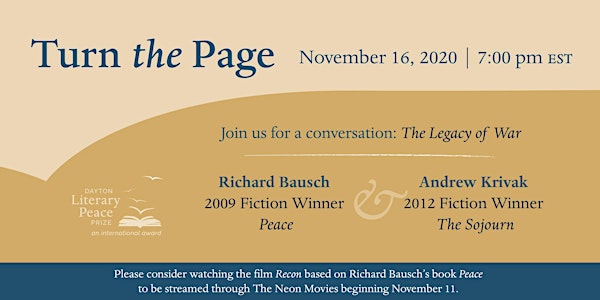 Turn the Page: The Legacy of War
This Turn the Page event will feature a conversation between Richard Bausch and Andrew Krivak. Gilbert King will moderate the segments.
About this event

More than a book club, Turn the Page becomes an agent for change, an evolution in thought brought about by a conversation with authors who have their fingers on the pulse of history, so therefore insight in the human heart. Each segment will bring two of our winning authors together to discuss a subject their works have in common. Gilbert King, a DLPP Honorary Advisory Board member, the 2013 DLPP Runner-up for The Devil in the Grove and the Pulitzer Prize winner for the same title, will moderate the segments.
The second Turn the Page event on November 16, at 7:00 EST via Zoom will feature a conversation between Richard Bausch, the 2009 Fiction Winner for Peace, a novel set in the mountains of Italy with U.S. troops during World War II, and Andrew Krivak, the 2012 Fiction Winner for The Sojourn, set in those same mountains during World War I with a young man from Colorado who is a sharp shooter in the Kaiser's Army. Both writers used family stories of war as the basis of their books and the springboards for their imagination. Richard's book has been made into a film entitled Recon that will debut in theatres on November 10 and will be streamed beginning November 13. He will also discuss the experience of having his work translated to film.
A Zoom link will be emailed to registered participants from Eventbrite on November 15, 2020.