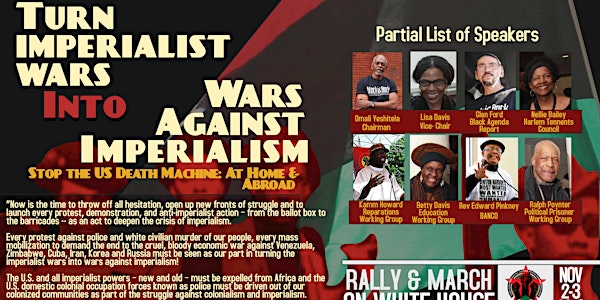 Turn Imperialist Wars Into Wars Against Imperialism March On White House
Join the Black is Back Coalition for Social Justice, Peace, and Reparations for our annual march on the White House in Washington D.C.
When and where
Location
Day 1: Malcolm X (Meridian Hill) Park at 12 noon|| Day 2: Thurgood Marshall Academy 2427 MLK Ave SE 12 noon 16th Street & W Street NW 2427 Martin Luther King Ave SE Washington, DC 20001
Refund Policy
Contact the organizer to request a refund.
Eventbrite's fee is nonrefundable.
About this event
"Now is the time to throw off all hesitation, open up new fronts of struggle and to launch every protest, demonstration, and anti-imperialist action – from the ballot box to the barricades -- as an act to deepen the crisis of imperialism.
Every protest against police and white civilian murder of our people, every mass mobilization to demand the end to the cruel, bloody economic war against Venezuela, Zimbabwe, Cuba, Iran, Korea and Russia must be seen as our part in turning the imperialist wars into wars against imperialism!
The U.S. and all imperialist powers – new and old – must be expelled from Africa and the U.S. domestic colonial occupation forces known as police must be driven out of our colonized communities as part of the struggle against colonialism and imperialism.
Join the Black is Back Coalition for Social Justice, Peace, and Reparations for our annual march on the White House in Washington D.C. on November 2nd and 3rd. For more information, visit www.blackisbackcoalition.org or call (786) 505 9859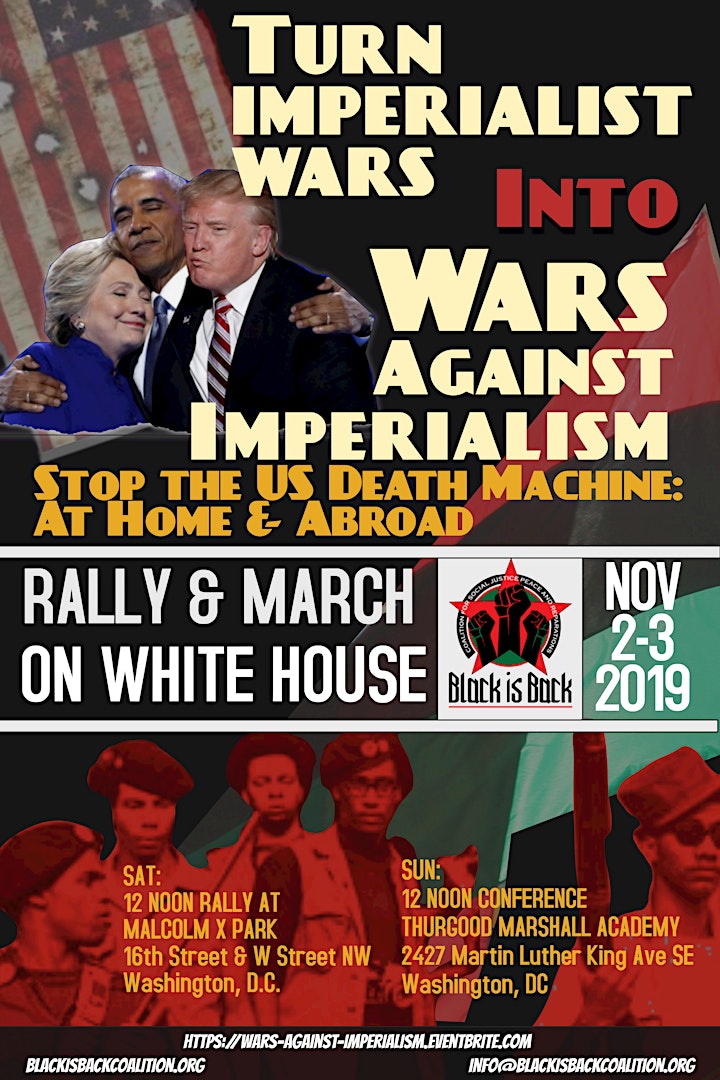 Hotel
Fairfield Inn & Suites
2305 New York Ave, NE
Washington, DC 20002
202 266 3000
Please call the number above or use the link below to reserve your room. The cut off date for the special group rate is Friday, October 18, 2019
Black is Back Coalition
Start Date: Friday, November 1, 2019
End Date: Sunday, November 3, 2019
Last Day to Book: Friday, October 18, 2019
Hotel(s) offering your special group rate:
Fairfield Inn & Suites Washington, DC/New York Avenue for 111 USD per night
Book your group rate for Black is Back Coalition
Below is info on hostels:
**When making reservations, suggest doing as a group, that way everyone stays together**
Hostels:
1. High Road Hostel
1804 Belmont Rd NW
Washington, DC 20009
Start @ 36.53 per nite per person
Free breakfast
2. HI Washington DC Hostel
1009 11th St NW
Washington, DC 20001
Starts @ 32.00 per nite per person
Free breakfast