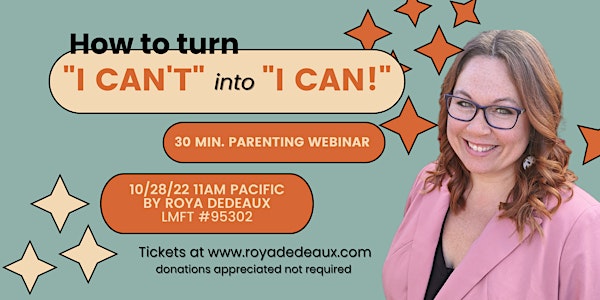 Turn "I can't" into "I can!" Parenting webinar
Tools for parents when your kids refuse to even try. A 30 minute parenting webinar by therapist Roya Dedeaux.
About this event
Does your child say, "I can't" when presented with something a little challenging? Do they refuse to try anything new? Are you worried that they aren't pushing themselves, that they seem unmotivated, or like they lack the confidence to take their next steps?
This is a 30 minute workshop designed to give parents tools to handle all of those difficult moments by increasing your kids sense of self -esteem, self-worth, self-confidence, and especially self-efficacy!
This event is for parents of kids of all ages. We will cover techniques you can implement right away!
Come to this parenting workshop and get practical, actionable techniques! You'll get ideas, inspiration - -and HELP with implementation.
I am a licensed therapist and author of Connect with Courage. I will be providing resources and reassurance for you. My goal is to give you concrete solutions and exercises that will help your whole family right away!
Registration is needed! Donations are appreciated but absolutely not required.
Everyone who registers will get access to the recording afterwards for a few weeks at whatever price you initially registered for, whether or not you attended.
If you can attend during the call, you will also have time afterwards for questions! Those will not be recorded.
Everyone who attends the call will get entered into a raffle!
------------------------
If you'd like to know more about me - Here is my full bio!
Roya Dedeaux is a Licensed Marriage and Family Therapist with a focus on parenting and play. She has a Bachelor's degree in Recreation and a Master's degree in Counseling from California State University, Long Beach where she now teaches in the Recreation and Leisure Studies department.
This experience has led her to a career as a licensed therapist in private practice, authoring several books, and speaking about the importance and power of play for all ages! She has spent the majority of her personal and professional life inspiring others to become more playful. She has been a featured or keynote speaker at over 60 conferences, speaking about the importance of supporting kids' interests and using play with purpose to improve relationships, learning, mental health, and overall well-being.
As a grown homeschooler, she conducted the largest study related to mental health and homeschooling in the United States. Her first book Connect with Courage: practical ways to work through fear and find joy in the places your kids take you is now available at all major book retailers. Her children's book, This is the Head That I Have, along with her awesome card game Venture Forth are also now available!
Roya specializes in using art in her therapy practice, and as her own creative outlet, she creates handmade jewelry out of clay and crochet at Royaboya Handmade. She also loves to play with her wonderful children, husband, and animals where they live and homeschool in Southern California.