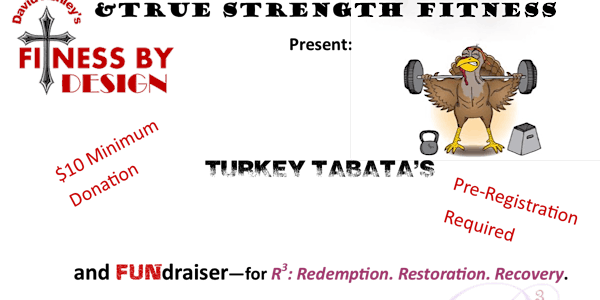 Turkey Tabata/Domestic Violence Fundraiser
When and where
Location
Fitness By Design and True Strength Fitness 7339 E. Acoma Suites 5 & 6 Scottsdale, AZ 85260
Description
Once again Fitness by Design and True Strength Fitness have joined forces to bring our community the pre-turkey workout - This year, they have decided to combine the fun workout with a fundraiser to help in the fight against Domestic Violence. All Donations are tax deductible.
Classes are 1 hour in length and run from 7:00-8:00am; 8:15-9:15am; & 9:30-10:30am on Thanksgiving Morning 11/24. The optional 12AM Class- is for those who cannot come, but want to donate anyway ;)
What is Tabatas? Tabata training will raise your metabolism and heart rate immediately. Since you are performing these exercises at a very high intensity, your body will have to work much harder to keep it up. This will cause your heart to pump fast and your metabolism to jump, which you want if you are planning on losing fat. Your metabolism will stay at that high not only during the workout, but after the workout as well. This means that your body will be burning fat for hours after.